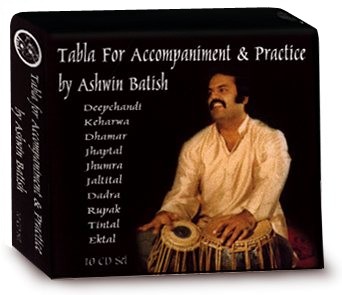 Ashwin Batish
Tabla for Accompaniment & Practice
10-CD Boxed Set

Purchase Information
Here's one of the more innovative boxed CD sets I've seen in a long time. It's not intended for listening - at least not for unaccompanied listening, though I enjoyed playing a disc in the background as I pecked away on the computer keyboard. Tabla for Accompaniment & Practice (or as Ashwin calls it, his "groove CD") is designed as a teaching device for students of the tabla and other drums. You can also use it as a non-mechanical backing track for jamming along on your favorite Indian or non-Indian instrument.
Each disc features a steady and repetitive groove (played at slow, medium, and fast tempos) with some subtle variations, so it is certainly not intended as a virtuoso tabla performance. If you're looking for that, check out one of Ashwin's other CDs. The entire set of 10 discs delivers 10 of the hottest rhythm cycles of North India. "It is an invaluable resource for Jazz/World musicians and composers interested in jamming with Tabla grooves," according to the back cover copy.
Rhythms featured in the set are: Tintal-16 beats, Ek Tal-12 beats, Rupak-7 beats, Dadra-6 beats, Keharwa-8 beats, Jhaptal-10 beats, Jhumra-14 beats, Deepchandi-14 beats, Dhamar-14 beats, and Jaltital-16 beats.
Go to the Ashwin Batish's website and click on the Tabla Groove CD link for information on purchasing the entire set.
In addition to being sold as a set, the 10 CDs are also offered individually. At the bottom of the page are links to individual Tabla Groove CDs via amazon.com.
--Bob Tarte
Individual Tabla Practice CDs, $19.99 each
Dadra Tal - Tabla for Accompaniment or Practice
Keharwa Tal - Tabla for Accompaniment or Practice
Dhamar Tal - Tabla for Accompaniment or Practice
Ek Tal - Tabla for Accompaniment or Practice
Jhaptal - Tabla for Accompaniment or Practice
Deepchandi Tal - Tabla for Accompaniment or Practice
Jaltital - Tabla for Accompaniment or Practice
Tintal - Tabla for Accompaniment or Practice
Rupak Tal - Tabla for Accompaniment or Practice