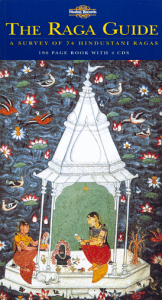 The Raga Guide is an introduction to Hindustani ragas, the melodic basis for the classical music of northern India, Pakistan, Nepal, and Bangladesh.
Four CDs with a combined playing time of 5 hours, 15 minutes provide an overview of the 74 most widely performed ragas. The four CDs are packaged inside a 184-page book with analytical and historical information on each raga--and 40 additional pages of full-color reproductions of ragamala paintings depicting the themes of various ragas. Each raga is 3-6 minutes long and is performed on lead flute, sarod, or vocal with tabla percussion.
You wouldn't expect old 78 rpm records to have an impact on the format of modern recordings. But the editors and authors of The Raga Guide took a cue from classical Indian music platters of the 1930s-40s in determining how to squeeze the most widely played 74 Hindustani ragas onto just four cds.
Time limitations of the 78s meant that a raga had to be concentrated and distilled into three-minutes-per-side. The Raga Guide follows suit by reducing pieces that might typically take an hour to unwind to surrender their essence in a mere three to six minutes. From this you might suspect that the individual parts of this encyclopedic survey would be pretty dry and academic-like listening to hours of different scales--when in actuality no matter how much or little one knows about Hindustani music, these ragas are a joy to hear. Whether the core melody is conveyed via tambura, flute, or vocals, each piece is embarrassingly rich in emotion and ambiance with no loss of subtlety and no sense of rushing to a conclusion. Though all are splendid miniatures, my favorites feature the flute playing of Hariprasad Chaurasia, who modulates virtually every note with complex tonal inflections.
Over four discs, the ragas are presented in strict alphabetical order, with the consequence that two ragas traditionally associated for late night performance may bracket an early morning one. Since the fast-paced raga "Jog" is mysteriously tagged for night and its disc successor the dreamy "Jogiya" intended for morning, this time-of-day mixing has no detrimental effect on the flow. Even better, one raga often segues one into the next without a break, creating the effect of a kind of raga suite.
Though The Raga Guide is informative, useful and endlessly entertaining, the learned explanations on each raga will unquestionably be of more use to seasoned students than greenhorns like myself. The discussions of ascent and descent and the musical notations lost me as quickly as a tome on calculus, and the front-of-the-book overview moves briskly from simple definitions to the deep water of classification schemes and genres. But this set is a beautiful thing to have and hold, an ultimate reference guide that reflects the decade of work that went into it, and one that will lead me to seeking out extended treatments of the ragas I like best.
--Bob Tarte