During a recent Alta Vista search for unexpected links to the Technobeat Archives website, I was shocked to discover that www.amazon.com is stocking Duplicity, a book I wrote in 1992. Brainchild of photographer Stephen Milanowski, Duplicity consists of unlikely pairs of his photos along with a one-page short piece of writing by Bob Tarte inspired by each photo pairing.
Duplicity was intended to raise money for photography projects at the Grand Rapids Art Museum, but curiously enough--or not--the musuem never promoted the book in any way nor even displays it in the museum shop. I had imagined that every known copy existed only in the following locations:
- The Grand Rapids Art Museum basement
- Bob Tarte's attic
- Steve Milanowski's study
- The pulping vat at the local paper recyler
Yet, it exists at www.amazon.com
I recommend it for the high quality of Steve's photos and a couple of worthy stories by Bob, as well for the exceptional print quality. It's only $22.95 for hardcover, and any pittance that Steve and I would have made on any copy goes to the Grand Rapids Art Museum instead.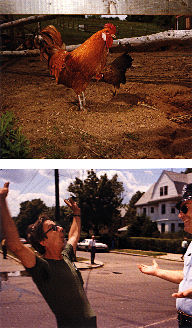 Photos copyright 1992 by Stephen R. Milanowski. Apologies to stickler Steve for these poor quality jpeg reproductions