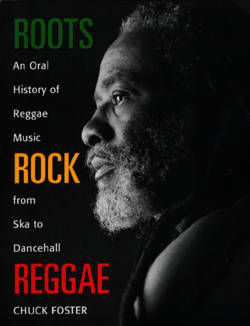 Reggae expert and
dollhouse collector
Chuck Foster has assembled a highly readable
and reference-ready book on ska, rock steady, reggae,
dancehall, dub, and what-have-you. What makes this book
so fun is that Chuck based it around a dazzling array of interviews
he's conducted over the years with the big guns of Jamaican
music. Among my favorite parts are a thorough examination
of the twists and turns of Black Uhuru's career via Chuck's
extensive conversations with Michael Rose, Duckie Simpson,
Junior Reed and others. Also top-notch are encyclopedic
chapters on singers, vocal groups, and instrumentalists,
plus a mind-numbing discography at the end.
---
Order Chuck's book
via this direct link to amazon.com
In the U.K.
Order Chuck's book
via this direct link to amazon.co.uk
In Europe
Order Chuck's book
via this direct link to amazon.de