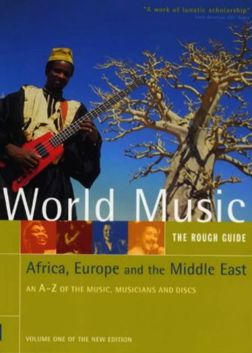 World Music
The Rough Guide: Volume 1
Africa, Europe and the Middle East

Trade paperback- 772 pages
Vastly expanded and split into two volumes, the revised version of The Rough Guide to World Music is an indispensible reference work that's also great for dipping, dabbling, and opening anywhere. Volume One of the new edition covers Africa, Europe and the Middle East and is a significant improvement over the already impressive original one-volume guide.
In addition to treating most countries in the target areas, the Rough Guide also calls out peoples and ethnic groups that spill over neatly drawn political borders. So the Sami people of northern Scandinavia get their own richly deserved chapter, as do the gypsies, pygmies, Kurds and others. I had a tough time coming up with names of European artists that weren't included here, though Russian Karelian ensemble Myllärit didn't make the cut, and certainly the roster of British Isles folk musicians is too voluminous to get more than the valuable overview accorded to non-English speaking countries. Each chapter of this reference work contains an introduction to the major musical genres, sidebar profiles of overachievers, and a recommended CD listing at the end.
You'll have a difficult time finding any other book packed with this much useful information. As the back cover blurb trumpets, Volume 1 "has full coverage of everything from Congolese soukous to Greek rembetika, and biographies of artists from Thomas Mapfumo to Cheb Khaled to the Afro Celt Sound System." Extensive discographies are provided for each country, with biography notes on nearly 2000 musicians and capsule reviews of their best available CDs. Plus, it's packed with photos.
-- Bob Tarte
See Also:
The Rough Guide to World Music, Volume Two
Review and Purchase Information