.....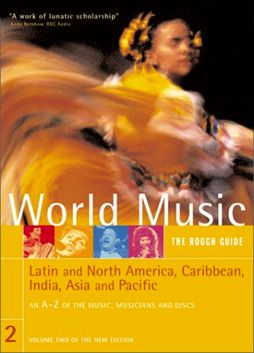 World Music
The Rough Guide: Volume 2
Latin and North America, Caribbean
India, Asia and Pacific

Trade paperback- 673 pages
One complaint I've heard about the two Rough Guide to World Music books is that these multiple-author reference works lack the vision a single writer might have brought to the project. That may well be, but Volume 2, Latin and North America, Caribbean, Indian, Asia and Pacific has the kind of eccentricity that rarely survives the scrutiny of a panel of editors. Countries as small as Tonga and remote as Nepal have no trouble earning descriptive chapters, but Burma (aka Myanmar)-whose pat waing tuned drum circle and sandaya piano genre are utterly unique- gets cold shouldered. Try finding a single word on the country. A quick skim turns up other peculiarities. Some gaffes are fairly minor, like calling Turkmenistani band's Ashkhabad's City of Love cd City of Roses. Others are more serious, such as the lack of a bio of qawwali legend Nusrat Fateh Ali Khan in the chapter on Pakistan. There's no mention of how he died and only a grudging mention of his accomplishments.
Despite the huge geographical territory covered by Volume 1, African, Europe, and the Middle East, I had trouble finding a major artist who wasn't covered. Not so for Volume 2. The authors of the Brazil section ignore Chico Cesar, and many Hawaiian performers get short shrifted, too. The brevity of the Hawaii chapter is to blame. Despite the influence of Hawaiian music around the world, the chapter is only seven pages long compare to six pages for Melanesia and a full 10 for Korea. Nevertheless, as a reference source and fascinating read, the Rough Guide simply has no competition. The Indonesian chapters are authoritative, the India chapters are mindboggling, and many of the Caribbean chapters contain material you won't find anywhere else. The original single volume Rough Guide to World Music published in 1994 morphed into two much more comprehensive books in 2000. With any luck the current two-volume set will one day expand into multiple volumes, making the series even more indispensable and alleviating the odd missteps.
--Bob Tarte


See Also:
The Rough Guide to World Music, Volume One
Review and Purchase Information