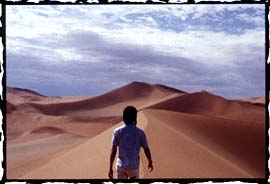 by John Cho
In high school an English teacher told us that all literature could be categorized into three themes: Growing Up, Coming Home, and Fantasy. I argued that the first two were, in fact, equivalent. In my own confused way I tried to assert that Growing Up was the process of finding a niche for oneself, a Home, and that Fantasy was the vision employed to explore the possible paths to this destination.
He pointed out that in order to Grow Up one had to leave one's roots, one's Home, and go out into the big, bad world. Well, that only worked if one had roots to pull up. What of the cultural jellyfish?
I recalled a warning comment that a friend made half-jokingly.
"Being an outsider is romantic when you are young. But it gets more desolate as you grow older." Here was his "How the Lone Wolf Ages" timeline. (Or should we have called it "Looking for Home and Not Finding It"?)
| | | | | | | |
| --- | --- | --- | --- | --- | --- | --- |
| Age: | 20 | 30 | 40 | 50 | 60 | 70+ |
| Label: | Free spirit | Wanderer | Drifter | Vagabond | Bum | Corpse |
From the dashing to the destitute and, finally, to the decomposed, the loner tumbles down the steps of social opinion into the communal grave.
Actually I usually hold a full-time job (research scientist) and have never eaten at a soup kitchen, but I do enjoy traveling for the sake of traveling, then writing about it. And I'm still trying to find a place that feels like home to me...