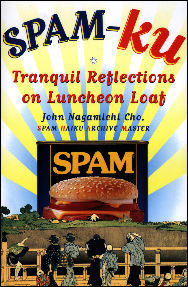 "Since 1995 John Cho
has faithfully harvested and preserved
SPAM-related haiku for future generations,"
sez the back cover blurb of John's nicely packaged
and generously salted new book. "Now, for the first time in print,
the SPAM Haiku Archive Master (or S.H.A.M) offers more
than 150 of the most delectible SPAM-ku ever prepared--
selected from his collection of thousands."
John is getting great reviews for this collection:
"Clever... profound,"
stammers the New York Times
"Evidence of a ... haiku renaissance led by a culturally prominent luncheon loaf,"
smirks the Chicago Tribune.
"Tiny, perfect works of literature,"
observes the Vancouver Sun with nary an ellipse.
---
For more reviews, see
this page on John's website
Better yet, order John's book
via this direct link to the Amazon.com
page devoted to buying this fine work.