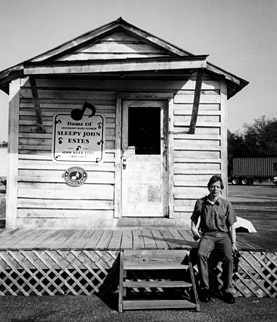 (Click here for cover art, purchase info, and RealAudio samples of the CDs reviewed in this column.)
On our trip to tour Sun Studio in Memphis, we ended up staying overnight in Brownsville, TN. The freeway exit sign said "Brownsville." But we weren't in any kind of town. We were seven miles from Brownsville in an asphalt oasis of motels, fast-food restaurants, and more asphalt in between. Everything looked new. The Comfort Inn where we were staying couldn't have been more than five years old, and the strip mall across the parking lot appeared even more recent. So the presence of a tiny, weather-beaten wooden shack in the parking lot caught my attention.
"What do you think that is?" I asked Linda. "Let's take a walk over there after dinner."
Tennessee isn't the best location for a vegetarian like my wife or a near-vegetarian like myself who doesn't eat slaughterhouse products. None of the local catfish shacks or rib joints had anything green or tuberous on the menu, so we drove 30 miles to the outskirts of Memphis to eat at a Shoney's whose buffet included actual vegetables. It was dark by the time we got back to our motel and strolled across the street. In the floodlit shadow of a McDonald's to the right and a Taco Bell-Dairy Queen combo near the road sat the transplanted two-room shack which, according to a sign, blues legend Sleepy John Estes once called home. The next morning, a woman from the West Tennessee Delta Heritage Center outlet located in the strip mall in front of the shack opened Sleepy John's home to us. His old bed, dresser and hotplate were on display. Photos of the bluesman hung above his enameled washbasin. Outside, a romantic young couple in a station wagon glared at us for interrupting their auto-erotic interlude.
Back inside the Heritage Center, Linda asked the employee about the fiberglass dome doghouse crouching at the base of Sleepy John's shack. She told Linda that a co-worker had provided it along with bowls of food and water for a stray dog that nobody could tame. It was probably Sleepy John's ghost, I thought, attracted to his home but restless about the loss of roots to asphalt soil.
The following day, as Linda and I stepped inside Sun Studio in Memphis where Sleepy John once recorded, I fought off a panic attack. The reaction was a combination of poor sleep the previous three nights, anxiety at a week away from a book I'm writing on deadline, and the palpable presence of so much greatness concentrated in such a small space. Elvis Presley, Roy Orbison, B.B. King, Howling Wolf, Carl Perkins, Johnny Cash and Jerry Lee Lewis all cut their first records at Sun Studio, which consists of a tiny reception room, off-limits storage areas, and a one-room studio that was the focus of our tour. Using money he had made selling Elvis' contract to RCA, Sun founder Sam Phillips built a larger studio down the street, by default preserving the original Sun facility exactly as it was back in 1956 until his heirs reopened the doors in the early 1990s. Bob Dylan once called Sun Studio "sacred ground," and I understood what he meant. The facility felt more like a haunted house than a still-active studio where Matchbox 20 recently laid down a few tracks. The past felt so vivid, if the guitars that lined the walls had suddenly started playing, I wouldn't have been too surprised.
After a brief walk down historic Beale Street, which was equal parts nightclubs and souvenir stores, I started feeling edgy again. Inspired by a brochure stashed in the glove compartment, we retreated 35 miles to Brownsville to explore the Hatchie Wildlife Refuge instead. The underdeveloped preserve had a single car-friendly drive around a small lake housing blue herons, diving ducks, cormorants and turtles, and after getting lost a couple of times in Memphis I enjoyed the lack of over-stimulation. A small idea hatched in Hatchie. Wouldn't this be a much better place for Sleepy John's shack? Even if the setting doesn't duplicate the Brownsville he knew, it shares a feeling of timelessness, loneliness and removal with the blues. Visitors could experience Sleepy John's modest greatness concentrated in two cramped rooms, and the ghost dog could chase the past to his heart's content without the distraction of exhaust fumes and styrofoam cups.
Speaking of ruralisms, Rounder Records' Roots Music four-disc set has a couple of problems from the get-go. For one thing, the title is easily confused with the just-released American Roots Music box of historic recordings from the PBS tv series of the same name. More significantly, it faces impossible competition from Smithsonian Folkways' six-cd Anthology of American Folk Music, which includes seminal folk and ethnic music recordings from the 1920s-30s, and the Arhoolie label's The Journey of Chris Strachwicz with its field recordings of greats and eccentrics dating back to the 1960s. Scott Billington tries avoiding the shadow of the former by crowing in his liner notes, "This is no scratchy collection of old recordings, but a vital document of the unique American landscape, where music from all over the world collided and colluded." This statement brings us around to the topic of world music. Despite the set's subtitle, An American Journey, contemporary artists predominate. There isn't a classic recording within earshot, though a few legendary performers like Mississippi Fred Mac-Dowell and Etta Baker, who lived long enough to make fresh recordings for Rounder, are included. Otherwise, the set is weighted toward bluegrass-derived pieces that for all their prettiness come across as offshoot, not roots. The songs that live up to the roots billing are those that wear their ethnic origins large.
Some of these selections are first rate, beginning with a wild rendition of "Iko Iko" by Bo Dollis and the Wild Magnolias that has nothing to do with the Dixie Cups' hit from the 1960s and everything to do with the secret language of the Mardi Gras Black Indian gangs of New Orleans and recalls Trinidadian stick-fighting kalinda songs. The Tau Moe Family provides a hint of 19th century Hawaiian music on the achingly beautiful "Mai Kai No Kaui" recorded in 1988 when lead vocalist Rose Moe was 80. The Balfa Brothers open disc two with a gritty Cajun helping of fiddles, triangles and accordion on one of the oldest pieces in the set caught live in the mid-1960s at the Newport Folk Festival. D. L. Menard, the "Cajun Hank Williams" makes the simple but beautifully played two-step "Ti Gallop pour Mamou" wriggle with archaic intensity. But the unbridled triumph belongs to Santiago Jimenez, Jr. with "Zulema Waltz," a Tejano accordion jewel written by his father, Santiago, Sr., and played as richly as if Junior holds a full waltz orchestra against his heart. A bracing, sparkling harp-driven son jarocho follows from Mexico's "Los Prego-neros del Puerto," erroneously suggesting that Rounder was short on Latin material from the U.S., though Tex-band Los Cachorros tails the Veracruz conjunto. And to prove that European-based music can also bear down to the nitty gritty, Liz Carroll and James Keane, Jr. perform a pumping squeezebox duet of Irish reels.
Discs one and two of American Roots supposedly focus on traditional approaches, while discs three and four lean on modern interpretations, taking us yet another step away from undyed roots. The result is less Cajun, zydeco and Latin-influenced material than on the first two discs, more mainstream country and bluegrass derivations, and even "Funkyard" by Walter "Wolfman" Washington, which is about as rootsy as a ceiling fan. What's ironic about the choices here is that compiler Louisa Hufstader certainly had access to Rounder's motherlode of must-have, salt-of-the-earth, scary-great roots recordings. The label
publishes the Alan Lomax series of American and international traditional music, almost any installment of which will stand your hair on end, especially the Southern Journey American series, the staggeringly varied Italian Treasury recordings, and the Spanish series that's just seeing release. If featuring mid-century and later artists is the idea, this redefines the whole concept of roots. Rhino's three-cd Sun Studio anthology of blues, early rock and rockabilly feels more essential than much of the music here. Another approach would be tapping into living roots music from ethnic pockets not yet hopeless streamlined by mass culture, such as southwestern chicken-scratch, along with broader coverage of Tex-Mex, Cajun, zydeco and klezmer.
It's fitting that Raul Malo's first solo album kicks off with a whirlwind hybrid of a song, blending salsa figures with calypso horns, English-language lyrics, a chorus drawn from Beatles-era Top 40 hits, and a pumped-up carnival atmosphere raucous enough to swallow the rest of Today (Omtown/Higher Octave). But Malo's huge, emotive voice holds its own whether he's applying heart to sleeve on "Every Little Thing About You" or keeping the party at full swing on "Ya Tu Verás." Despite a slick sheen that put me off at times, the disc's songwriting and punchy arrangements wield so much charisma and pop-history savvy that even the most obvious hooks hooked me.
Malo is best known in country music circles for his work with cowboy cult band the Mavericks, but Latin and world music aficionados celebrate his participation in two Los Super Seven discs. Today is markedly different from fellow Super Seven alumnus Rick Trevino's solo project, Mi Son, which softened the edgy Latin excursions of the semi-supergroup's Canto while still eschewing mainstream appeal. Though there's a rootsy foundation to almost every song on Today via the Cuban, Brazilian, Mexican and other Latin influences, the overall sound is as huge as it is hugely commercial. That means instead of the unresolved tension of the finest songs on Canto, we get mini-operas that ebb and flow in radio-friendly lengths molded by emotions so familiar we could pick our way through the peaks and valleys on a moonless night.
While commercial formats have undermined many pop artists, they have defined an even greater number. Inspired by the norteño music he listened to as a boy, Roy Orbison perfected lofty melodramatic vocals reined in from excess by a genius for songcraft. Orbison's spiritual brother Tim Buckley pushed the concept of voice as instrument well past commercially accepted limits. Both performers haunt Today. Orbison's soaring tenor usually crops up in choruses, while Buckley-esque angst bleeds all over the slower sections. "Are We Almost There?" is one of the most commercial songs on the disc, but also one of the best, leading with the tremolo-laden "Twin Peaks" alto guitar line reminiscent of the solo in Glen Campbell's "Wichita Lineman" plus a deer-in-the-headlights vocal etched with Buckley's eerie phrasings that are loath to let go of a word without wringing out every last shade of meaning. A classic pop structure that includes a chorus so simple it stops just short of simplemindedness makes the cut instantly memorable and surprisingly resonant.
With equal aplomb, Malo mines Latin material via swelling orchestral arrangements from Alberto Salas, who is apparently too busy to dazzle us much with his furious piano work that helped make Canto arresting. Even when the strings and horns suggest a Las Vegas extravaganza, tough rhythmic underpinning and exquisite solos maintain the knife's edge. "No Me Preguntes Tanto" starts off slight but overblown until Luis Eric Gonzalez' trumpet snaps in. "Ya Tu Verás" similarly seems like a throwaway with its bossa nova-influenced "ba-ba-ba-baa" choral dips, but Salas' churning piano and a searing Richard Egues-style flute excursion burn off the dippiness, and if that ain't enough, Ruben Estrada whips Malo into a frenzy with an unexpected timbale explosion. Every cut references Latin genres in some fashion, and does so beautifully. I'm already hearing a couple of the Anglo-friendliest songs on a local world music radio station, and if there's any justice, Latin stations will lean on the Spanish-language material. This is one commercial release that straddles two cultures without shortchanging either.
An artist "Best Of" is usually best in name only. You know the formula. Include tracks from every cd, even if later material isn't as strong as a band's Big Bang, toss in a couple of unreleased tracks, and call it not just a career retrospective but, as in the case of ¡Mucho Gusto!, brag it up as The Very Best of ¡Cubanismo! (Hannibal). This time, though, the epithet comes close to being earned. Even 2000's Mardi Gras Mambo, which didn't quite measure up to earlier releases by Jesus Alemañy and crew, acquits itself with one of two cuts represented here, a nice reworking of Arsenio Rodrigues' "Paso en Tampa." And if the previously unissued songs happen to be Bob Marley numbers, we must not be cynical and suspect a crass calculation for getting radio play. The Havana-charged version of "Get Up, Stand Up" is one of the best Marley covers I've ever heard with a bilingual vocal by Rafael Duany that crackles with the intensity of an invocation to the orishas and tasty lead guitar by none other than Ernest Ranglin. "Could You Be Loved" is a similar departure from reverent readings of Marley with an arrangement so chock full of Cubanisms I didn't even recognize the song at first. Opening cut "Mambo UK" updates the Perez Prado-Beny More jolting, teeth-rattling ultra-stylized mambo punch by folding in the smooth yet exciting solos we come to expect from Alemañy's orchestra, and this 1998 performance is every bit as gripping as the mambo-derived "Descarga de Hoy" recorded in 1995 back when the band was just taking off. Personnel changes are certainly one way of infusing hot blood into an ensemble. Only closing cut "Salsa Pilón" comes close to matching the delirium of the disc openers, but never fear. Everything pinned between these rattling bookends is bursting with hyperkinesis.
A more modest means of assembling a kind of "Best Of" is launching a live disc packed with prime cuts from the past. Since Väsen's oeuvre isn't exactly familiar to most Americans, Live at the Nordic Roots Festival (NorthSide) gets scant slack by conjuring fond memories of the studio tracks this Minneapolis performance frequently references. The songs are forced to rely on their immediate merits, a situation which doesn't tilt entirely in favor of the band. These unassuming Swedes wield more dark magnetism than your favorite heavy metal dress-ups, and their acoustic attack suffers from none of the grit-draining fussiness of some Scandinavian roots ensembles I could mention. Even their leisurely polskas contain more tension than a swollen thunderhead. But Väsen are such masters of the recording studio that the subtleties lighting fires on all sides of the main melody of "Nitti Pomfritti" per the original Whirled version are, well, whirled away in a concert context that turns the song into a Viking hoedown. The insistent drumbeats and in-your-face faux-Indian fiddle of "Shapons Vindaloo" will unroll your socks. The full-frequency reading on Whirled unties your shoes as well. Live is powerful, but the stripped-down stage setting diminishes the variety in this great ensemble's repertoire, and the white-noise drumming gimmick is used too often for the effect to have much effect. For a raw energy boost, I recommend Live. For the band at its best, seek out a studio disc.
Another live disc with oomph is 1, 2, 3 Soleils (Mondo Melodia) featuring triumvirate of rai stars Taha, Khaled and Faudel. The frenzied crowd of 18,000 at Bercy Arena in Paris adds to the fun as hysterical applause and ululations greet hit songs and program changes alike. As far as the hits go, I recognized Khaled's "N'ssi N'ssi" funkfest and little else. My ignorance did little to quench my enjoyment, because the backing musicians are as arresting as the Algerian singers. Did I say musicians? The powerhouse ensemble is literally a full orchestra, and while amplified instrumentation is the preferred accompaniment here for serving up a big slab of soul, opening instrumental "Khalliouni" cranks up a classic Egyptian film music arrangement before turning groovy three minutes into the mix. Steve Hillage, former lead guitarist with the 1970s space-rock band Gong, helps arrange the sweeping strings that give the North African orchestra an instantly recognizable sound along with producing, arranging and helping mix the whole heap. His ear combines with the massed talents to make 1, 2, 3 the biggest-selling Arab music album ever. It's also a top-notch introduction to the overheated world of rai.
If you weigh the success of Mondo Soukous (Mondo Melodia) against the whole body of Congolese music from the 1960s onward, some of the choices in this anthology feel a little weird. Every cut but one is only as old as the 1990s, with 1987's "La Beauté d'une Femme" taking historical honors by offering Mbilia Bel in free flight. And if we're including Samba Mapangala's admittedly beautiful "Muniache," you might as well crack open the rest of the continent, too. Judged solely as over an hour's worth of gorgeous, slow-motion rumbas, however, Mondo Soukous is so intoxicating it ought to be classified as an illegal drug. And instead of cramming in as many songs as possible, compiler Gerald Seligman bravely chooses selections with running times as long as 11:30 that allow the guitar bliss ample time to unfurl. And any collection with the smarts to welcome old-timer "supergroup" Kékélé on board along with Papa Noel's "Malou" earns a gold star. Now how about mining the older, harder-to-find material?
African music Renaissance man Ray Lema strayed from traditional-based polyrhythmic music in the 1990s with projects as diverse as cutting-edge electronica, a symphonic suite, and a collaboration with a Bulgarian choir. But his latest adventure Safi (Tinder) is a return to roots. Not his Zairean roots, but those of North Africa's Gnawa people convincingly interpreted by Moroccan ensemble Tyour Gnaoua. Rather than trying to tame the wild Gnawan mix of Arabic-influenced melodic lines and sub-Saharan-flavored multi-layered percussion, Lema adds electric guitar mimicking the three-string gimbri lute along with judicious keyboard fills. All songs but two let traditional material set the pace, though on the Lema-penned "Mister X" a bouncy electric piano and funky bass pave the way for Ray's quietly radiant voice framed by enthusiastic group shout-singing. Portions of the Gnawan repertoire seem unusually well suited for flings with Western music. Both Hassan Hakmoun and Bachir Attar have dabbled with artistically successful fusion projects, and Lema also hits the mark with Tyour Gnaoua. The rhythmic patterns feel as natural as walking, suggesting a prototypical rhythm & blues pulse, and the trance aspects of the choral singing and extended groove easily imply psychedelia. Though Lema's typical virtuosity is slightly submerged, a lovely effort surfaces.
Ancient Future certainly earns the "ancient" in its name. The Bay Area band's first world-beat album was released way back in 1978, making these artists a sort of Rolling Stones of fusion music. And on the evidence of Planet Passion (AncientFuture.com Records), they've still got that "future" ahead of them. Nobody does a better job assimilating Asian music genres and combining them with an American coffee-house acoustic sensibility. Sure, I'm snobby about usually preferring to grapple with original source material from Indonesia, China, et al., discordant harmonies and all. But there are also times I just want to relax with the smooth and dreamy soundscapes Ancient Future whips up to a froth. Led by Matthew Montfort's often jazzy guitar, the ensemble excels at lots of foreign genres while still having the good sense not to try to do everything themselves. Guests including Manose Singh on bansuri flute, Ustad Habib Khan on sitar and Liu Qi-Chao on Chinese flute up the authenticity quotient without disturbing the homogeneity. That's not to suggest anything like dumbing down is involved. Montfort's "Forest Frolic" is an aptly named romp for flutes, guitar and percussion that blazes like a bluegrass number. "Ocean of Love" with its reggae-inflected Afro-Slavic groove isn't your off-the-cuff concoction. And demonstrating that future is also past, the gamelan-esque "Semara" stars the band's original lineup with the inimitable Mindia Klein on bansuri flute. Shamelessly beautiful, Planet Passion is easily the pinnacle of this group's long career.
My friend the Whale wouldn't let me end this column without mentioning Lisa Walker's Grooved Whale (EarthEar), which I suppose qualifies as world music by dint of its non-English speaking singers and Pacific Ocean recording locations. The back-cover category label "Interspecies Ambient" gave me hope that classically trained violinist Walker would jam with cetaceans in real time, but assuming large-brained mammals would waste their time with our follies is perhaps expecting too much. Instead, Walker broadcasts her plaintive violin parts into underwater caverns and records the resulting "crazy reverbs, frequency loss and attenuation" for a kind of hydrophonic signal processing. Her melodies, textures and sound layering are blended with looped and processed humpback whale vocalizations, often creating an eerie back-and-forth effect with a melancholy footprint reminiscent of Scandinavian folk music. I'd love to hear the results on a Nordic hardanger violin, though "Boogie" directly references an Irish air. Or should that be Irish Sea, considering the recording environment?
(Click here for cover art, purchase info, and RealAudio samples of the CDs reviewed in this column.)
[Copyright 2002 Bob Tarte]

Technobeat Central
Columns by CDs and Artists / Columns by Date
Columns by Subject / Page of the Whale