(Click here for cover art, purchase info, and RealAudio samples of the CDs reviewed in this column.)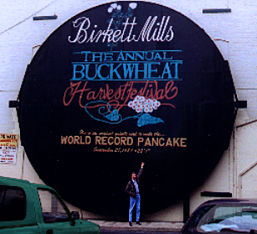 Canadians are comedians, and their medium is food. In Hamilton, home of the Ontario's largest government-funded rock garden--aka the Royal Botanical Gardens--the waitress at the Golden Leaf restaurant put on a confused face when Linda and I suggested we might like rice to accompany our stir fry.
A note at the bottom of the menu directed at freeloaders such as ourselves informed us, "Fortune cookies do not come with entree," and when Linda asked for a little white vinegar to dump on her tofu, she was told there was no vinegar in the kitchen despite the plethora of sweet-and-sour dishes available. Linda considered opting for Egg Fu Yung instead, until I pointed out another menu notation, "Please allow 30 minutes to prepare this dish." We're not talking simple repast here. We're talking Egg Fu Yung.
The merriment continued at Hamilton's Royal Botanical Gardens, home of Ontario's largest government-sponsored lilac vale. Our bill at the overpriced Gardens Cafe for twin dollops of lunch was $27.50. When I handed the waitress two $20 bills, she deadpanned, "Will you want change back on this?" as if a $12 tip were the norm in such a luxurious setting of pampas grass, lichens, a turtle pond, and a so-called Mediterranean garden featuring plant life from the Himalayas. The best laugh of all was had in Niagara Falls at the Stanley Road Days Inn. My $13.50 earned me the kind of breaded, deep fried, flat-pounded chicken flesh you wouldn't dare serve in a high school cafeteria in this post-Columbine era. Since it was one of the only non-beef items on the menu and listed under a heading that promised "Gourmet Poultry," I bit, but could barely chew.
The finger food improved when we reached the Finger Lakes--so much so that I engineered a flat tire in order that we might enjoy the breakfast sandwich at Bagels~Cakes in Geneva two mornings in a row. Back en route to Watkins Glen, where the local Subway sandwich shop delighted us with real Swiss cheese complete with lugnut-size holes, I started fretting that New York state was simply Ohio with better cooking. The backwoods eccentricity I craved was limited to Wixson's roadside honey shop with an indoor glass beehive, two dozen gimmicky wineries, Mennonite quilting dens, a kazoo factory tour near Buffalo, and the world's largest pancake griddle in Penn Yann, causing me to yearn for West Virginia, Missouri, parts of Pennsylvania, and my hometown of Lowell, Michigan, where populist kitsch holds gaudy court.
Happily, Linda provided enough innovations to etch the trip in my memory, such as sleeping backwards on her bed, feet at the headboard, head at the foot of the bed, claiming she was lying in the same direction as on our mattress back home. At the Holiday Inn in Painted Post, a short spit from the Corning Glass museum in Corning, I offered to move the dresser to her line of sight to complete the back-at-home experience. She paid me back by engineering our room heater to set off the smoke detector at 2:38 am. The ear splitting electronic shriek went ignored by hotel staff, instilling confidence in safety procedures.
Though by no means up to Canadian standards of levity, cooking comedy leeched through Lechtworth State Park's Glen Iris Inn, a Victorian mansion turned restaurant just inside the eastern park entrance. Call me a quibbler, but I noted a discord between this upstate New York park's health-conscious array of nature trails, multi-mile hiking paths, and breathtaking views of the gorge with a fatty-food menu on which daytrippers gorged. Cheeses, smoked meats, cholesterol-impacted desserts and flagons of wines beckoned backpackers throughout the region. Buty main complaint about the park was that it lacked an express lane allowing the attention deficit like myself to race through its 17-miles of canyons, waterfalls and wildlife at 80 mph. This may be an idea too forward thinking for anyone but the Ontario provincial authorities, whose Royal Botanical Gardens house the nation's largest government-funded coot reserve.
---
Though calypso was already popular in post-World War II America thanks to live radio shows in the '30s by Atilla the Hun, Growling Tiger, and other Trinidadian stars, the music got a substantial boost on the airwaves a decade later from ethnomusicologist Alan Lomax. Lomax's 1946 "Calypso at Midnight" radio broadcast from New York City's Town Hall lent calypso the kind of folk credentials that would appeal to a high brow audience, while the music itself spoke to just about anyone. Culled from a dozen ten-minute-long 78s Lomax's wife Ruby recently found in her closet while preparing to move, two new Rounder Records releases collect the first half of the historic show (everything but the ads) on Calypso at Midnight and the second half on Calypso After Midnight.
Interviews before each song with performers Lord Invader, Duke of Iron, and Macbeth the Great put the material in context. Especially pithy is Invader's jab at Morey Amsterdam, who stole his composition "Rum and Coca Cola." Not until 1950 did Invader receive a dime off Amsterdam's huge record sales, and even then Amsterdam maintained a bogus songwriting credit. Folks who just want to hear the songs sans patter can program their CD players to avoid the spoken segments, since each nonmusical interlude is contained on its own separate track. To skip the interviews would be to bypass the core of these recordings, though. Taken strictly as a musical performance, the Midnight discs have their faults. While the singing is high caliber, the orchestra struggles with the repertoire. Between bouts of bad miking and scratchiness, the sonics are also below par. Enjoyed as a groundbreaking broadcast, though, the Calypso at Midnight recordings are a blast, especially for the rare opportunity to hear top calypsonians of the day speak.
If you don't want to spring for both discs, the choice isn't difficult. This first of its kind, off-the-cuff broadcast suffers from glitches that plague the second disc more than the first, as when the calypsonians are late getting dressed for a play--an odd conceit for a radio broadcast--and Lomax calls in a pair of drummers to fill time. Gerald Clark's orchestra has ongoing trouble finding the right pace and key for the vocalists. A bit of rehearsal would have helped, though you'd expect a band of Clark's repute could play circles around these familiar songs.
The mismatches and miscues come with increasing frequency as the concert progresses, and the material on disc two is weaker on the whole. Noteworthy exceptions are a fine though truncated war among the three calypsonians and Lord Invader's closing rendition of the early black-consciousness anthem, "No One is Better Than Us." Look elsewhere for better performed and produced versions of "Roosevelt in Trinidad," "Tongue Tied Mopsy," "Man Smart, Woman Smarter," "Rum and Coca Cola," and other standards. But as an evening's entertainment culled from classic radio, the discs are tough to top.
Another cd of material originally recorded for radio broadcasts is Ali Farka Toure's Radio Mali (World Circuit/Nonesuch), just released here but available in Europe for a couple of years now. Culled from tracks aired in the 1970s for Mali's national radio service, the music here is responsible for lifting Toure from his job as radio station engineer to a world renown musician. He'd already established a reputation in his home country for broadcasts on Radio Mali in the '60s playing flute and four-string ngoni lute, but it was these songs that convinced Paris' SonAfric label to release the first of a total of seven albums of Toure's distinctive performances.
Toure says in the liner notes that these tracks sprang from a time "when I was an absolute fool for the guitar." So it's kind of a surprise that his high-lonesome vocals dominate the fret work. But that's not a complaint. In place of the dazzling ornamented approach of his other American releases, Radio Mali pays off with an underlying power and directness that makes wholly believable Toure's accounts of physical attacks by spirits he communed with through his music in his teenage years. There are also less obvious references to American blues on this disc. Except for the satiric r&b composition "Hani" and "Amadinin," based on a Tamashek rhythm but reminiscent of John Lee Hooker, the ambiance tilts less toward the delta than the prairie at the edge of the desert which Toure loves to farm. The njarka violin pieces are among the best he's ever recorded, the squeaky voice of the one-stringed fiddle too close for comfort to a voice from the other world.
Toure protégé and frequent accompanist Afel Boucoum cuts loose on his first cd Alkibar (World Circuit/Nonesuch), named after his ensemble. A glance at the slipcase cover serves notice we're far from mainstream pop territory. Dressed in Sonrai robes and giving the thumbs up sign, Boucoum is nearly crowded out of the picture by a pair of small boys hefting a dusty p.a. horn and a studio monitor-size speaker. It's modern music, the picture says, but modern in the context of an isolated Malian village.
Boucoum borrows Toure on a couple of cuts but retains a dry North African sound all his own led by his big honking acoustic guitar and backed by a female chorus that calls down a nomadic Tuareg influence, a njurkle guitar, njarka violin, calabash and djembe backbeat and spooky windswept Saharan vibes. The laid back acoustic intensity delights me with ripples of anxiety every time I play this. It must be a combination of the repetitive song structures, circular melodies, staccato notes from all quarters, microtonal singing, percussive quirkiness and too much coffee on my end. I love it. The liner notes quote Ali Farka as insisting that when he retires, Afel must succeed him. And succeed he surely does.
Musafir is a family of North Indian musicians, dancers and acrobats. Because Dhola Maru (Sounds True) isn't an enhanced cd with computer video files, we miss out on the dancing and juggling. But we do get an extraordinary repertoire of qawwali, Rajasthani love songs, devotional ditties, classical bits and widely traveled gypsy pieces thanks to the band's mix of Hindu, Muslim, Langa, Manghaniyar, Sapera snake charmer, Tholi, Sufi and gypsy sensibilities. All songs are played with great flair and gusto plus enough energy to light every household in Brussels, site of Musafir's European base. While I'd probably feel differently if I bore the whole splendid acrobatic assault in person, the evidence here is that these showfolks overachieve a bit. "Rangi Rang," the qawwali rouser which opens the disc, elbows past the heady rhythms and instrumentation to add the kind of over-the-top vocals that, say, the Sabri Brothers would never deem necessary. Other hats fit this talented band better. Try one on. If you don't like it, try the next. It's that kind of show.
Sweden's answer to Riverdance deals nicely with the problem of visuals by including two mpeg video files on enchanced cd Virvla by Boot (NorthSide). Comprised of Björn Tollin and Totte Mattsson from Hedningarna and Ola Bäckström from Swåp, Boot plays dark and knotty acoustic music that adds a dancefloor sweep to Viking ruminations. Included in the song cycle are the flamenco-flavored tune "Lilla Vackra" (A Little Beauty) and bits of toe-pounding percussion on "Alvdais Polska," both suggesting a response to Bill Wheadon, though in typical Scandinavian fashion the resulting production is modest.
Instead of a posturing Michael Flatley and gazelle-hopping Jean Butler fronting scores of precision heel-tappers, Boot presents the dance-troupe trio Virvla--two women in billowing dresses occasionally joined by a male in an apparent physician's frock coat. The beautiful accompanying videos leave the fancy pants stuff to the musicians and video editor. "Storflummarn/Kol Erhers Polska" begins with a Turkish theme plucked out on oud before edging well north as the dancers slowly wheel about. "Peppe" is brighter, featuring stage-lighting effects and costuming changes from drab brown to drab dark blue. Both are lovely to look at and magnificently produced. It's fun watching the instrumental threesome, but here's a caveat. If you're using a Macintosh running older than System 8.5, the video files won't show on the disc directory. In that case, fall back on the wonderful music.
If you've been pining for an album of erhu music, my unanimous choice is String Glamour by Taiwan-based Wind Records. Mastering the single-string Chinese violin with captive bow is 28-year-old Yu Hong-mei, described on the back cover blurb as "a charming young lady." Ignore that along with the allegation that she adds a "female touch" to the instrument. Beautifully captured live to tape on fussy vacuum tube equipment, String Glamour showcases the quavering nuances of this expressive instrument in rendering nostalgic and sentimental favorites from Taiwan and the Chinese mainland, like "Three Sighs at the Guan Pass" and "Mellow Grape-fullness." Bringing a refreshing staccato to the erhu's sustained plaint is aptly named yang-qin hammered zither player Zhao Yang-qin who dances across the strings in a manner delightfully at odds with mellow grape-fullness and other pensive moods. In the wake of such consistently beautiful music, I'm a killjoy to suggest comparing Yu Hong-mei's delicate interpretation of the Mongolian folk song "Tending My Camels" with the gritty real stuff from that region. But you take your glamour as you find it.
Smithsonian Folkways 20-volume Music of Indonesia series has been tailor made for the brave. Instead of presenting pleasant sounds, series editor Philip Yampolsky has striven to represent a broad sampling of little-known genres from all over the archipelago, and if they're not kind to western ears, well, that hasn't been his mandate.
The final disc in the series, Music of Indonesia 20, Indonesian Guitars, proves the point with disc opener "Kemayoran," compliments of the Mandar people' Grup Bamba Puang from South Sulawesi. An American-style folksy guitar sets a lovely throb until the entry of a hackle-raising singer that may suggest immediate surrender. But stick with this intriguing disc and you'll live through a wonderful oud-influenced piece by blind guitarist Sahilin from Palembang, South Sumatra, as well as the truly crazy ditty "Sungguh Terpaksa." The latter spotlights Bugis wildman La Podding pecking at an amplified kacapi lute in service of a parody of big city big star Rhoma Irama, featured in all his excessive Indopop dangdut glory on Music of Indonesia 3, Indonesian Popular Music. The aurally adventurous are invited to test and tickle themselves with Guitars. As always, profuse and entertaining liner notes guide the way.
Easier on the ears is Music of Indonesia 19, Music of Maluku: Halmahera, Buru, Kei (Smithsonian/Folkways), whose title points to little visited much less musically documented islands in the province just west of Indonesian New Guinea (aka Irian Jaya). A smooth lute and fiddle piece that would easily has graced the disc above leads the way, and is joined by a pleasurable drumming song, children's chorus, metallophones composition, a delightful flute and gong song entry from Kei, and a lusty trio of Arabic-language devotional dabus recordings from Halmahera featuring male singers backed by frame drums and tambourine. I can't claim this all goes down like syrup, but it's one of the happier blends between the genteel and exotic in the entire Indonesia series.
On the title cut of the Afro Cuban All Stars' Distinto, Diferente (World Circuit/Nonesuch), musical director Juan de Marcos throws down the gauntlet to the new generation of Cuban musicians, daring them to do something different and unique. While I like the All Stars' second record very much, apart from a beefed-up horn section and an Afro-Cuban ritual piece lifted from the religious fraternity Abakuá, there's not a whole lot here different and unique compared to de Marcos' other projects. "Homananje a Martha Valdés" could just have easily fit into Buena Vista Social Club Presents Ibrahim Ferrer, and in fact the gang here includes such Buena Vista alumni as Ferrer, Omara Portuondo, Barbarito Torres, Rubén González, and others. Equal parts folkloric and historic, this multi-generational big band outing shares the same high standards as the other World Circuit-label Cuban discs, but if you're looking for something different, best look in Mr. Hucker's column for what the new generation is doing.
Personnel changes have taken a toll on the Flying Bulgar Klezmer Band. Some may call the divergent approaches of the last couple of discs eclectic, but I see it as a watering down of the Canadian band's niche as neo-klezmer hipsters. Their last offering, 1996's concert recording, Fire, was as flat and traditional a klezmer release as you'll find with barely a trace of the Bulgar's trademarked jazz excursions. Tsirkus (Traditional Crossroads/Rounder) finds the ensemble on an American label at last and the experimentation is back. But for the first time I'm conscious of the clink of test tubes and the hiss of the bunsen burner via bits of abstract noodling and over-the-top vocals. "In the beginning, this group which formed by accident, created chaotic, jumpy music, dancing with the energy of the source, but with none of the finesse," claims the liner notes. Any band that apologizes for earlier triumphs deserves a red flag on principle alone.
For unrepentant fun in a similar vein, brace yourself for Kálmán Balogh and the Gypsy Cimbalom Band</I> (Rounder Select). The Hungarian troupe launches wild and continually surprising gypsy jazz with all the breathless tempo changes you expect from the Balkans. While the spotlight supposedly belongs to Balogh's hammered zither cimbalon, trumpet, violin, and acoustic guitar take equal parts in the revelry. And while the word "gypsy" is all over the disc, to my ear it comes across as a klezmer move with vernacular string band feel. But that's not to dismiss the roof raising ragtime, goodtime bluegrass digressions, silly vocal parts, and a grounding in the Django Reinhardt-Stephane Grappelli guitar-violin duets from the '40s. It's fabulous stuff with more influences than a congressman, and definitely not for the straight-laced.
If you crave the sound of wood, you can't go wrong with the reed-oboes, flutes, bamboo mouth organs, blowing tubes, and percussive oddities on the really out there Bamboo on the Mountains (Smithsonian Folkways). Kmhmu highlanders from Laos, Vietnam, Thailand and California delve deep into rural sounds and stylings you won't run into anywhere else on the planet. Aside from the chugging of the sngkuul mouth organ, a bellows-less precursor to the accordion and harmonica, my favorite parts are where expressive wind instruments stand in for the human voice. Particularly charming is a traditional ditty where a teenage girl courted by her intended would shyly respond to his flirting by humming and whispering phrases into her side-blown toot flute. A 32-page booklet helps unravel the mysteries of Kmhmu folk traditions.
(Click here for cover art, purchase info, and RealAudio samples of the CDs reviewed in this column.)
[Copyright 2000 Bob Tarte]

Technobeat Central
Columns by CDs and Artists / Columns by Date
Columns by Subject / Page of the Whale