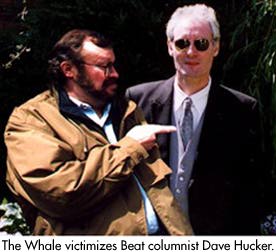 I know Bob "Technobeat" Tarte is personally and directly to blame for all the aggravation and disruption to my life that happened recently. Because of him I have been flipped upside down, inside out and twisted into a triple reef knot of tension. I try and be accommodating as best I can when Beat-staffers pass through London and need a place to rest their bags. But sometimes it can go to far.
I was recently held to ransom by a character called Bill Holm. Bob Tarte had banned this person from his column, for reasons which I began to understand later. But Bob had obviously kept a straight face as he passed my address and phone number to The Whale, as he seems to be known. Bob Tarte knew what disruption The Whale would bring to my existence just like he did to him and the environs of Lowell, Michigan. Just as I'm sure he struggled to keep the glee out of his voice when he could not resist ringing me up with some asinine question about a bunch of bozos I'd never heard off, just checking The Whale had checked in. [See "Wheeling in West Virginia," Technobeat, The Beat, Vol. 16, Number 1.]
Bill Holm turned up on a Tuesday night. Lucky for him, unlucky for me, it is a night I am usually in. Tuesday is always the most boring night of the week. For example, Mondays are the start of true clubbers week when it is safe to go out in the West End, when the burbanites and bridge and tunnelers that pour in to pollute the place Thursday to Saturday are conspicuous by their absence. But Tuesday I take it easy. Ready to work on Wednesday, then hit the action again Thursday either North South East or West.
Bill had rung up from Heathrow, the aural static of a airport pay-phone drowning out what little I could understand of his deep growl and flat midwestern drawl as he said. "Barb from Lowell said you could sort me out." Once I established he was talking about fellow Beater Mr. Tarte and not Barbara with the blond hair who played keyboards, and who I didn't think lived in Michigan. Then, as the conversation progressed, I agreed to let him stay the night.
Big mistake. The bad omens lined up to be counted when the doorbell rang A huge figure in the most appallingly grotesquely colored, ill shaped, miss-matched leisure-wear outfit that has ever insulted my eyes stood there. His massive suitcase was dumped down in a flower bed crushing a large bunch of my favorite blooms. Omens seven, eight and nine stepped forward when this garish monstrosity asked if I had 25 pounds to pay the taxi driver as he had "not been able to get a good rate of exchange yet."
We were up to 87 on the omensometer by the time he had cleaned out the fridge. Sitting back and sampling the range and variety of my rum collection, he particularly liked Trini's famous Forres Park ,75-percent of banging alcohol. Also, the home distilled Senegalese stuff where the non alcohol fluid content was counted in the negative. I could see the Whale shifting his ex-wrestlers frame in the chair wishing he was in an American-sized one. Mellowing out, he told me that he was here on business and was taking time off to look up an old musical flame.
He had become besotted with Judith Durham and The New Seekers, using her to overcome his considerable problems at a difficult period in his life. Looking at him now, I could believe it. But what did a prematurely aged person find in these '60s Australian pop folkies? What therapeutic effect could they have wrought? I mean, Judith had a fringe and long hair like every folkie girl had at that time. She had a pleasant voice and looked a nice girl who could live next door. Their only sin was to introduce one of the yukkiest songs ever, "The Carnival is Over," to an unsuspecting public.
I dared not ask too much because the more animated he got, the deeper he got into the rums. So I asked innocuous questions like, how was Bob?. "Huh! That under-medicated geek," he snorted. Now he was chugging through Blanc Charrette from La Renuion, 46 per cent of sun-kissed Indian Ocean bliss. It seems Judith Durham and the New New Seekers were playing around the provinces at the moment. I assume they were called the New New Seekers because I don't think there were many original members in it now. Bill explained he could up to go to some of the concerts in-between "business." Some times he would be away for a few nights. I digested this information with trepidation. What was supposed to be an overnight stop was turning out to be a nightmare, big time. I also only learned what that "business" was later.
At noon the next day, after he had lumbered out of the house to go and get some breakfast, I took a peep into his bedroom and looked in horror at the shrine he had built on the table. A battered photograph of Judith was taped over my autographed Andy Warhol picture. It was surrounded by half-burnt birthday cake candles and a weird selection of fetishes including an ancient, dried-up half-eaten Hershey's chocolate bar, a sole from a well-worn sneaker, an overflowing ashtray, a ripped and torn library card, a photo of what looked like a family group with all the faces violently biroed out, and a receipt for 15 acres of real estate that looked like it had been screwed up and cried on a lot, then flattened out and cried on some more.
I next saw him at six when he announced he was going to Brixton. When I came back from work at 2:30 a.m., I found him in a what looked to be a very excited state. Hunched over the computer he was deep in the net. I looked at the log. He had been on for five hours. I left him alone. Next morning, I found a poster for a New New Seekers concert in Norwich pinned to the front door with the address of a hotel scrawled on it. But, worst of all, when I went into my new kitchen which I had only just finished, I saw the monster had left a cigarette on the edge of the work top charring a horrible big burn on the strip of ash I had put around the edge. Ash is a beautiful light-colored hardwood with a delicate grain. I had spent hours hand sanding this strip, gently coaxing out the grain. Now he had damaged it.
I had to get out of the house, just get away, just escape, so I went on a record shop trawl all day. He was not in when I got back. At 3:00 a.m. when the phone rang. It was the Police from Norwich. Did I know a Mr. Bill Holm? He had been arrested for harassing Judith Durham at her hotel after the gig, screaming, "You saved my life! At least give me a kiss!" They let him out at 6:00 a.m., escorting him to the train station with the warning, "Get out of Norwich." He was angry and unrepentant when he got back. "This wouldn't happen in America," he complained. No, I thought, there they would just shoot you. His general demeanor was getting more disturbed by the nano-second.
"I'm off to Liverpool," he announced as he piled up the empty cartons from the local Thai take-away in the sink. All the pizza delivery places refused to deliver to him anymore. I didn't see him again till Saturday night when he banged violently on the front door to be let in. Whatever happened to the keys I had given him? He pushed past me with a wild staring look in his eyes. A big bruise on one cheek and a puffed up split lip distortied his flabby face. He didn't say anything to me, just disappeared upstairs. Next thing I know it's a neighbor at the door, asking, did I know that someone was setting fire to sheets of paper and throwing them out of the window upstairs? I could hear a low feral animal growl coming from the room. He had torn up the picture of Judith Durham and set fire to it, making sure it burned to ash by adding more paper he had screwed up. Further sheets of burning paper were drifting in the breeze down into the garden.
"She rejected me" he growled. "Rejected after all these years of devotion, and they beat me up." He pointed to his damaged face.
"Who did" I asked.
"Her security," he hissed. "If I'd been at my peak as midwestern champ, I would've shown them nancy boy bodybuilders who is tough." He stopped for a second as if realizing the stupidity of what he had just said. "I was in Liverpool," he continued, "and I found they were playing in Newcastle not far away." Liverpool and Newcastle are at opposite sides of the country, but I don't suppose that mattered to someone from the wide open spaces of Big Sky country with a bad obsession. "All I wanted to do," he explained, "was show Judith my baseball card collection where I had pasted her face on all of the players. And the firm is after me as well".
I had refrained so far from asking about his mysterious work. "The firm?" I inquired.
"Yes," he mumbled, obviously lost in some deep part of this psyche. "The CIA . Well, it's supposed not to be actually the CIA but a deniable part of the organization that monitors the price, supply, and quality of illegal drugs. They send people like me to buy from the drug street markets. So they make sure the supply is always there, the price is stable or dropping, whether the quality is assured, and to see who is making the money and who are the independent operators."
I glanced at some of the torn up sheets of paper, managing to get a glimpse of one which read, "Brixton crack cocaine. Two rocks Typical home brew." Others said: "Liverpool, Heroin, 1 ooz., 65 percent purity. Source Burma triangle via Poland and NW English organized crime." "Bristol. Moroccan slab Hashish. One kilo. Standard rubbish shipped by East End gangsters. UK consumption one ton a week." "Tottenham, Jamaican marijuana." I couldn't hide my horror at what was happening. Bill obviously realized he had out-stayed his welcome. "I gotta go," he said. Didn't attempt to dissuade him. He grabbed his suitcase and threw some but not all of his horrible clothes inside and walked out.
Personally, I try not believe what Bill said about the CIA. I prefer to put it down to the demented ravings of a lunatic. But then there was the van with darkened windows that was parked opposite the house and the three blokes in baseball caps who sat in an anonymous Ford round the corner. As I watched, wanting to make sure that he did actually leave, as I saw Bill struggling down the road with his suitcase, I also noticed the van start up and follow him.
The new Africando is here. Will Gombo Salsa (Sterns) continue the popular groundbreaking effort of the previous recordings? The expectations were high after the huge international success of the original mammoth session. What could they do next? The loss of Pape Seck also left a large hole in the vocals. Well, producer Ibrahima Sylla opens the music out a bit and brings in different vocalists like the legendary Benin Latinero Gnonas Pedro, young Guinean Sekouba "Bambino" Diabate, plus Tabu Ley Rochereau and Tabou Combo's Roger "Shoubou" Eugene. Famed salsero Ronnie Baro, an original participant, gets a bigger slice of the cake. For this new recording, the Latin musicians were reassembled in New York, the vocalists and arranger Boncana Maiga flown in and everybody got down to work. The result is a release that takes African and Latin forward a couple of notches. What new twists can they bring to the Africando style? Well, "a few," is the answer to that question. But then why change a winning formula, why fix something if it ain't broke?
There are some real big heaving popular tunes here, also a couple of weirdies from Bambino where the sub-Saheel melody lines bring a welcome difference to the sound. Three of the tracks are direct re-cuts or closer-workings. (not to mention the tracks where they pillage their own stuff).Gnonas Pedro revisits one of his best tunes, "Musica en Verite," for a scorching workout sung in French. This is proving the biggie on the floor with its rolling groove and tres break. Where as Bambino reassembles his big hit "Ka Souma Man" as a succulent slice of Griot Latin now called "Apolo". Baobab's "Autorail" gets recycled as "Sakhar".
But one of the things that immediately struck me about Gombo Salsa was that a large proportion of the tunes do not have endings, they just fade away. This is something that many other people seem to have picked up on as well. It always seem to creep into the many conversations I've had about this release as the second topic to be discussed. Many commentators seem to be disturbed by it. Now, the one thing generally about Salsa music is that usually it has a clearly defined intro, middle, and end. When an artist cannot find a satisfactory ending for a song, or the groove just goes on forever, it is quite permissible to occasionally just let it drift away. But for virtually every tune? It's almost an insult to the craftsmanship of Salsa song writing and arranging to be unable to find an out for a tune.
But make no mistake when it, great it's great. The title track has everybody swapping the vocals as a violin interjects a fiery burst. The radical sound of Bambino's mix up "Apolo" is next, followed by one of the average tracks, "Diaraf". The cobwebs of indifference get blown away by the gale that Gnonas Pedro's smoky voice whips up. The rhythm on "Musica en Verite" bounces along with a loose limbed intensity, making it the natural successor to the up-tempo "Yah Boy" slot on the dance floor.
Other highlights include "Grog Moin" where Taboo Combo's Roger Eugene leads the vocals on this rhythmically well rounded gujira. While "Paquita" has Tabu Ley laying his velvety voice over a montuno that keeps stepping up a gear until Dave Rimelis, violin, tears into the rhythm, soaring over the break. Ronnie Baro jumps with "Colombia Mi Corazon." "Mberin" is another one from Bambino. "Dagamasi" is a further showcase for Gnonas, a slow groove montuno that has the most exquisite trombones dripping from it. Things end up with the new version of "Autorail" now taken back to the end of the chemin de to the engine sheds for a refit. The old power house comes out with a charanga flute whistle and new strength in those old pistons. Allowing a turn of speed to be achieved that belies the ancient machine.
Gombo Salsa takes Africa/Latin boldly forward with interesting routes, exploring areas only lightly sketched in so far on the musical map. Moving the Africando idea on. Since Africando's explosion onto the scene we have seen the development of a particular Africando (sub)genre. But I was talking to a mate who being provocatively heretical and argued the point that now there are other players in the ballpark that maybe possibly Ricardo Lemvo's Tata Masamba cd is actually an all round better and more individually more creative release than Gombo Salsa. Shock horror. But I agree he, err, had got a point.
Nora, the lead singer of Orquesta de la Luz, has a fine solo debut. Electric Lady (Sony Tropical) is what you get when you go the hottest producer of the moment, Sergio George. You get his crisp storming sound and his posse of hot musicians, including vocalist Huey Dunbar plus rappers Fragancia and James "Da Barba" from DLG. You get tight arrangements with interesting twists, you get good melodies-all in all, you get the best there is. Best tracks so far are the up-tempo "No me Pidas," a cracking floor-filler, and "Nora Sola," which bumps and bores with the best of them.
Veteran timbales player Manny Oquendo and Libre have a fantastic new live cd recorded in San Francisco out now. On The Move (Milestone) shows this band, who just love to play, at their best. The sleeve notes describe it as a "warts and all" recording. I cannot hear any warts. All I hear is one of the tightest bands playing firing old style salsa. Put this release in your must-have list.
Meanwhile, the final part of Etoile De Dakar's existence is chronicled in the third volume of Sterns look at these pioneers of Senegalese music. Lay Suma Lay covers the 1981 period when the mbalax was at the top of the sound pile and the group was about to split up. Assam's tama rattles away like a old Peugeot bush-taxi engine. The mbalax rhythms jump with great density. The horns discordantly wail and stab away. Hardcore.
Retro Afric has just issued a compilation taken from its catalogue of shimmering oldies. African Cavalcade is subtitled "The Glory Days Of African Music." From Franco, Henri Bowane, Ry-Co and Shikamoo Jazz to Zaiko, they are all glorious in their grooviness, especially the previously unreleased Ry-Co track here "Maria Mi Amour," which is 3:40 of some of the funkiest beats, liquid guitar and rasping sax that will pass in front of your ears this side of the end of the millennium. Glory Days is a fine compression of an era.
Now that we are safely ensconced in 1997, it is possible to view 1996 in context. As always, some of the best releases came at the end of the year. So, the usual rules of the ebb and flow of releases, and especially in the latter part, applies. I do not think it is a case of the most recent things sticking in your mind or a selective reality happening. This year, I found myself coming back to calypso. After a period when I found very little to excite me this year, quite a few attached themselves to my ears. The range and nuttiness of the rhythms was wider.
Humor made a comeback, and chutney was a welcome flavor. My re-welcoming of soca was matched by an equal indifference to much modern African, with the exception of Senegal, which produced some stunning, superb music. All the Zairean stuff I've been playing out is old, nothing new at all. Ernest Ranglin made a significant record: Below the Bassline will be loved in years to come. "Telephone" by Los Jovenes Del Barrio is there, because this tune has single-handedly crossed over into so many different people's consciousness, it was my most requested tune last year. Every time I played it, the queues built up of people wanting know what it was. Ali Farke Toure's oldies on Radio Mali had to be the most satisfying listen. Cheikh Lo is an essential choice. Super Coyor had the hottest Senegalese Latin/mbalax cassette. Afro-Celt Sound System are in there for the sheer audacity of their mix-up. DLG showed the most sophisticated route to Latin reggae .
The reggae tune I've played most this year has to be the Ziggy Marley's "Works to Do." Batucada, The Sound of the Favelas never stopped beating out all year, while Ricardo Lemvo came out late from the left field and is still running. Honorable mentions go to Jephte Guillaume's Lakou-A (Spiritual Life 12") a dark slice of offbeat Haitian.
The best video I saw last year is also the best one-shot video since Massive Attacks' Unfinished Sympathy. It comes from Brazil and Chico Cesar with Mama Africa off his Cuscuz Cla (MZA) release. This simple, effective, video starts off with his family lined up outside his house. Chico comes out of the door dancing and singing, and the camera positioned on the back of a truck moves off through the village with Chico following it. It trundles along, and in one continuous shot, the whole population comes into the picture as the truck rolls along the road. It is such a perfect remedy to the excesses of the fast cut video.
Someone commented recently that absolutely no classic film of any era and area was immune to being compressed into 3:00 for a music video. Every image, every idea, every concept had been pillaged from the world of film, from Jean Cocteau to John Ford, Eisenstein to Ridley Scott, via everything from Jean Luc Godard to John Carpenter, as the video makers shuffle the visual cards of their favorite films. The one-shot or long tracking shot is a favorite of mine, like the opening shot of Orson Welles' "Touch Of Evil" or the bank robbery sequence in Joseph. H. Lewis' "Gun Crazy." The one-shot is an exploration of real time within the distortion of time that is a film.
And cut back to Chico Cesar. Okay, the tune is very popular. Its catchy melody and relaxed off-the-wall pop bloc groove with horns that sound like they come off a Burning Spear tune make it a perfect Latinate selection. I wish Roger Corman would make a video.
(Reprinted with kind permission of Dave Hucker, "Hey, Mr. Music" column, The Beat, Volume 16, Number 1.)
Technobeat Central
Columns by CDs and Artists / Columns by Date
Columns by Subject / Page of the Whale