Lost in Space
Now, Nosara to Punta Islita was only about 30 miles as the crow flies. It is just up the coast. However, it took us four hours to do this journey. First, it was back through the rivers and potholes to Samara, which only took 30 minutes, then along the beautiful Carillo beach lined with palm trees. This is good. There are even signs to Punta Islita and Estrada. But when we get to Estrada, we are faced with the choice of a road going up into the mountains or a very muddy track along the coast. We try the coast road. This very rapidly deteriorates and huge great river runs across it, daring us to pass.
It looks a bit rough to me, so we stop to decide what to do. We turn around and come across one of the large yellow electric company trucks about to plunge down the muddy road. With a mixture of Spanglish and gestures the driver makes it clear that our car does not have a chance of getting through and he gestures up the mountain.
So, we have no choic. Up the mountain we go for 3 hours of a first and second gear grindout on dirt roads. Huge ruts, boulders and stones fill the road. Sometimes, you just had to stop and work out which were the best ruts to take. Often, as you bounce around a bend with a vertical cliff on one side and a sheer drop the other, you find a huge great lorry coming towards you. No space to pass. Arrghh, what do you do?. No problem, they were experts at squeezing by!. But it was heartening, if a lorry could get though these rough tracks, then we could. I did not need to use the four wheel drive at all on this journey, except once, when fording a river, I thought the slope at the other side looked a bit steep, and the loose stones and gravel on it might not give you a whole heap of traction. I would not like to do have done this drive in bad weather.
We passed through sleepy little villages, where the only signs of life were either at the school or the store or a corral of horses. There were no signs of any description whatsoever. We stopped at one little shack shop to ask directions, and the guy in charge of the shop was so seriously out of it, he could hardly talk, all he could do was wave in the direction we should go. It was only 11:00 am as well. But I suppose in these places there's not much else to do except hit the guaro (the local rum drink) at breakfast time! Still we have to believe that he's sending us in the right direction. With blind faith we go on.
The only place Kim can find on the map that seems as if it might eventually be on a road that led to a road that led to Punta Islita was a village named San Pedro. We turn left, cross a little bridge. Find a nice man walking along with his horse. San Pedro? No, he tells us, turn around and go back and right. Did he say right? We think he did. We wind through many fields and down and then - another little village. We call out to another man, "San Pedro?"
"No, this is San Martin." Oh, no. That's so small it's not even on the map. Despairingly we plunge on.
Eventually we reach another village and stop to check our directions at the wooden store. Mrs, Store sat out in the sun with a child. Yes, this is San Pedro. Yes, we are on the right road. "Cinco kilometres" she says firmly. Then "A la Derecha para Punta Islita."
"This is a very nice village," says Kim, "so glad to have found it." But ,"Aqui es muy caliente," replies Mrs. Store fanning herself. Hubby was slumped asleep over in the shade up by a snooker table, which seemed to be used as a repository for plastic bottles of various sizes and uses. Obviously snooker is a bit too energetic for them up here.
Mrs. Store is absolutely right. Five kilometres on and there indeed is the sign to Punta Islita. Now we have to plunge down to the sea again. It takes another hour of twisty mountain roads. Then the coast and turn right. Only three more rivers to ford now. Up the hill, down the cliff side, and my, oh my, we finally get Punta Islita. It's a large resort type of place, spread out round a hill overlooking the sea, a million miles from anywhere. Then we notice it has its own tiny air strip. Ah, that's how they do it for the lazy Americans who would not put up with a drive like that.

Villa One
There are endless formalities with the guy at the gate. Lots of muttering into walkie-talkies. Then, happy that we do indeed have a reservation and haven't just made the four hour journey on the off chance, he raises the barrier in the middle of nowhere and we continue up the hill. We park and head to reception. A young woman comes to meet us carrying cold towels for us to wipe our sweaty brows on. We register and peer into the huge dining room with the arching bamboo roof, and past it to the cool, blue swimming pool.
The staff zoom around on Quad bikes, and we follow one to get to our room. The driver likes our car, which we have decorated with objects we have collected over the past two weeks: a feather which has miraculously stayed stuck in the roof rack, four twisty shells stuck in the bonnet under the windscreen, and a few inches of mud.
Building workers were at work a new house next to us. We seem to have been plagued by building workers ever since Villa Caletas. Things seem to have gone in a complete circle. But I suppose it is the quiet part of the season here, so they have to do any work now.
We follow the quad bike wondering which room we'll get. We discover we've been upgraded to one of the three little villas! There are workmen close by and as we approach, Kim says disappointedly "Oh it's a bit near the bar." Yes this is true. But it turns out to be our bar, our own private bar, with our own big fridge to chill the beers in, our own little pool to frolic in. What fun.

Kim's Narrative: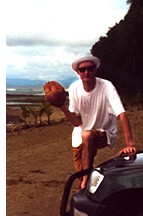 So we have a pool, a thatched open air sitting area with a hammock, sofas and a table; the pool; an outdoor kitchen area; and then another thatched room with a huge rough wooden four-poster bed, big picture windows and a lovely bathroom. The roof is arched, and the walls are alcoved and washed a lovely green and blue. A television is hidden in a rough wood cabinet. White towels are twisted into extraordinary circles on the bed and are decorated with red hibiscus flowers. There are more flowers in the bathroom. Very simple. Very chic. Very lucky to get a free upgrade!
We run out and sit in our little plunge pool looking down the hill and out across the sea. It begins to rain softly. Dragon flies hover over the pool. Eventually Dave drags himself out and opens up our bar. I lounge in the hammock. We sense that the end of the holiday is in sight. Later we wend our way up the hill to the big dining room. It's hard to tell what the other guests are like. There are not many. We are served by a young and serious- looking pudgy boy called Geovany. We order a bottle of Chilean Sauvignon Blanc, which knocks us out and we sleep like logs, or do I mean frogs.
When we wake up the sun is shining. We eat breakfast up at the main hotel by the infinity pool, huge plates of tropical fruit. We are served by pudgy boy Geovany. There is a loud scuffling in the thatched roof, and a huge iguana drops down onto the floor and waddles out into the sun. We survey our fellow guests. There are some young yuppy Yankees on honeymoon. An older American couple: she in expensive beachwear, he in a Frederick Forsyth novel. A Costa Rican couple and two very fat people.
Later we drive down to the beach. Very out of season. The shore is littered with coconut shells. The hotel's beach restaurant is being painted up for the Sseason. We bag a bit of shade and lie reading our books and watching the waves. Eventually we troll up to the beach restaurant, which is deserted except for pudgy Geovany. We order some lunch. He reads our order into the walkie-talkie and 20 minutes later a quad bike zooms down from the main hotel and delivers it to us. The two older Americans join us for a bit. There are just the four of us, plus Geovany and four painters. There is also a CD player and four CDs, each with a compilation of this summer's merengue hits. "Better than that damn piano music they play in the restaurant up there," growled the American.
This was our last day and we were going to savour it. We trolled back up to Villa One. Lounged in our little plunge pool. Then lounged on the enormous bed watching Never Say Never Again. Why does James Bond always make more sense when you are away from home? Then we packed for the last time and walked in the scented darkness up to the big bamboo thatched restaurant.
There we were served by the increasingly pale and pudgy Geovany. Does the poor boy never get any time off! As we were savouring our last meal an extraordinary black and white striped squirrel type thing ran across the dining room floor. It was exquisite, with the most beautiful markings and it danced around our table looking up at us and shaking its snowy little tail, more Disney character than wild thing.
"What was that?" I asked Geovany - who by now was something of a family friend.
"He is called Pepé," he replied. Yes, of course, Pepé. "Everyone knows Pepé," he said proudly. Well, we didn't know Pepe. We looked around to be properly introduced and saw him scurrying off around the swimming pool. We never did find out what kind of creature Pepé was. He didn't appear in any of our guide books, and we were never to see him again.

Do you Know the Way to San Jose?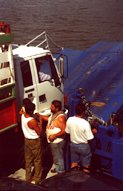 The next day we had to leave Punta Islita, and thank heavens there were blue skies. We ate our last tropical breakfast. Said goodbye to the iguanas, the leaf cutter ants, the builders and Geovany , and we were off.
The road across the mountains seemed almost easy on the way back. Dave was getting to be an old hand at this rough track driving. But it was bangingly hot. It took an hour to get back to San Pedro. Then another hour over the mountains to Carmona. Everywhere there were butterflies, hundreds of bright yellow ones sitting and drinking from the pools of muddy water by the side of the road.
In another hour we reached the Tempisque ferry, which was to take us across the Gulf of Nicoya. We lined up behind a couple of large lorries and a few cars. Dave nipped over to a shop over the road to get some refreshments. A beer for him, and a Coke for me because I was taking over the driving now. We saw the newspaper headlines "It's Bush!" So the world had kept on turning while we were away.
I left Dave in the car and went off to suss out the ferry tickets - 900 colones (£1.75p) for the 20 minute journey. Dave was chugging the beer. He had the car window open with Radio Puntarenas blasting out and was trying to be look and behave like a local - sad isn't it - when the nice Canadians we had met at Lagarta pulled up directly behind him! "Of all the ferries in all the world..." We chatted and caught up on each others adventures.
This was a funky little spot. Upturned fishing boats on the edge of the river. A few food stalls. Lorry drivers, one with his small son, killing time and waiting for the ferry to come in. Two small boys came by with polythene bags full of peeled oranges.
"Please buy," they said. "Only 200 colones (30p) - cheaper than up there by the ferry."
I looked at the oranges, they looked nice but they would be messy to eat. "No thank you," I said.
"Oh please buy. They are very good. Only 200 colones." I looked at the bigger boy. Perhaps we could strike a deal. "OK, I will give you 300 colones if I can take a photograph of you as well." He understood immediately, and explained to his younger brother what the gringo wanted, translating my broken Spanish for him. "Ready?" "Ready," he said and threw his arm over his brother's shoulder and fronted a big grin. Transaction completed, he handed me the whole bag of oranges. "Oh. I only wanted one," I said. (30p for the whole bag!) He looked amazed. He took one out of the bag and gave it to me. He took out another. "This," he said gesturing at Dave, "is for the hombre." I held out my hand and he shook it gravely. "What is your name?" I asked. "Fransciso. And this is Gregorio." They went off eating the oranges that I had paid for but didn't want.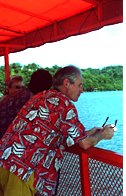 The ferry pulls in and disgorges half of Costa Rica's largest lorries. We roll our car on. The stand on the deck catching the breeze as the boat slices across the gulf. The Canadians stand with us. We spot the two small boys who have snuck aboard in an attempt to sell more oranges. I eat the one I bought. It is very sweet.
Then we roll off and wave goodbye to our Canadian friends. We have another four hours driving ahead of us. Dave had the potholes, but I get the lorries. Diesel fumes and dangerous curves. We make slow progress. It may be Costa Rica's main highway, but it is single lane, with mad bastards overtaking. A few traffic cops and a lot of roadworks.
Then we start seeing reindeer.
We had first spotted the reindeer near the start of holiday at Orotina. Those were small little Bambi things. Now they began to appear in many guises and sizes by the side of the road. This was clearly the Costa Rican Christmas thing, reindeer made out of wood shavings and sold at the roadside stalls. Some were tiny with delicate antlers. Others were bigger and rougher. At one point we saw one that was about 10 feet tall.
"I want one. Oh, I want a little one."
"Don't be silly. How on earth are we going to get that home!"
The drive goes on and on. We begin to make friends with the lorries we get stuck behind. Our favourite is Salvador Man. A fast and squat white lorry van from Salvador. He's obviously come right across the country and must be heading for Panama or somewhere. He's tenacious. Speedy. Always in front of us. Heaven knows what he has in that van.
The closer we get to San Jose, the more roadworks there seem to be. We are tired, sweaty and almost there when it dawns on us, "How are we going to find the hotel again?" We'd been driven to it at night. It was quite easy leaving it two weeks ago with the helpful instructions of the concierge. But how were we going to get back to it. San Jose seemed huge and sprawling. Which district was it in? We remembered it was near Escazu and we'd driven past Sabana Park.
We passed the airport. We passed the Best Western Hotel. That seemed right. We got to Sabana Park. We saw a sign for Escazu! But was it left now, or the next left. We got it wrong. We found ourselves heading into central San Jose in the rush hour. By this time, we had been driving over seven hours. Things were going pear-shaped, and so was my head!
Dave was navigating with an increasingly desperate air. It was getting dark. We stopped in a busy pot-hole and looked at the map one more time. I went into icy calm mode. "Straight on." "Left." "Left." "Straight on." I barked to myself. And amazingly it worked. We were back at Sabana Park. We saw the sign to Escazu. We made the left turn. We were out on the freeway for a bit. We passed a neon sign for Tony Roma's. "I remember that," said Dave with an air of dazed relief. The traffic was slow. It was dark. We pulled into a garage to fill up with petrol. I rushed to the luggage and pulled out a brochure for the hotel. "This will tell us," I cried triumphantly.
"Hotel San Gildar offers a charming and delightful atmosphere, with its pleasant version of Costa Rican hospitality." "What's the address," growled Dave. "Located in the picturesque district of San Rafael de Escaz," "What's the bloody address." "The terrace bar provides a variety of drink to enjoy..." "Take me to it!"
My face fell. "It just says 250 west of Costa Rica Country Club, old road to Santa Ana. No other address. That's it." We tried to translate this for the petrol attendant. He looked blank. The traffic roared by. I tried again in my best Spanglish. "La vieja calle de Santa Anna?" "Si, si". He gestured to the traffic lights. "A la derecha."
A la derecha it was. We passed the numerous signs for real estate and dentists and finally saw the hotel appear on the left.
We turned the car into the parking space outside the canopied reception.
The attendant looked at it with mild suspicion.
The feather was still there on the roof rack, battered but standing proud. The four twisty shells were stuck on the front of the bonnet. The wheels were coated with thick mud. The scratches, well, we hadn't added any new ones.
We opened the doors and fell out.
"Buenas noches," said the attendant politely.
But we knew what he was thinking. Two more crazy tourists who went over the mountains and came back to tell the tale.


[Copyright 2001 Dave Hucker and Kim Evans]

Technobeat Central
Columns by CDs and Artists / Columns by Date
Columns by Subject / Page of the Whale