by Dave Hucker
Saturday 22 September 2001
Johannesburg. 1.30 in the afternoon.
It was hot and the 10 o'clock bus to Maun in Botswana was running a bit late. The starter motor wouldn't start the engine. The passengers were getting bored and distressed. Only this was not a bus it was an aeroplane. And you can't push start an aeroplane. 
This is our honeymoon. We hadn't known it was going to be that way when we started talking about Botswana earlier in the year. But that's the way it panned out.
Tuesday 11 September, the World Trade Centres were attacked.
Wednesday 12 September, we got married on a bright and sunny morning in the Kings Road -- a ray of hope and happiness in a world which seemed very bleak and frightening.
Friday 21 September, our supposed 3-hour check in at Heathrow was a joke. Even though we were in the middle of the biggest security alert of the twenty-first century, we just breezed through. Extra security in the wake of the Twin Towers meant a very fast through put for those who still wanted to travel. 
We'd been concerned that the plane from London would be delayed and we might miss our connection in Jo'burg, where we only had 45 minutes in which to board our flight to Botswana. But our fears were unfounded. BA got us there in time and in unexpected luxury. At the check-in we were told we were lucky to get two seats together -- but it was worth checking at the boarding gate in case they had been able to improve things. And wonder of wonders we found we had been upgraded from 3rd class cattle truck to 2nd (Business) class with a massive extra 7 inches of legroom in luxury seats with foot rests.
But now we had landed in Jo'burg, our 45 minutes wait for the Air Botswana plane stretched to 4 hours and the company motto "Air Botswana, going your way" turned into "going your way -- eventually". We began to get a little worried. What if we did not get to Maun in Botswana until very late afternoon? Then the little six-seater Cessna that was due to fly us from Maun to our first lodge in Deception Valley would not be able to fly because the those little planes do not fly at night, full stop. The strip at Deception Valley is just a cleared bit of land. No landing lights.
But Air Botswana did their best. They only have half a dozen planes but they gave a better service to us passengers than many charter flights operators in Europe do. They kept us informed on the progress of the plane, the problem was a compressed air valve to the starter motor jammed shut. They fed us. They kept us waiting on the bus for ages. They got us off the bus and back on and eventually onto the plane -- one of their 500-year-old Fokkers.
And finally we took off. The pilot announced that " for some obscure reason we are going to Gabarone (the capital) first, then to Maun". Fair enough. As we came into Gabarone the good news was that the pilot had negotiated a deal: "Although international regulations say that you must clear immigration and customs at your point of entry into a country, I've managed to get those waived and you can do it at Maun". So we were spared getting off the plane at Gabarone, doing the passport stamping routine, then getting back on the plane thus adding a further hour to our now 15 hour journey from London. Ah, the flexibility of Africa.
The plane picked up loads of locals at Gabarone, we got served a tomato and cheese sandwich, hand-wrapped in cling film, with an added ant for extra flavour. Fifty minutes later we were descending towards Maun. Panic set in when Dave started to fill in the Immigration form and read that in order to get in to Botswana, you have to have a passport valid for 6 months. He discovered to his horror that his expired in December, a mere two months away. Oh my God! What if they do not let him in? In a deliberately illegible hand he scribbled that his passport expired in 200? and we engaged in some buttering up and flim flamming to distract the attention of the girl in the Immigration box.
Phew, it worked we got in.
And our little plane pilot was waiting for us out in the mêlée of the foyer. Lutz was his name and he was very little, about 5 feet tall, blond and young South African. Later as we browsed the Mack Air in-flight folder we read that although Lutz had 4,500 hours of flying experience, he still needed to sit on a cushion to see out through the windshield! True.
As we waited for our fellow passenger on the flight to Deception Valley to turn up we had the chance to begin to soak up the ambience of the first real bit of Botswana we had encountered. We gazed upon the tribal Herara woman with an elaborate yellow hat wound up and a tiny baby on her back. Our fellow passenger turned out to be from an even rarer tribe. Maria was a real glamour puss lemonade-shandy-drinking blonde in her somewhat 40's. With her big baubles and bangles she seemed dressed for a cocktail party in Jo'burg rather than doing the Bushman trail. We were to discover that she had at least seven different changes of clothes with her. The highlight being the outfit she chose for the early morning drive - a short Zebra print skirt, white shirt, gold jewellery, thick black tights and black patent leather lace-up boots. During the drives Kim said she appeared to sleep most of the time. Dave said it was probably because she had to get up at 3.am to start putting her make up on.
Descent into Deception and the Kalahari Bushmen
Saturday 22 September
DECEPTION VALLEY MENU.
Saturday: KUDU STEW
Sunday: ORYX STEAK
Monday: BOTSWANA T- BONE STEAK
Followed by Chocolate Mousse with chocolate porcupine quills.
We had left England and after a series of flights which went from a Jumbo jet to a six-seater Cessna we ended up being met by Braam in his open Land Cruiser on a dirt strip in the Kalahari desert - airfield co-ordinates 20 degrees 59' 12" south, 23 degrees 39' 47" east.
In England we had worried that perhaps Deception Valley lodge was a bit too civilised. It wasn't under canvas, it was a lodge. It had verandas, and a bath as well as an outdoor shower. But oh how welcome and how wild it was when we got there at 5 o'clock after our 20 hour journey!
Deception Valley Lodge had been built by Braam and Susan two-and-a-half years ago. It had taken them ten months to create this very individualistic place. They had done most of the building work themselves, helped by the bushmen. The plumbing and electrics done by contractors and the high tech power system had been specially designed for them and stashed in a container by Siemens. They were connected to the world by email which they received through the FM radio. Braam was Botswanan and had grown up with bushmen in the nearby area of Ghanzi. Susan was South African. This lodge was their dream. They loved the Kalahari and they wanted to share it.
There was a big communal area with an indoor eating area and a large, comfortable lounge. In the middle was a bar (made with old wooden sleepers from the railway in Zimbabwe). Everything wrapped around by a veranda. Outside was a huge barbecue and outdoor eating area, with a camp fire and chairs looking out towards the waterhole (the pan). The guest bungalows were dotted around the nearby land. There was only 5, so a maximum of 10 people. Each of these nice little open plan "cottages" had their own veranda looking out on the sunrise, a comfortable sitting area, a mini bar, a bedroom, a semi enclosed bathroom with Victorian bath, flush toilet and a gas fired hot water heater on the wall for the hot water. Plus a hairdryer (for Kim) not Dave - he does not need a hair dryer these days.
Having filled in the standard waiver form, on which we agreed that our hosts were not responsible if we got eaten by a leopard, or a brown hyena took a chunk out of our calves, we made a dash for the loo and shower, then unpacked.
Brown hyena is quite a rare species in Africa and this area seems to have quite a few of them. So the crisp white pillow cases had brown hyena hand-embroidered into them and their paw prints decorated the curtains.
We rejected the night drive as it sounded too much like hard work after the long journey, preferring to chill out by the camp fire and eat homemade popcorn and drink St Louis beer with Susan. Eventually we met the only other people staying here, apart from our junketeer Maria. They were two Americans -- Howard and Babs. Susan had described Howard as a heart surgeon, the American equivalent of Christian Barnard. Kim imagined a tanned strapping 4O-year-old, like Hawkeye in Mash. But when Howard and Babs turned up after their evening drive photographing Leopard munching on a Kudu, we discovered they were in their late seventies and had been coming to Africa from Ohio for over thirty years. They came on month-long safaris, travelling overland with their own guides. This was impressive stuff. Howard was gravelly and terse and occasionally funny. Babs had had some kind of stroke and was a bit frail, but her mind was still sharp as a pin. Howard was a photo nut and had the most incredible amount of camera gear, in fact he had so much stuff that they could not fit it all in a single-engine Cessna, they had to charter a twin-engine plane to cart it all around! All he wanted to do here at Deception was photograph brown hyena. He was missing photos of brown hyena in his collection, so he wanted one bad. Their two guides were very knowledgeable and patient -- saints there to serve Howard's quest for the perfect photo opportunity.
 "What's the latest on America?" asked Howard when we met up round the camp fire. They had been in Africa when the World Trade Centres went down and were hungry for details. We gave them a careful short update of the state of play then, not wanting to get involved in politics with people we had only just met.
"What's happening with the football?" asked Nigel, one of their South African guides. Dave could not tell them about that, or about how the cricket was doing either much to their amusement or disgust. However he eventually connected with them over music and South African 1950's teenage penny whistle kwela star Little Lemmy.
To our amazement at 10o'clock after dinner of a delicious Kudu stew, Howard decided he wanted to go out one last time to look for brown hyena. Patiently the guides agreed. So obligingly off they went again! Babs, for the first time on the trip said she was going to bed.
We agreed to a wake up call at 5.30am (are we mad!) then fell into our two single beds under our crisp white hyena sheets and slept the sleep of the dead.
Sunday 23 September
The pattern for our next two weeks was being set - up at the crack of sparrows' fart; too cold to shower, just a quick wash and clean teeth job. Then over to the lodge for hot strong coffee and cereal. Howard and Babs were already there of course, grumpy and bright respectively. The birds were hopping around outside: pied babblers, the shockingly blue Cape Starlings and a Hornbill. Howard and Babs went off with their guides and more camera equipment than a TV film crew.
We went out with Braam, our bushman tracker Ruse, and Maria in her lovely zebra print outfit. 
It was amazing how quickly we fell back into the African routine. As a pink dawn broke we were stopping to look at birds, animal spoor (tracks) and droppings. Ruse sat up front in a little seat above the bumper. Braam was a real expert and a sensitive guide, responding to our interests. Despite what is said, the Kalahari isn't a desert at all. In fact it is a vast sand-sheet, a fossil desert, now largely covered in trees, bushes and grasses. Sandveldt is the official term. Eighty percent of Botswana is made up of the Kalahari. That first morning we saw a whiteheaded vulture, yellow billed kite, a bateleur eagle, a little banded goshawk, a laughing dove, a carmine bee-eater, a lilac breasted roller, a very beautiful but somewhat common bird that the guides often refer to as ABR -- another bloody roller, and duiker and springbok and a yellow mongoose and some ground squirrel. There was nothing at the waterhole, although last night the leopard had been there. But never mind, at this point kudu, steenbok and ostrich were enough for us. 
We got back at about eleven for a hefty brunch. Then off for blissful showers, our clean laundry already back, and time to laze around in the midday heat. Reading books on the veranda (or sleeping if you were Kim). Later we ambled to the little decked pool and had a swim in the cool water. Then Kim spent twenty minutes in the 104 degree sun.
At 3.30 it was time for tea and cake on the veranda with Braam, Ruse and another guide Mahlaki. Maria, Howard and Babs had flown out at midday and we were now the only guests. Then we are off for the Bushman walk. In some ways the Bushman walk is a bit of a tourist cliché in Botswana, but this one was a bit different. After a short drive we stopped and Ruse and Mahlaki nipped round the back of the cruiser to change from their khaki suits into their, rather minimal, trad gear.
During the walk they only spoke in Bushman language and Braam translated.
Botswana is a mix of San, Bantu and Zulu peoples. The Bushman (the San) are the ancient tribe of the Kalahari and are experts at surviving in the desert. But they are far down the pecking order as they are a peaceful and nomadic peoples. There are about 80,000 of them in a country of 1.5 million. 
Very few of them live in the traditional nomadic hunting ways these days. But they are very proud of their tradition. Every root and plant has a use. As we walked they showed us the Tree of Life from which they make their weapons and sticks, the shepherds tree, the elephant ear tree whose large soft leaves provide very comfortable toilet paper. They dug in the ground and showed us an ostrich egg they had filled with water and stoppered up with leaves then buried it.
The water tasted very cool and fresh. They demonstrated how to make scrambled eggs in an unbroken ostrich egg using a whisk made from a piece of grass. They showed us a big tuber root you could dig up and squeeze to get water from. We saw how they made arrows bound with poisoned sinew for hunting. We visited Bushman huts and there they showed us the Rain man dolls. The thumb pianos, and of course the fire sticks. Back at the land cruiser we made a target from a pile of empty drinks cans and shot arrows at them.
We decided to go on and do a short drive that evening just as the light was dropping. When we went back to the waterhole three leopard were there, plus 2 or 3 black-backed Jackal who were teasing the leopards, menacing them over the dead kudu. After a while of putting up with this, one of the leopards went over and started tearing at what was left of the kudu, the jackals skulked away, looking over the shoulders at the dinner they had lost for the moment. We sat and watched the leopard for about 20 minutes, the sound of their chewing was loud and rhythmic. Then we wound our way back to the lodge to our own dinner of Oryx steak which we were pretty sure tasted better than the leopards' dinner of ripe two-day-dead kudu.
Monday 24 September
Today started the usual way - rise at 6 and then a morning drive. This time the highlights were a wonderful tawny eagle, giraffes some red hartebeest and a (Dave) fave a large warthog. Not much at the waterhole. What little meat left on the Kudu had been snuffled up by the jackals and hyenas.
At brunch Braam and Susan were much more relaxed as we were the only two guests there. They told us how the Bushman - quite silent with the guests - were brilliant at mimicking them in private. Wonder what they will remember of us when we are gone! They also filled us in on Maria, whose travel company seems to specialise in looking after stressed out Chief Executives and organising 'team bonding' events in exotic places. She was here to suss out whether Deception Valley Lodge would be a suitable venue. Along the way she had given Braam and Susan a few pointers -- like they should get a masseur! Braam and Susan had smiled politely while secretly exchanging huge raised eyebrows! They were more taken with Dave's suggestion of introducing a whole new style of massage, which involved being strapped to the back of a kudu.
Today it was too hot even for swimming. We lolled around on the veranda and watched a couple of dust devils (mini whirlwinds) swirl by. Apparently one tossed two heavy wooden parasols into the pool. We saw a little file of people walk by, a Bush woman and the owners' little daughter, her dog and her nanny. It was a timeless and slow parade.
After tea and cakes we went on a gentle afternoon drive, then looked at the curio shop and buy an ostrich egg necklace, a painting of a kudu on elephant dung paper with ostrich egg bits and a porcupine quill, some Devil's Claw tea for Kim's father, and some postcards.
We ate our dinner outside, Braam did a monster Botswana T-bone steak on the braie, which was followed by a chocolate mousse with what looked like a porcupine quill through it -- the quill turned out to be black-and-white chocolate. Yet another masterpiece from Susan, who generally did all of the cooking.
We all go out for a last night drive. It starts well with kudu and hartebeest but there is not much else. We go down to the airstrip where the previous night there had been some cheetah. But all we see is dozens of spring hares - a little kangaroo hare-type thing jumping in the moonlight. We do some star gazing. Scorpio and part of Orion's belt are clearly visible. Mars is bright. The moon looks like it has been cut in two. The angle of the now-hidden sun is catching the edges of the craters very clearly. It is very sharp and the seas look deep. We drive back and have a Kalahari Liqueur, then trek down the boardwalk for our last sleep at Deception Valley Lodge.
Out of the Kalahari into the Pans
Tuesday 25 September
We have one last morning drive - not great for game, but fantastic for the light and the landscape of Deception Valley. The place got its name because in the summer, the heat haze makes it look as if water still runs in this dried up river. We drive to the top of a scrubby sand dune and stand on the bonnet of the cruiser, to scan the vast horizon of the Kalahari one last time. Barren, beautiful and teeming with unseen life -- from termites to giraffes. We scour the horizon with our binoculars, seeing vultures, kestrels and bateleur eagles floating on the thermals.
Then back for a last shower and brunch. We say goodbye to Braam and Susan whose simple directness and commitment we have come to admire, Then we are driven to the airstrip.
This time our pilot is Graham from Aberdeen, tall and lanky, 27, with a dry humour. As he gets out of the Cessna he says "I hope my landing didn't make you despair -- I'm terribly embarrassed". Well, he did bump about a bit on landing.
Within minutes we are off again roaring down the airstrip. These dirt strips are great fun and very exciting. We climb quite high - 1500 feet- to try and avoid the worst of the turbulence. We get a fantastic view of the countryside, not that there is much to see, just the bush, occasional farms and bare strips of fire breaks stretching across the landscape. After about 20 minutes we began to see the salt pans of the Makgadikgadi: grey dried up pools among the brown of the bush with spidery veins of game tracks trickled through them. These are the dried up remains of a lake the size of Switzerland.
We are heading into the very heart of the Ntwetwe pan to San camp. Graham improves on his landing this time hitting the dusty strip gently. Two land cruisers are there. A lanky blond twenty-three-year old English youth comes bouncing up -- "Hi, I'm Ollie welcome to San camp".
Another small plane lands behind us to take out the group who are waiting to leave at the airstrip. They include Ollie's father and brother who have been staying there for 6 nights. Ollie had not seen them for 8 months and seemed very sad to see them go. 
After waving them off -- no one ever leaves one of these little dusty strips until they have waved the plane off - we hop into the cruiser take drink from an old-fashioned lemonade bottle with a stopper in it. "This is my first proper job" Ollie confides as we bump our way along the sandy track to San.
Alarm bells begin to ring. How could a 23-year-old nice middle-class boy from Richmond, Surrey, know anything about guiding in Africa? When we get to San camp and another nice well-spoken English boy (all of 25) in wrap-around sunglasses introduced himself as the manager. "Hi, I'm Chris. Welcome to San Camp." 
We wash our hands in a beaten copper basin, then eat lunch of Moroccan chicken pie in an open-sided white tent. Dave's face and spirits dropped as the two boys twittered away like cape starlings -- as much to each other as to us.
Eventually Chris walks us across the baking salt sand to our tent. It is 2pm and well over 100°. The white tent is simple but very beautiful with its copper basin and water jug and canvas chairs outside on the deck. No electricity or running water here! Inside there is just room for a stand with a mirror, some silver boxes containing tissues and soap and a double bed with a beautiful quilt embroidered with African animals, its four metal posts draped in a mosquito net. Outside are two tiny open tents -- one with the long drop toiler and the other with the shower -- a bucket strung between palm trees. 
While Kim is getting happy, Dave is grim.
"I don't think I can take it" says Dave.
"What?, the heat?"
"No the boys."
"Give them some time to calm down," says Kim. 
And true, over the next 3 days Dave actually got to quite like them. Ollie had a 1st in Zoology and was quite bright (and rather sweet, adds Kim). Chris is very capable. Once everybody had eyed each other up and got to understand each other and their interests we got along fine. They had to do this twice a week when a new load of bozos (otherwise known as guests) are dropped in front of them.
We know it is extraordinarily hot! However, the two boys have introduced us to the kikoi (a piece of multi-coloured cloth that will play a number of different roles over the next few days). We are advised that you can combat the heat by dipping the cloth in water and draping the cold material over you. Kim tries it -- lying under the mosquito net swathed in the damp kikoi -- it works! The travellers fall asleep only to be wakened 2 hours later by the call of 'coco, coco, showers are ready!" The boy has come to fill the canvas bag in the tiny open tent next door -- we can wash!
That evening our first drive was a bit messy, with Ollie trying hard to suss out our interests. The highpoint was two secretary birds hunting. The secretary bird is so named because it looks like a Dickensian office worker. It is black and white with long legs which appear to be encased in some kind of feathery plus-fours. It stalks along following its own long neck and you almost expect to see a quill stuck behind its ear. These birds hunt on the ground, kicking the grass around to dislodge small birds, lizards or insects then pouncing on anything that is disturbed.
A couple of falcons were trying to bandoodle in and freeload on the activity, But the secretary birds were having none of this. A running battle ensued between the two species. We were about to ask Ollie to stop so we could take a picture of the sunset, when we rounded a headland and saw a table and chairs set up on the flat salty pan. On the table were a selection of drinks and a cooler. Ollie lights a fire and Chris walks out from a bunch of Palm trees. They chatter on and we all sit down for a beer. Then a fantastic sunset thing begins to happen -- as we looked at the sun as it went down we saw huge big black spots on it - sun spots - something we had never witnessed before.
After a couple of beers, Ollie spread out a map of Botswana and began to explain the geological history of the area and this vast ex lake. Three-and-a half billion year old granite underlies the whole region. About 100 million years ago the vast continent of Gondowland split apart. One part went west and is now South America, another bit floated off to the east which we now know as Australia, while a another great chunk, India, went north and crashed into the Asian plate and formed the Himalayas. Immense quantities of lava flowed from the split and elevated the entire southern part of Africa. Seven million years ago one river ran across here emptying into the Indian Ocean. The Zambezi, Okavango and Linyanti rivers were tributaries of this large river Then in a flurry of tectonic activity a fault line fractured and a plate lifted up shifting the land. Preventing the river from flowing so it created a huge lake, three times the size of Lake Victoria. After the uplifting the Zambezi flowed away from the lake taking the route it runs today. The lake starved of fresh water began to salinate and dry up. By 15,000 years ago the lake had dried up totally leaving this -- 10,000 square kilometres covered in nothing but salt and a few clumps of palm trees where the banks used be. If it rains January to March the pans flood with shallow water, grasses spring to life and thousands of flamingo, zebras and wildebeest come in. But we wanted to see the great moon-like crater of the pan itself and so we were here at the end of the dry season.
Arriving back at San Camp we find the communal tent lit up with hurricane lamps -- inside the long dining table is laid and we sit down to a dinner of impala steak. Over dinner Ollie shows all the 23-year-old's traditional signs of not being sure which direction his life should go in. He decides he would like to connect his love of zoology with being a TV presenter. Over the next 3 days, inventing a TV series for Ollie becomes a persistent theme. Tonight Kim is insistent that 'Naked Bush Chef' is bound to set him on the road to stardom. Ollie blushes with pleasure and the possibility of it all.
"Makgadikgadi? I asked what was out there, and they said 'Nothing -- only idiots go there.' I thought fine, that's the place for me."
Jack Bousfield 1989
As we are escorted back across the salt pan to Tent 5, we are beginning to settle in here and by the time we are tucked up under the mosquito net, we have decided that San camp, is a really fantastic place -- a minimalist encampment of 5 tents dotted on the edge of one of the remotest places on earth.
San is the little sister camp (only 6 tents) to the legendary Jack's Camp just a few kilometres away. Both were founded by Ralph, the son of the infamous Jack Bousfield, in his father's memory. Jack was listed in the Guinness Book of World Records for the dubious achievement of hunting 53,000 crocodiles, survivor of seven plane crashes, gored by elephants, stung by bees... he did it all! Later in his life he turned against hunting and worked with the local people in the early days of eco-tourism. When he died in a plane crash some 10 years ago hundreds of them came across the wilds of Botswana for his funeral.
Wednesday 26 September
We sleep with the rear tent flaps rolled back so we begin to stir with the dawn breaking. Only the mosquito nets separate us from miles of anywhere.
At 6 am we hear the sound of warm water being poured into our copper basin. "Coco Coco" shouts the boy to wake us up. Before we can set toes to floor this followed by, "Quick, quick, there is an aardvark outside your tent". But by the time we unzip the front tent flap - "He is gone now".
We might have thought it might have been a sophisticated way to wind up the tourists and get them out of bed, were it not for the large hole the aardvark had dug nearby.
After a cooked breakfast we set off with Ollie for Chapman's Baobab Tree and the "village". It's a long and bumpy drive with small interesting things to see on the way: steenbok, termites, kudu, etc. Soon on the horizon ahead we saw the huge shape of a Baobab. The Baobab is one of the biggest trees in Africa. This particular one was 5,000 years old. Older than the pyramids or Stonehenge. Its huge size meant that for centuries it had been used as a marker on the horizon for travellers: You could see it for miles across the flat and featureless land. In the nineteenth century missionaries had used it. As had explorer David Livingstone who had passed by it in 1850. The ancient tree guided them all across the pans, and when they reached it, its branches provided both shade and a natural post-box for them to leave letters that subsequent travellers might take back to England for them.
Some farmers had set their kraal along side the baobab: a hut made from branches and a small dirt patch for their livestock -- the cattle were often preyed on by lion.
The tree itself is humungous although apparently its girth has shrunk by about 14 feet in the last 50 years as the land has had less and less water. Baobabs can only grow where there is underground water. The nearest other Baobab is 10 kilometres away; the next 20 kilometres. 
This is a power spot. Many names have been carved into the red tinged bark of the tree. Portuguese script shows that the first Europeans here were from Portugal not England. Individual names reveal Thomas Baine, the painter who travelled with Livingstone and Chapman; Helmore, a missionary who came here with his wife and seven children in 1859. 'Jean Jollie (Explorer) 1847' -- and there were names carved only last year -- including 'Mr Kasane Qweso from Gweta'.
We leave the towering tree and bump on our way, eventually passing some sparrow brown huts and a kraal of horses and goats. Then after a long dirt track and a few thorn bushes we come to Mr Sewhili's "village". This is not really a village but a farm, with an extended family. San Camp have a deal with them, paying them money for each visit they receive from the tourists. Ollie checks with her son whether we can come in and hands over two cans of beer to Mrs S and apologises that money owed to them is "soon come". There is a fenced in area with a number of huts spread around which house Mr Sewhili, his wife, one of their sons, his wife and their children. There is also the brewery and the butchery area/meat store. Some of the huts are square and painted with patterns, Square huts became all the rage when the missionaries came through this part of the country and replaced the traditional round huts.
Each area is clearly defined, In front of one house is the cooking area with the potjekos (the 3-legged cooking pot), nearby is a fire with a kettle boiling. There is the brick making area. In the work area a tree is hung with the bridles and saddles the family have made themselves. Chickens and chicklets nestle in the crevices of the fence made from rough logs. Outside the fence is a blacksmith area; behind it a corral with about 100 cattle. In a separate area is the well.
At the farm there is a much handshaking and, formality on our part. And much giggling on theirs. Mrs S's son is wearing an American Red Bulls tee shirt; his wife a faded fifties style floral print dress. Their son Alistair (aged about 4) in named after a guide who died in a plane crash here. He had a wonderful toy made of two old lemonade cans with string threaded though the tops, and he walks on them like stilts holding the string to keep them against his feet.
They were quite happy to let us walk around their farm and see how they lived. The daughter-in-law kept giggling and pointing to her eyes then looking at Kim. This was to become a frequent occurrence. Africans are often intrigued by her brightly hennaed hair but here they also notice the colour of her eyes and the fact that one has brown in it as well as blue - clearly something of a novelty, (or a joke). These are people, who can spot and identify birds 300 yard away; who are constantly scanning the horizon for the rare sight of an approaching vehicle or more likely a predator. They spotted Kim's eye just as one of our guides would spot a rare species.
Outside the Brewery hut Dave asks hopefully about the famous seven-day beer. Is there any he can try? The son shakes his head and smiles. No, it is only Wednesday and so it is only half fermented - they are making the brew for Sunday which is Independence Day. Then there will be a serious party -- and (unspoken) they are not going to be wasting any of it on any old bwanas like us. Much nodding and smiling all round.
Then it's down to business. Mrs Sewhili gets out the baskets which she has woven from Palm leaves. Each have intricate black-and-white patterns on them. Every pattern has a different meaning, representing different animals and flowers. Usually she only has small ones which she sells for $5 but we are in luck and she brings out her new range of slightly larger ones. As we only have a $20 (£14) bill. We buy 3: 2 at $5 and 1 at $10. Mrs Sewhili looks well pleased. So she should, with a couple of visits from the tourists each week and the 100 cattle they have, then they probably make more per year than some farmers do in England these days.
We walk to the end of the compound to see the fenced in area which is their well. Here the water table is only about 10 feet down. We have to pass through about 20 cattle, who look at us balefully then follow us to the water. Ollie moves one of the pieces of wood blocking the entrance to the well, and we duck under the fence. There is a swarm of bees drinking at the large trough. A sturdy cow manages to sneak in through the hole and Ollie has to shoo it out. By the time we emerge over 30 cows, a tortoiseshell calf, 3 horses and a foal that can only be a few days old are gathered round thinking it is time to drink. We bravely march through them to say goodbye to the family.
Each of the 100+ cattle they have is worth about $200 -- so Mr Sewhili is quite a rich man. This is not a "poor" family, despite the fact they live in a barren area miles from anywhere in huts made of mud, cow dung and termite mound with no electricity. One of their sons is at Liverpool University, the other training to be an engineer. They want to come back to Botswana, but whether that generation will continue to live the lifestyle of their parents - well, that is another matter. 
We drove back to San Camp and at tea we encountered a new group that had just arrived - six middle-aged Americans: Doug & Linda, Jeff & Mary-Gwen and Cliff & Cathy. The women were all short and stocky and magpie chatty. They came from Denver, Texas and New York. And this was their first trip to Africa. They were fine and sociable but it was odd suddenly to have another group there. However they did have another of San Camp's guides with them and he could not have been more of a contrast to our Ollie. Super was his name and he was. Six-and-a-half feet tall, with Zulu blood. He had been working at Jack's and San Camp for 12 years and had been the first guide to work with the legendary Jack Bousfield when he was setting up the camps. He knew a lot.
Today Super and Ollie were taking us off on the quad bike expedition, Now the quad bikes were something this place is famous for. The small motorised four-wheel bikes were the ideal vehicle for travelling over the fragile salt crust of the Makgadikgadi pans. And what fun!
First we had to be taught how to wind our kikoi (cloth) round out head Lawrence-of-Arabia style. Then we had a quick bike lesson: brakes here, throttle there. And we were off -- two people to a bike across the biggest salt pan in the world. It was weird and wonderfully surreal; like driving across a moonscape. The landscape is so featureless you could actually see the curvature of the earth on the horizon.
Eventually as the sunset came pink and slightly cloudy we stopped for a shook up fizzy beer from the cool box on Ollie's bike. "Now" said Super, "we go for a walk". We expected to go off as a group, but we were told to go off in pairs, just walk as far as we wanted, then lie down on the earth and look at the stars for a while.
"I will flash the lights on the bikes to get you back" said Super.
We did as we were told and it was the most wonderful and peaceful experience you could imagine. Lying on our backs in an uninhabited area the size of Ireland staring at the moon and stars. Who needs expensive therapy!
We sat up and saw far away the quad bikes lights flash. Slowly the couples made their way back to the bikes, the hard crust of the pan crunching under our feet as we walked. Even the chatty Americans were quiet. A relaxed peacefulness had stolen into their souls. We got on the bikes again and threaded our way back across the now pitch-black pan. Ollie was in front but after about 15 minutes driving through the dust he stopped and walked back to us. "There are some lights ahead that shouldn't be there" he said seriously.
"We have had some trouble with Ostrich poachers, I don't think we need to be afraid of them, but we need to find out what is going on, stick close to me".
Oh no! The thought of being shot at by a poacher … and we were only halfway through the holiday!
The bikes inched into a close convoy.
"Stick with him" said Kim, "Don't leave him to the poachers alone".
"Why not" Dave thought, better him than me," I'm looking after Numbers One and Two."
Ollie pulled up as he reached the lights, to find not poachers but Chris a log fire and a bar set up on a table. Even a little toilet tent with a hurricane lamp burning.
"Welcome to the Kalahari Sands bar" said Ollie. We had a good laugh at the joke, everyone had been wary, even the biggest of the Americans, and we settled down to wash the dust out of our throats. After a while Chris said "Right, now we can drive back to camp for dinner or we can have it here". Of course we elected to have our dinner in the pan. So we were led over to a table set up with hurricane lamps and behind a land cruiser was a kitchen tent that had been set up in the darkness. As we sat down to butterbean soup, lemon chicken and orange sponge cake, all cooked over the open fire, each of us received a shovel full of hot coals under our (canvas) chairs to keep our bums warm.
After we had eaten Chris took us back to the camp fire and we sat around. Some of the Americans began to look tired and started to doze "I can hear the guys singing in the kitchen," said Kim. Their voices drifted through the night, then began to draw closer. Then all the kitchen boys, (about six of them) led by Super began to shuffle across the darkness towards us, singing in the Setswana language. They arrived at the campfire and swung through a medley, ending with a song which seemed to mention every nationality, "Americans, Germans, English, Canadians…." At which point we all had to join in and dance too. Linda even woke up to join in.
At the end of the performance, Super turned to us and asked "Where are you from?" "England" we replied. "I thought so" he said , "But I wasn't sure so I put every nationality I could think of into the song".
The Americans were looking bushed, and were not sure of how long the drive back to camp was. "Lets go for one short walk" Super said. "Give the guys time to tidy up the kitchen and then we will go back to camp". "OK" said the Americans gamely, if a bit wanly this time.
Everybody set off. Dave took the chance to water the desert. Signing his name in the sand. After a couple of minutes' stroll we came across two iron bedsteads sitting there in the desert in the moonlight. We all stood looking dumbly at this surreal sight. Then Kathy said in astonishment "That's my wash bag on the bed!" "Yes," said Chris. "You are the millionth visitor to San Camp, and you get to sleep out under the stars tonight".
The rest of us looked envious, then he said "No you all get to sleep under the stars tonight. This is one of the safest places in Africa. It's a warm night. The moon is almost full. Your beds face east and you will wake up to see the sunrise".
We still couldn't believe what was going on. Then we walked through the darkness and found a double bed iron bed with our duvet from San Camp and our little check wash bag on it. Chris obviously had had the task of rummaging through everybody's tent and getting what they would need. This was for real -- we really going to sleep out under the stars.
By the iron bed was a little bottle of water and a torch. Kim ripped off all her clothes and leapt into bed, followed by Dave. They lay there looking up at the moon and the map of the stars until they fell asleep. It was a sweet night!
As the light came up we looked around and it was like a scene from some weird surrealist movie. Dotted across the huge salt pan were four iron beds, from which tousled heads emerged to catch the huge streaky pink sunrise. This is the big San Camp secret. Nobody had realised what was going to happen. No travel agent is allowed to tell the potential guests and we were all asked to respect the secrecy as well, so other people coming would be as gob smacked as us.
Thursday 27 September
As we trundled back to the campfire and breakfast we passed where Dave had signed his name in widdle in the grey dust, still clearly visible. Oops! Maybe it will be there forever.
To our amazement the three American women appeared fully made up and lipsticked. They must have been carrying a ton of make up with them 'just in case'. We got on the quad bikes again and wound through the pan, heading back to camp. On the way back we stopped for refreshments and spent an hour looking for Middle Stone Age tools. Then this part of the pan had been the edge of the lake, stone age man had lived and hunted there. When it rains the surface of the pan turns to mud and then gets churned up by the zebra migrations that occur so the tools get brought to the surface.
Super gave us a short lesson in how these 25,000-year-old arrowheads and spearheads had been made, then told us to go off and find some. We were told to restrict our finds to just six tools. At first there seemed to be nothing visible, then by a piece of camel grass we found our first flint arrowhead and some cutting tools. After 50 minutes we all congregated again by the bikes and laid out our finds. Ollie and Super explained what they were and what they might have been used for. Then before we headed for home we had to hurl our trophies back into the desert. Well, we kept an arrowhead and a spearhead. Illegal but we could not resist it. It is not every day you can find and hold something made by your fellow man 25,000 years ago.
We arrived back at camp 18 hours after we had left it. We found two forty-something Canadian women had arrived. They were friends who had promised themselves a trip to Africa 9 years ago. They were much more zany than the Americans and added favourably to the San Camp person soup mix. We went out on a evening drive with them and Ollie. Egged on by Ollie, one of them ate a termite, then we stopped by the road and chugged a few beers and had a real good laugh and then dissolved into the quietness of another sunset.
WALKING WITH ELEPHANTS
Friday 28 September
Our last day at San Camp. Everyone else had gone on the Bushman walk.
We could not face another one. So Ollie took us on a last morning drive to try and spot some Kalahari lions that Super and the Americans had stumbled across the previous night. We went here, there and everywhere, even past the lion researchers camp! We spotted the lions' spoor but no sign of the creatures themselves -- but they are so well camouflaged that they could have been 25 yards away and we wouldn't have spotted them.
We might not have seen the big cats but we had fun with the ant lions. These are the larvae of a lacewing fly that builds a conical trap in the sand. An ant walks in drops to the bottom but cannot get out. The movement of the ant alerts the larvae which sticks its pincers out and grabs the ant. We had a nice time, spending 20 minutes trying to catch an ant to put in the trap. We failed because the wind was blowing too much. Sometimes the little things are the most interesting.
After our final bucket shower we had brunch with the North Americans who had returned from the Bushman walk. As the time for our departure approached, Linda shouted down the long table: "Kimmy we just have to ask you - how are you going to get into the little plane in that long skirt?". Now Kim was wearing her ankle-length trekking skirt of which she was rather proud. You didn't see many of these on safari (well not since Meryl Streep played Karen Blixen in Out Of Africa).
Kim replied "Why Linda, I have little zippers at the seams and I just flick them open like this" She demonstrated. "Oh Kimmy" cooed Linda "You're a girl on top of the world". Actually Kim didn't need to use the zippers at all, she just hitched the skirt up when she needed to. Kim had decided long ago that there were very few situations where a skirt would let you down.
Super drove the two of us to the airstrip. On the way we passed Ollie who had gone to pick up camp owner Ralph and four new guests who had flown themselves in their own plane.
San Camp would close in a few days. Then the rains would come and the great Makgadikgadi pan would turn into a huge great big soft mud pit. And the zebra and flamingos would start their migration to the new fresh water and grass, fill it with life and colour and mosquitoes. The camp out on the edge of the pan would not be workable then.
Almost as soon as we arrived at the airstrip our little plane landed. Dave, as always, blagged the front seat. The pilot kept checking his GPS and his maps because we were off to Selinda Camp on the Linyanti slipway and this was not a strip he normally flew to. While he was looking at the maps he asked if Dave wanted to fly the plane. Is the Pope a short polack? So Dave flew the plane for a while, despite never having flown a plane before. What a buzz! Well for Dave it was a buzz.
Later Dave, would explain, "One of the things you have to look out for when flying a plane here are the vultures. You are scooting along in your little Cessna, at 150 mph, flying at about 1,500 feet. Vultures with their 7 foot wingspan can easily soar on the thermals up to 3,000 feet. If you are in your plane, even one made by the Republic Airplane Manufacturing Corp, a vulture can do a lot of serious damage if you run into it." 
It was a smoky day with some remains of bush fires muddying the horizon and obscuring the sky. We travelled over brown scrubland most of the way and landed on another tiny dirt airstrip at Selinda a few minutes early, as we'd had a tail wind behind us. Just after we got out of the plane a cruiser poled up through the sand-filled ruts with Craig driving. You couldn't have got more of a contrast to the blonde public schoolboy Ollie. Craig was an early 30's crop haired short stocky South African. We were going to do two days in the walking (mobile) camps with Craig and Sharlene his New Zealander wife. Then we would spend one night at the permanent Selinda camp recovering.
"Do you want to see some lion?" said Craig as we climbed into the open cruiser." They had a kill the night before last".
"Oh, yes please" we chorused.
We drove round the corner from the airstrip and sure enough there was a grandma and 3 other female lions munching on a hippo, while a male sat in the shade of some bushes. They had started to eat at the hippo's neck because the hide on its back was too tough for them to rip apart. Their heads were burrowed deep into the sad, resigned carcass. The sight of a lion with its head stuffed inside a hippo's body was awesome, shocking, totally mesmerising. The sound of ripping and munching was loud as we sat only 10 feet away. They were satiated and sleepy and took no notice of us at all. Well, we stared at them and they stared back with a bored look, that was the limit of the interaction. Thank goodness.
Vultures hung around in the trees waiting for a chance to get in there but the lions were keeping it all for themselves for the moment. It would take three more days before they had eaten all that they wanted, and after the maggots, vultures, jackals and hyenas had also had their fill, it was down to the ants to polish off what remained.
One of the males hanging around in the shade of some bushes got up and ambled across the scrubland towards the lagoon to drink. We followed him passing through zebra on the way. The male lion was in his prime, seven or eight years old and a wonderful black and brown. We watched him drink at the water's edge, with the light dripping through the palm trees behind him.
Then we bumped along the track to Tshwene Camp where we met Sharlene (pretty with dark plaits) and Dave Lincoln, a freelance guide who had been brought in to work with Craig because there were exceptional numbers of elephant around at the moment. Dave was an expert elephant man. This was a good thing because elephants can be quite dangerous, certainly more dangerous than lion. Not as dangerous as buffalo or hippo but you have to respect them. So the walking safaris were packing two guns at the moment, Craig and B(ig) G(ame) H(unter)Dave.
At the camp we met our two fellow walkers, Willy (Irish, now living in LA) and Barry who lived in Putney. They were two twitchers, with a bad bird habit.
In real life they were management consultants, who had abandoned their respective families at home, while they indulged in some Botswana birding.
The camp was simple and basic: green A-frame tents with a washbasin and flush toilet at the side of them. We had to share the toilet and wash basin with large numbers of African bees. You know, these are the same aggressive "killer bees" that have invaded North America and stung people to death.
Craig says not to worry about them and don't attempt to swot them with wild movements. "Just be relaxed around them," he advises. "They are only interested in the water".
Urgh huh, so we have to do our toilet business without annoying the killer bees? Fair enough. 
A this point a voice in your head cuts through, "Excuse me, this is the voice of your conscience speaking to you here, aren't you totally bonkers? Of the stark staring variety?"
"Yes, certainly, but we don't care. It does not matter to us that an elephant, or something rather big and munching will be close to the tent during the night, in fact we like it like that".
The bucket showers had one of the best open shower views ever, looking out over the dried up river bed. The two buckets were suspended from a twisted tree where wooden decking had been constructed. The soap dishes were hippo vertebrae. 
The focus of the camp was the braie/camp fire area set over some steps where the riverbank used to be. This was the cooking and socialising area. After a beer we set off for the night drive to show Barry and Willy the lions. BGH Dave was driving. Dave liked BGH Dave the moment he first set eyes on his lugubrious hangdog had seen-it-all, know-it-all face. He was an interesting character; obviously he was a serious guide/big game hunter. By the fire in the afternoon he had kept quiet. Then we went out in the cruiser he was driving and he really hammered it along the track. Slithering through the sand, riding the ruts banging it up and down through the 4x4 ratios. The drivers often try and go slow so you are not thrown around and be uncomfortable. BGH Dave was not like that, he was pretty hardcore, but also very relaxed and knowledgeable. He also wanted to make sure we reached the lions before dark.
We fetched upon a large herd of kudu, and this is where the cameras came out. Willy had one which he called "Big Bertha". It had a lens about the size of a dustbin. Barry had the latest digital thingymybob knocked together by Fuji. Probably only available in Japan. We had our diddly 10 year old Pentax.
We slowed down again as we bumped into "a Botswana traffic jam" - a herd of elephants in the road. We slowly inch towards them, they keep an eye on us as they chomp away on the grass only 25 yards away, that's 25 humanoid paces, and 3 elephant paces.
Our desire to get to the lions at sunset, means we have to hustle through the elephants a bit, encouraging them to get out of the way. We reach the hippo at dusk. Its large, dark, bloated carcass was slumped like a huge earth mound. The lions were just lying spread out on the ground around it. Some were on their backs with their paws in the air, sleeping just like us humans do after a big Sunday lunch. The more daring of the vultures had come down out of the trees to within a few yards of the hippo. The sight of that carcass and flies round its hide was horrible, as was the smell when you passed downwind. We had the obligatory 'sundowner' quite a bit further away on a bit of high ground. We looked at the stars, chugged a beer and smelt the emptiness.
Back at the camp, a dinner of Botswana steak cooked on the campfire. The conversation ended up with Barry, Willy and Kim talking about how Botswana would be a fantastic place to take people for team-building courses -- teaching them to confront fear and survive in harsh conditions. Perhaps they should hook up with Maria.
Here we were sitting round a campfire in the middle of Africa, discussing management techniques when we were actually sitting ducks, prey for any kind of insect or animal that fancied taking us on. From swarms of killer bees to lions who could bite your leg off in one crunch. Managing fear, huh!
 Then we toddled off to our tents, now minus killer bees. But plus all the other things that go munchy munchy in the night.
Saturday 29 September
The sound and smell of a tray of very strong coffee being placed on our doorstep -- no sorry -- tent step or, should that be tent flap? - wakes us up and gets our interest at 6am.
Brekkies round the fire, a rifle standing up in the corner. Then saddle up and go. Extra man BGH Dave had a huge great big rifle and brass cartridges round his belt, which shone in the sun. Good sign, it meant the massive cartridges were well polished because they had not been used.
But hey this was serious firepower, *45 calibre, the bullets nearly half an inch wide, nothing was going to get in our way. Craig led at the front, his loaded rifle nonchalantly slung like a yoke over his shoulders. Barry and Willy walked and talked birds with him up front, while protecting our backs BGH Dave hung back and ran shotgun. It was more interesting talking to him and OT the (black) tracker and drinks carrier. Certainly much more entertaining than getting a Barry n'Willy full on bird on experience up front. We ambled along luxuriantly at the back, the conversation ranging freely between flora and the fauna. Not that there were many animals around us.
The route followed parts of the dried up river, then visited about 4 pans, or depressions, some with water still in them, others just a grey hole churned up with deep elephant pad prints. At one pan during the stop for liquid refreshment and carbohydrate rich crunchy teeth breaking 'biscuits'. We got the animal trap routine. BGH Dave was quite the expert, showing you in great detail exactly how to set the trigger on the trap made from hand-made string.
After a three-and-a-half-hour walk on which we had seen elephant, impala and a wildcat breakfasting on a bird called a francolin we strolled (or staggered) into our next camp, Mokoba just as the heat was really rising.
Sharlene had driven ahead bringing the mobile kitchen and fridges. Only the fridges got used, keeping cool the copious volume of beers that were being consumed by the various guests. We settled in for a healthy brunch, a fantastic bucket shower in an equally picturesque open bath area, and a good sleep.
Late in the afternoon we did another 1½ hour walk down to a herd of zebras through a plain of dreadful sticky burr grass. We hopped up on a little hill and had sundowners perched on a fallen tree.
That night we had dinner of roast beef done in a big cast-iron saucepan, with hot coals placed on the lid to cook it all the way round; baked potatoes, also done on the fire; salad and, as always, wonderful bread. When you are out in the Bush everything is home made, the pasta, the bread, cakes and biscuits. We dined on the vantage/lookout point, an ex-termite mound. Jokes started to be told. BGH Dave got quite loose and showed us one of those stupid brainteasers you do with matches.
Basically you make the shape of a Buffalo like this.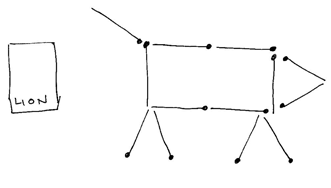 Then the match box is placed behind it -- that's the lion. The question is: how, by moving only two matches can you make the buffalo turn around and look at the lion? Well, it's obvious isn't it?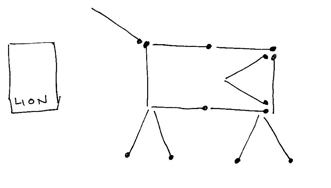 By the time we retired there were a number of elephants in residence with us. As we got into bed we heard them pass nearby; then they were more nearby; then there was one right beside the tent stripping the leaves and branches from the trees and munching away. This was the moment when we were strung between awe and fear and tiredness. In the battle between the three, tiredness won.
Sunday 30 September (Botswana Independence Day)
When we left the tent in the morning we saw the huge hole the elephant had made kicking his foot through the dirt as he ate. He HAD been close!
Today we had a 'shorter' walk to the Selinda base camp -- a mere two-and-a-half hours. So we had time for cooked breakfast round the camp fire before we set off -- scrambled egg, bacon, toast and what was described as a South African delicacy, a typical farmers sausage, very coarse, it was an acquired taste. And not one we acquired.
Barry was looking a bit stiff this morning. Both he and Willy were on one of those diets (the Montignac) where you can eat all you want as long as you don't mix protein and carbohydrate. Willy was being a bit lax, but Barry was serious about this. Apparently he had been very spherical in January -- now he looked quite trim. He carried a rather large rucksack with him on the walks which he referred to as his 'gym' and he used it as a kind of dumbbell weight lift as he walked -- that was in between the bird spotting.
We waved goodbye to Sharlene and started our last trek. OT was more subdued today -- probably wishing he was at an Independence Day party, drinking seven-day beer rather than out in the bush with some amateur trekkies.
The main feature of this walk was elephant. At one point, near the end, we seemed to be surrounded by them. Craig and OT were cautious; BGH Dave more sanguine. As Barry and the two Daves hung back watching birds while in full sight of a massive bull, OT said to Kim: "These guys, they don't understand elephant. They can really change their mind about you any time." The bull elephant suddenly caught our scent on the wind and turned his massive head towards us, throwing his trunk up and back in warning. He kept his eye on the puny troop of humans as we moved slowly and not quietly enough through the long grass. Eventually he let us go.
We stood on a large termite mound to spy out the land and the lay of the elephants. Craig worked out a path to navigate us between the herds. We trekked on and just as we thought our legs were going to give up, we spotted Selinda Camp on a little hill surrounded by bushes and palm trees. After the bush camps it seemed an oasis, with almost green lawns, big tents with clever open bathrooms built on the back -- our own showers! With solar heated water and a double bed (not in the showers). After some cold drinks we said goodbye to Craig, Sharlene and BGH Dave and went off for a wash before brunch.
The dining room at Selinda was a raised area above the open lounge/reading room, so you felt you were in a kind of tree house. At this camp the guests included two English women in their mid-sixties who were retired radiographers from London. They had been at a conference in Gabarone and were going to the walking camps we had just done. There was also an English vet and his wife and their two young children. They were based in Gabarone and the vet had helped draw up the management plan (for animals and people) at Selinda. There were also 3 American women travelling in Africa for the first time.
After brunch we decided to chill out -- this was our rest zone. After 9 days of activities we needed a rest! We lay on our terrace looking out over the velt. There was a little drinking pool for birds in front of the tent and we watched the hornbills, pied babblers, yellow birds and ground squirrels come and splash around, drink and argue.
Most people went off for an afternoon drive. The vet family stayed behind and the children played in the small plunge pool and dragged around a little car with Action Man and a Barbie doll in it. The two seemed surprisingly at home in the wilds of Botswana. Barbie looked particularly fetching in disco pink, while Action Man looked like any guerrilla soldier. The afternoon got hotter and we wandered over to the shade of the main sitting area. Dave read Peter Beard's fantastic photo anthology The End of the Game and Kim talked to the children. Both of them went to Thornhill School in Gabarone. 
"We have to wear green and white check uniform," said Katherine who was ten. "Even your hair band has to be green and white, otherwise you get sent to the head mistress."
Michael, who was about six, had only just started at Thornhill. He was more cautious about the whole business. At one point he muttered darkly, "I don't like Botswana." "Yes you do" said his sister. "No I don't." he replied. "All the people are brown." "But if it wasn't for the brown people we wouldn't have Botswana," said his sister firmly. "The white people used to be in charge here and it wasn't so good then."
Today Botswana has the highest per capita income of any country in Africa. It has a large cattle industry, and a year after we gave them their independence in 1966, large reserves of diamonds were found. Recently Botswana has been the major (legal) diamond source in Southern Africa.
And there are only a million and half people living here. The humans are certainly outnumbered by antelope.
It must be a good life here in many ways. The vet had started practising in England but had always wanted to work in Africa. After two years of dogs and cats, he came out here and began working with lions, cattle, giraffe and zebra. They had their own Cessna plane and the family came out to the bush most weekends. The big decision would be what to do when the children reached secondary age -- would they have to send them away to boarding school in South Africa or even England?
Over dinner we discovered that the two radiographers were quite expert walkers: "We've done 19 days trekking in Bhutan, you know". We also discovered that the vet's wife (originally from Chelsea) could never go back to living in England: "Tony Blair is just so insincere" -- "Better than Margaret Thatcher, " said Lady Radiographer Number One crisply.
The camp was run by Vaughan and Shirley - stout Afrikaners. After dinner most people opted to go for a night drive, but we passed on that one, but on a whim chose to go out in the truck with Shirley, 6 year old Michael and his mum. We thought it was going to be a short drive to see some local hippo, who were very vocal nearby- not quite. They were in the cab, while we were stuck on the back in the open. We bumped along in the dark. Mrs Vet wielded the spotlight. It got colder and bumpier, Suddenly Dave said "There's something very dead around here." He was right, we were back at the dead hippo where we had seem the lions eating 3 days ago. Kim offered to hold the spotlight on it. Now there were no lions there, it was the hyenas turn. Hunched, spotted and scruffy, they skulked around the much-diminished corpse, eating what was left of the hippo. As she stood up on the back of the cruiser shining the spotlight across the moonlight bush, a myriad of insects flew up Kim's sleeve attracted by the light she was holding. She felt like the hippo, attacked and gnawed, she hoped that unlike him she would survive the onslaught. We were very relieved to bump back to camp and our warm bed. 
Monday 1 October
This was the first camp we did not get a wake up call. At 6.10am Kim looked at the gently snoring Dave and took an executive decision. We were not going on the early morning drive today. When Dave woke up he approved this - "We're going to be wimps today". Nine days of early morning hikes, drives and excitement merited a day of rest before the last camp.
The plane picking us up from Selinda was to take us into the Delta to our last camp, Nxabega, via Savuti (the elephant camp). A local girl called Mac was already on board with what seemed to be all her possessions -- a fern and a large blue woven plastic bag stuffed full. She worked at the camps and was transferring from one to the other. At Savuti we picked up two silver haired Germans.
Taking off was interesting. Normally the pilot just twists the throttle wide open, away you roar and bump, then within a 100 yards you are starting to get off the ground. This time because it was a full load the plane took what seemed an eternity to get off the ground. 
We looked down on the greenness of the Selinda lagoons spotting the odd elephant browsing, then passed over some brown scrub land and saw 12 elephant walking in a line along a dirt road. The flight was a long hot 1 hour 15 minutes with 6 people crushed together in the small plane, but at least we got our first view of the Okavango Delta, the biggest inland delta in the world. The Okavango was an extraordinary sight after the dryness of the desert and the semi arid areas we had passed through. We flew across lagoons sparkling with the sun; over huge swathes of reeds with veins of water glittering through them; islands of palm trees, marooned in baby lakes which were clothed in green with dabs of pink water lilies. 
Deep in the Okavango Delta
We touched down at Nxabega, which means 'place of the giraffe' in Setswana.
It was only a six-minute drive to the camp which was situated in shady trees on the edge of a large reed lake. We were met with iced tea and another waiver to sign and also a lecture about not walking around the camp at night on your own, as the wild animals were free to come and go as they pleased and camp was spread over quite a wide area of their territory.
We were escorted to our tent, which seemed a twisty trek away. Once again this was a completely different tent experience. Four steps up the side of a termite mound took you onto a wooden veranda with a balustrade made out of old silvered tree branches. The view was stunning, overlooking the shimmering reed beds.
The tent was spacious and isolated so we opted to spend the rest of the afternoon there. Kim strolled down to the small swimming pool which we called 'the most romantic pool in the world'. Small curvy and blue, it was surrounded by wooden decking and protected on one side by trees and a fence of ancient wood. On the other side it was open to the wide wide plain of reeds and channels of water. After her dip Kim lay on one of the wicker recliners staring out at the delta world watching the birds, baby frogs and bees and feeling very far away.
As darkness fell we obediently waited in our tent for someone to fetch us and guide us to dinner. Eventually someone came and took us to the dining room an elegant construction made from local wood with an arched thatched roof. It was completely in keeping with its surroundings but offering more comfort and style than our previous camps.
Here we met our guide, a wise old bod called Fox. He'd been working in the area for 20 years and seemed to have the wisdom of the world in his bloodshot eyes. With his large brow and forehead, he looked like one of those mountain Gorillas in Rwanda. We were also introduced to Carlos, who was our young tracker, serving his apprenticeship under Fox. Fox explained to us that he would be looking after us and the two Germans and we had to decide what we wanted to do the next day -- the choice was ours. We opted for a boat ride through the delta with a bit of fishing thrown in.
Dinner was at a long candle-lit table. The other guests included some Germans, a South African family (father, white-blonde mother and two slinky quiet teenage twin daughters), and Mrs German (Mr German was not feeling too well). Plus Byron and Valerie who were running the camp, and the local girls who were the waitresses. Each night one of them was chosen to announce the menu to the guests -- which they did with a mixture of pride and shyness. Each night the description of at least one course was completely incomprehensible, which added to the charm of the presentation and the intrigue of the meal.
Tuesday 2 October
At 6am we heard the now familiar 'Coco, Coco' outside the tent flap -- when we looked outside there was an old-fashioned wicker picnic hamper. When we lifted the lid we found coffee and homemade biscuits -- enough to get us up and then over to the main house for breakfast.
As the sun began to warm up the delta, we drove off through the swampy, reedy terrain. Our route took us over homemade bridges of logs tied together with wire. We passed by lagoons filled with basking hippo. Finally we got to where the motorboat was moored, Dave had asked to go fishing, so Fox and Carlos had brought along the rods. The silver haired Germen couple came along as well but did not speak much English as they were from the old East Germany.
So we all jump in an aluminium boat and set off through the channels of papyrus. The intensive vegetation seems to be clogging the water intake on the outboard. There is much revving of the engine, splashing and roaring as it is cleared.
We snake our way through the narrow channels, the reeds towering high above us. We push them back with our arms in order to pass through. Surprisingly there are very few bitey insects. After passing through the dense channels we come to the lagoons. Here in clear water, we stop and do some fishing. After a while, Dave catches a Talapia. Then so does Carlos the young trainee guide. Good we can eat tonight.
 We go a bit further looking for sitatunga, a timid and hard-to-see water antelope. We had spotted this elusive creature in Zambia a few years ago but here they were much rarer - one had not been seen for 10 years. And nor was one around today - we turn the boat around and head back. Mr Germ is rather quiet. It is very hot -- neither he nor his wife are wearing a hat.
We get back to camp and find baboons playing noisily on our tent roof, and in the trees around. We have brunch and do nothing in the heat. Well, Kim goes to the shop to see if there is anything worth buying. And there is. She comes back with a necklace and a kaleidoscope made out of a tube of rough metal with a marble at the end.
That afternoon Mr Germ is ill and does not want to come on the drive. We concur he is suffering from the heat, not only did he not have a hat on, but he was not drinking the requisite 15 gallons of water a day that it is necessary to do to here, just in order to replenish your body's fluid. It's all too easy to forget to do this because although it is so hot here you don't actually sweat -- it evaporates before it reaches the surface of your skin.
We go out in the open Land Cruiser with Fox and Carlos and Mrs Germ. Near the camp is an area where a bushfire recently raged. Varying types of greyness covers the land here, There is a coating of ash over everything mixing together with the black/brown burnt scorch-iness. There are tall palms with blackened trunks, their previously luxuriant fronds burned away stripped bare. The earth looks as if it has been given a fire charged Mohechan. But the bush is remarkably resilient. The burned palms push new seedlings through the charred earth and already little green fronds are springing up. Nearby some of the trees are still smouldering.
We drive for over an hour then turn off the track and suddenly start roughing it through some Mopane trees. Unfortunately this is where there are millions of tsetse flies. Now these are real buggers. They are dark brown and close their wings like scissors across their backs. They make no noise. They are attracted to dark areas especially blue clothing and are accustomed to only having to slice through the ¼ inch thick hide of a animal, so our thin skins are easy peasy. Their bite is like having a red-hot needle inserted into you. And it gets worse, the bites hurt like hell, itch like crazy, and often go puss-y. The scars last for many months. They used to carry sleeping sickness but thankfully most of that has been eradicated now.
We wrapped ourselves up in blankets to try and get some relief from the masses of tsetse that followed us along, nipping away as Fox expertly drove us through great ruts and pools of water.
The tsetses got so bad that Fox stopped the cruiser and Carlos pulled some branches off a tree in order to use as switches to swot them. It was bad, even Fox admitted that. We moved on up to higher ground.
Great Botswana Sayings #203
"Kill one Tsetse fly and a thousand come to his funeral."
Fox at Nxabega Camp
Then we came across loads of elephant. Fox looked around and whistled, "There must be 400 or 500 here" he said. Everywhere you looked elephants came out of bushes and scrubland, a never ending stream of them. Including lots of little babies that were only a month or so old. You could see that even an old-hand like Fox was going to be cautious here. 'Oh dear,' said Kim. '400 elephant and only 5 of us.' 'Ah,' said Fox ' there is one other here too and he is more powerful than all of us. God.'
One female and her baby were right by the track. We waited for a bit while Fox talked to her patiently. 'Come on little elephant, take your baby and move on now so we can move down the track. Come on little elephant.' But she wasn't going to move and in the end we had to power past -- she didn't like it one little bit. Tossing her head and trumpeting at us in no uncertain terms. It one was one of those gently hair curling experiences. She was certainly making a fuss about us being there. But with Fox you never felt that things were even slightly out of control.
Fox knew exactly how far to push things. And his 4x4 driving skills were exemplary. When we'd been charging at a solid pace through deep ruts filled with sticky mud and huge great big elephant size bathing holes filled with water, never once did the cruiser fail to go in the direction that Fox wanted it to go. The wheels never ever spun and lost grip in the very serious terrain. Never got stuck in the ruts and the glutinous mud. Never once got pushed back into the gunge by the slippery grass up on the side of the track. Very impressive.
Once we'd negotiated the elephants we made our way back to camp. At the burnt area Carlos spotted a leopard in the half-light eyeing up some impala for his dinner. Fox crashed through the woodland trying to get close to it. The leopard allowed us to move quite close to him, not at all put out by the noisy jeep with 3 nosy tourists. But he was after his dinner and didn't want to hang around with us. Before long he sloped away and disappeared into the bush.
Our dinner that night was fish. Ours was fresh caught this morning, while everybody else's had been frozen and hauled from Maun, and before that?
Wednesday 3 October
Next morning we opted for the mokoro trip. These are the traditional dug out canoes, well suited for the shallow waters of the Okavango Delta. Traditionally they were fashioned from a tree trunk, ours was made from fibreglass, due to a government order forbidding wooden ones. So many mokoros were bring made now for the burgeoning tourist trade, that they claimed the trees were threatened.
This was a very exciting morning. First off, Carlos had knowledge that there was a Black Mamba snake sleeping in one of the boxes that contained the cushions for the mokoros. The Black Mamba is very large (up to 9 feet long) snake and the most poisonous one in Africa. Its bite is always fatal. The bushmen describe it as a "two-step" snake. Once it's bitten you can only manage two steps, then that's it.
Having put us in the mokoro, Fox and Carols tipped over the box to get the snake out. As it emerged they hit it with great ferocity with the large poles they use for punting the canoe. When they had killed it they asked Dave if he wanted to see it. When questioned about why he got out of the safety of the canoe and went to have a close look at the most deadly snake in Africa he said "I wanted to know what it looked like so I could be very very careful if ever I spot one again. And," he continued "why not?" 
The two naughty guides left the Black Mamba in the middle the track in a life-like position for the next guide to find. This was to prove the source of much merriment.
So we set off in the mokoros. Carlos poled Dave and Kim, while Fox came in the next canoe with the drinks box. It was even more slidy and silent as we slipped through the reeds in these low slung canoes. We stopped to look at the tiny frogs on the reeds, and passed some elephant on one of the adjacent islands. After a while we stopped and got off to have a walk around one of the islands ourselves. Fox was training Carlos and got him to lead the walk. Carlos did well explaining the plants and the tracks that we passed. Fox added his own comments along the way. One thing we learned was that although Botswana was making a name for itself for its low-volume eco-tourism there was still no camp owned or run by a local black Botswanan. Fox was determined that one day he would get his own camp. We promised we would come back to stay with him.
We stopped under some giant palm trees and Carlos knocked down some palm nuts by throwing a stick up at them, the same way you used to knock down conkers when you were a child. We saw the fresh palm nuts and compared them with the furry ones that had been eaten by an elephant and then passed out the other end. Fox peeled back the fresh nut and showed us the conker like nut at its heart. As we continued the walk he got out his knife and started carving a design on it. He added his name and gave it to Kim. She asked him to hang it on a piece of fishing line so she could wear it round her neck. He did and she wore it with great pride.
On the way back poling gently through the reeds, we saw a load of elephant crossing the channel just ahead, so we stopped and had a look. "Go slowly," said Fox. "Just let them get on with their life. They won't hurt you." Then the channel took a turn to the right and we saw another load of Eles in the water. So we stop. They move off and we pole forward. Now Dave is sitting up in the front of this little dug-out canoe which is about 10-12 feet long. To his right as we pass a large bush on the embankment he suddenly spotted a large elephant stripping away at the leaves. The elephant hidden by the dense foliage, meant that Carlos up at the back, had not spotted him. Quietly but firmly Dave says "There's an Elephant on the right" Carlos stops immediately.
The elephant is 25 yards away and is very annoyed that we are about to come between her and the rest of her herd of friends who are over the other side of the channel. She comes rushing down the bank and into the water towards us.
The ears flap, the trunk goes up and there is that spine chilling trumpet squeal and she charges forward toward us her huge legs spraying water out in a fountain.
Carlos starts poling backwards, we reverse very rapidly, keeping exactly the same distance away that the elephant has advanced. The elephant pauses for what seems like eternity, then satisfied we are not imposing into her space. She turns and splashes through the water to the other bank, probably complaining bitterly about those damn tourists disturbing her tasty snack.
When we made it back to the landing stage, some of the other guides were lounging around. There was a long exchange in the local dialect with Fox and Carlos exchanging conspiratorial smiles.
Our two guides had left the Black Mamba on the path as a practical joke for another unsuspecting guide to find. But the guide who found the dead snake also had a couple of guests with him and wasn't taking any chances, so he immediately radioed management. The guests were hustled away and weren't allowed to go on the canoes. The management arrived promptly with a powerful airgun. Being the brave management it was their role to fearlessly shoot the (already dead) Black Mamba in the head. The management proudly displayed the now twice-dead snake by the office door and were going to pickle it in a large bottle and display it in the little camp museum. This was considered very funny by Fox and Carlos who made us swear not to tell the true story.
After all the hilarity we walked back to the camp. Fox spotted a tiny baby tree squirrel that had fallen very recently from a tree and died. He seemed moved. And picked it up and stroked it and then returned it to the earth. 'Goodbye little squirrel, sleep well'.
All the Germans had left by now and there was only the blonde South African family and us at lunch. We went back to rest in our tent and realised that this was to be our last night in Botswana.
And that last night drive was the most fantastic buzz. This time we set off across the burnt landscape travelling through stumpy forests of greyness. The ash that was the bringer of nutrition for the next generation of grass and bush and trees lay thick on the ground. The ghost of dead trees showed up as a whiter skeletal pile in the grey ash.
"Tonight you have to see lion," said Fox. "You have been good people, you never push us to find you things. You are happy to see whatever we find. But tonight we must find you the lions." So we cruised around in this apocalyptic landscape for a while looking for lion, reading their spoor and seeing where they lead. We go a bit further up the road and pass some giraffes then Carlos says something to Fox.
Can't see much, only a lion about a 100 yards away. So we move on up the road again, then hang a right into the bush then right again so we are running at a parallel to the road back towards where we spotted the lion in the distance. We stop suddenly. There is a whole pride of lion spread around us. Very close. Very close indeed, Only a lion-style leap away, or a human 10 feet. Fortunately they are taking it easy, very easy. There are a number of small cubs and a couple of female. They are split across the shade of the bushes and a tree on either side of us. They lounge around and the cubs occasionally yawn and play in a kittenish way. We hang with them for a while revelling in the sheer audacity of the fact of being that close to lions. So close the only closer you could get was to go over to them and give them a real big hug.
We head back towards a marshy area and follow the shoreline for a while, nothing exciting seems to be happening. So move back towards another charred area. As soon as we've bumped over the riverbank we run into 3 very young lion. They were just sitting there, about 8 -- 10 feet away.
We have a good look at them, take a few photos, then Fox reverses out of there back to the shore. He parks the cruiser, announces he is going to go to the toilet and then makes his way over to some bushes. After a while he rushes out of the bushes very quickly. "I heard the mother calling the cubs," he said. The cubs were the lions sitting 100 yards away from us. Their mother was nearby. We would find her. So we charged off in the direction that Fox had heard her call from.
He was a man on a mission. We crashed through this grey burnt landscape in the cruiser. The black stems of thick bushes approached us at great speed. He just went straight through them. The lower branches of the trees whipped us and the dust swirled. We bounced violently through the burned bush, twisting and turning through the trees. Suddenly we stumble right into to the mother and the cubs walking along with other females and their offspring. Fox slams his foot on the brakes; the engine stalls. The lions are everywhere pacing around us. Time seems to stand still. Fox waits for a little while, watching what is going on with the lions, who take little notice of us.
He turns the key to restart to motor and nothing happens. "It is the cable to the starter"
He waits a little while more to let the lions slink past us -- close, very close. Then gingerly he gets out of the cruiser, keeping an eye on the lions, still quite close, opens the bonnet, and reconnects the cable. Turns the key and bingo the motor starts. Phew. That was so close. For a few moments we thought it was serious problems here. We follow the lions for a while, But it gets even more extreme, often Fox gets alongside the pride padding along and pulls in front of them and brakes suddenly, The lions showed their annoyance about this intrusion into their life, But still just walked round us. We would have considered this very dangerous behaviour, but evidently it is not as we got to live to tell the tale.
So 12 lions in three separate sightings, all very exciting. Our knees were knocking and our hearts pounding. The stop for a beer was very welcome break to calm down. Then a gentle cruise back to the camp. But just before we get there in the now complete darkness Carlos spots a small herd of zebra -- something rarely seen in this area -- and once more we head into the bush and drive through their ghostly shapes.
Our last dinner is a delicate ostrich steak. Tonight announced by Diana -- the cheekiest of the waitress girls. After she has given us the menu, she goes back to the kitchen and we hear singing. After a few minutes she leads out all the girls -- the waitresses, chefs, and cleaners -- who perform some local songs and dances for us. A pretty impressive choir.
Tonight we are sitting next to the blonde South African family. Dave has discovered that the husband is a psychiatrist. The twin daughters and there blonde mother always look elegant in a laidback way. So far our conversation has been typical camp-talk. Where are you going to next? What have you seen? Where are you from? But tonight the talk moves to Cape Town, where they live and Kim talks about some friends of hers in London who either are from there or lived there for a while. And surprise, surprise -- there is a connection! Sean and Fiona are very old friends of the guy who runs the Young Vic Theatre in London -- a colleague of Kim's. And stranger still, one of Kim's best friends, Adam Low, who lived in Cape Town for a few years, made a documentary for the BBC about Sean and the psychiatric hospital where he works. Lots of messages and love are sent back to those in London
We have had peaceful nights in our big Nxabega tent, but tonight we are given a farewell concert. We are woken up by a huge amount of SPLASH SPLASH in the water right outside our veranda. Then MUNCH MUNCH MUNCH. It really is right outside the tent. Kim wakes up Dave, whispering in the darkness: "What is it? Elephant?", Dave listens for a while. "No, hippo" he says and turns over and goes back to sleep. Kim lies still her heart beating and the splashing and munching goes on and on.
Thursday 4 October
Today is our last day and we have the luxury of a 7 am call. For the first time it is slightly late. Then a young woman rushes on to the veranda, dumps the wicker basket of coffee, and rushes off again. "Elephants" she says over her shoulder. Very cautiously we make our way to breakfast but we don't see any.
At breakfast we chat to Diana, the cheekiest waitress. We tell her we are going home today -- back to England. "How long will it take you to get to your village?" she asks. We wonder how we can explain the difference between our Ladbroke Grove village and hers, here in the Delta. In the end we simply describe the journey: the little plane ride to Maun; Maun to Johannesburg in South Africa, and then the long night flight from Jo'burg to London; then the ride to our house. We look rather mournful as we contemplate the journey and the cultural change it will entail.
"You must send me a picture of your village" says Diana. We promise. "And now you must take a picture of me and my boyfriend". We are happy to oblige. Diana drags out the slightly reluctant Rams (one of the guides) and they pose together on the veranda, the tree squirrels playing behind them. We finish our packing and say goodbye.
Fox and Carlos drive us to the tiny dirt airstrip and our final baby plane comes to fly us out. We wave goodbye to our two guides and make our last bumpy take-off and we fly low, 500 feet, back to Maun. It is midday and the thermals are not to bumpy at that height. So you get a good view of the ground. We move from the delta with its islands and channels to flat land with elephant and giraffe and then finally towards the little huts and breeze-block bungalows of Maun. The tarmac feels smooth and unreal as we land gently for the first time in two weeks.
Maun airport is in its usual laid back state and so is Air Botswana. But the planes are on time and we get the Fokker back to Jo'burg. We re-connect with real life during the 3 hour wait at the international airport. We have our last Castle beer in the crowded bar. Dave buys some truly good-value Oakley sunglasses in the duty frees. Then we board the huge jumbo jet for the flight home. No chance of an upgrade this time.
On the Heathrow Express back to Paddington, it all looks so grey and muted. Not grey like the Makgadikgadi grey, nor the muted yellows and greens of the veldt. This is West London muted grey, and it's cold. And that's not a fish eagle soaring away over there on the horizon
WE WENT TO BOTSWANA WANA WANA!