A Brief History
of Dave Hucker
by Dave Hucker
I started DJ-ing in about 1981. In 1982 I opened up a club night on Thursdays at an atmospheric Colombian venue called the Sol y Sombra in London's Charlotte Street. This night rapidly became legendary and one of the best club nights in London at that time. My eclectic choice of music covering most of the tropical area along side Jazz, R&B, Funk and whatever took my fancy, quickly became a benchmark for clubland. This was how to mix it up and it opened the eyes and ears of the many people who crowded into the nights. The place was such a success I also took over the Saturday nights.
But in 1986, the Sol y Sombra burnt down after one of my Thursday nights. I knew I was hot that night, but not that hot I thought as I ruefully looked at the smouldering ruins. Arson was suspected, and the mystery of the kitsch print of a painting of a crying child that was found in a fire escape was never explained. Nobody at the club had ever seen it before.
I then followed that up and opened up the first full-time mainstream open to all Latin venue in London upstairs at Ronnie Scotts, in Frith St. Leaving there at the end of 1991. I revived the Sol y Sombra name for a Wednesday night at Cuba in Kensington High St. I also opened up a Sunday night Hardcore Salsa session titled "Sunday School" at Villa Stefano 227 High Holborn.WC1.
Also an addition to these long running nights was "Revolution" at Cuba on Saturday nights, which was a thumping radical tropical session. I stopped working at Cuba in September 2000.
Sunday School which had become legendary with as biggest Salsa night in London packed full of serious dancers both Latinos and Gringos, had to move when Villa Stefano suddenly closed down.
I am no longer doing regular club dates.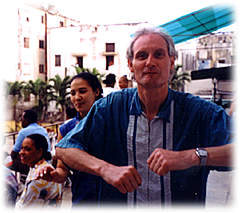 Talk Back to Dave
Email Dave: huckero(at)btinternet(dot)com
For more on Dave,
also see Bob Tarte's
Technobeat Central