The Road to Shoebill
Off to Shoebill. In the morning we start to load up the cruiser. The cameraman Philip wanders around with a python round his neck. He had bought it off some fishermen at Shoebill who had caught it in their nets and were going to kill it. Kim strokes it. On the road. It is Sunday, everyone is out in their Sunday best, either going too or coming from church. Huge family groups walking or cycling.
We turn off the tarmac road where a large sign points towards "Chief Chamati's Palace." Down the dirt roads, we start to pass through the tiny neat villages. Round and square houses with thatched roofs, covered washing and cooking areas, a thatched "open social" enclosure. Some houses are painted with pictures or coloured shapes. Others have the name of the inhabitants painted up as well -- Mr. and Mrs. Flower. We pass a sign for Livingstone's memorial -- where he his heart is buried; his bearers loved him so much that they buried the heart there, and then salted the body and walked with it for three months to get it to the coast and home to England.
As we pass through the villages the children run out shouting, "Lager Lager," a request for empty beer tins which are seen as a symbol of adulthood. We stop to take a picture of a Apostolic church and children come running from all directions. They shriek with laughter at us. They want money or earrings, but we don't deliver either. Kim asks if she can take a photo and they pose instantly: the baby goes on the shoulder, the young guy strikes an attitude. She feels she should give something in return -- but what? Then she remembers that she has in her rucksack a packet of British Airways boiled sweets. Like Alice at the end of the Caucus Race, she hands them out -- thankfully there are enough to go round, one for everyone. A few miles on we stopped at a neat village with a some people hanging round outside a nicely painted hut. After some cross cultural exchange and negotiation, we ask to take a picture of their family for our family back home in England. No problem.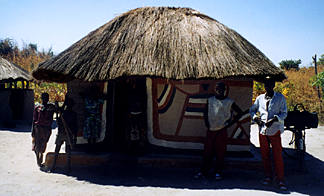 The people are incredibly friendly here, but so many children. 61% of the population are under 16, more than the land can possibly support. But then the average age is still about 45, and AIDs takes a huge toll.
Driving across a big flat plain we eventually get to the causeway that leads to Shoebill Island. There was the tented camp and central reed and thatch covered dining area, right by the edge of the reedy Bangwela Swamp. We were led to our tents which were fine, except I saw one of the mozzie nets was holed. We were being extra paranoid about the mozzies, since we learned about the Cameraman getting malaria here despite taking all the drugs. We're only taking homeopathics! One mosquito net was perfect , brand new; the other had holes big enough for hornets, never mind mosquitoes. So I ask Grant to get the guys to replace the holey one. But this being Africa, it does not always work out the way it's supposed to. They came and replaced the perfectly good net and left the old one. Classic.
Shoebill is a place to travel around by canoe. But any water activities are out today as it is beer day. Sunday is the day country Zambians drink their 7 Day beer. A concoction of maize, sorghum, and all kind of other stuff which is thrown into a big container and left to ferment for a week. Our boat men are well charged. Looking at the state of some of the other people we came across on the start of our evening drive that day out on the plain, 7 day beer looked very a lethal drink.
That evening we drove out to see huge herds of Lechwe, a middle sized dark coloured antelope kind of thing. Here they gather in huge herds, thousands of them in great long lines that stretch for at least a mile in length. Very impressive. Fantastic sunset over the plains with the vast herds of Lechwe.
That evening Alex cooks to Grant's orders. We've been carrying our own food with us, and the guys at the camps cook it. Mr. Simon who is in charge of the camp is a bit flaky. But Alex, the cook, really wants to get on. He writes down the recipe for tomato soup that Grant gives him -- it's good.
Next day is the boat trip to find this peculiar bird called the Shoebill stork that lives here and gives its name to the Island. It had got almost pretty cold during the night, and I for one am not used to this tent stuff, though we are getting pretty quickly acclimatised to it. I got up when the hot water for washing arrived, nipping out to use the long drop toilets (read, hole in the ground). I was attracted by the sound of a massive herd of Lechwe splashing through the swamp. Below the light blue sky ,the early morning mist hung in a layer about 10 feet deep. You could see the outlines of tall clumps of reeds and grass and the ghostly shapes of the constant stream of animals passing through. Magical.

The Source of the Congo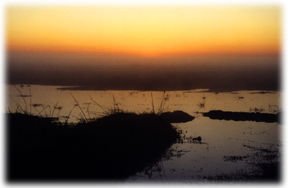 Kim is not coming this morning, she is suffering from pyrethrum poisoning caused by having a mozzie coil burning in the tent right next to her bed. She clutters out to be sick in the reeds and then lolls back in the tent. Once she's worked out that it's the pyrethrum coil and not a deadly tropical disease she's suffering from she looks much happier.
So I get a canoe of my own. The Fatties get to go in the "banana boat" with Grant and two polers. I say to my guy he has the easy job. He nods, quite true, as often the water level was so low they had to get out and man handle the boats over a particularly shallow bit. My man often gets drafted in to help with the heavy work on the other boat. We pass through a little dam built of sods of earth and a gap containing a wicker fish trap, then out into the Bangwela swamp. This is the source of the tributary of the Congo river. We were on that rivers first tricklings, its beginning. The heart of the Congo. This is where Livingstone fell sick.
We wind through the massive clumps of grasses, thick weeds swung in the current. Mats of reeds floated with other plants growing on them, Making it difficult to tell which was dry land and which was floating islands. Birds galore. As you gingerly pick your way through the reed channels hundreds of birds rise up squawking.
Then suddenly, there it is, the Shoebill Stork. What a weird bird it is. It's standing there motionless. We creep up to 50 feet away. A man setting fish traps is singing. His voice carrying over the marsh. The Shoebill just stands there motionless looking at one spot in the water. Occasionally a hood would wipe over his eye. It was a very peculiar looking bird with a huge great big shoe shaped bill. It seemed very prehistoric, looking a bit like a Dodo.
We crept forward again till we were only 25 feet away. Then it moved! It pounced at a fish that had finally come into it's field of view. But it missed. Mr. Shoebill looked well pissed off. And in a ungainly fashion ran and flapped into flight to try again further down. Yet another hour of standing waiting for a fish to swim by. Natures fickle finger of fate is a cruel thing. It's a hard life being a Shoebill stork. But everyone agreed it was rare to see them move.
The object of the exercise over, it's back for a shower and a hearty breakfast.
This comes with a voice outside the tent saying to Kim:
"Excuse me madam, I have come to tell bwana that his shower is ready."
Oh wow, I'm a bwana now! Bwana and Kim go to reed hut together to share bucket shower.

Heading for the Hot Springs
Tuesday, Shoebill to Kapisha Hot Springs. Another mega journey, starting off passing through the nearby village of Chicuni. We came across hoards of women and girls probably coming back from market. Loaded up with pots, sacks, large bundles and empty baskets on their heads. The children rush out at every point, even the tiniest ones, waving and shouting, "Hello Bwana!"
The bumpy track goes on for ever through the tall grass, villages suddenly appear through it. Eventually we hit a tarmac road. A brief detour to see some alleged bushman cave paintings and a snack, bought some light relief.
The tarmac road is no better than the dirt tracks in many ways. There are potholes within craters. Five hours later we have climbed into scenery that is described as being like the Scottish Highlands. We turn off into the Shiwa N'Gandu estate and stock up on fresh eggs vegetables and meat from the farm of another one of the Harvey brothers. Leaving the farm we pass the fringes of the famous big house and you suddenly come across all these little classic farmer workers houses from the Home Counties. It could be old time Surrey. Then the entrance to the house Wow!, But we were not in any mood to stop. The track was very bumpy, there was 20 kilometres still to go. And we were all very tired.

Kapisha Hot Springs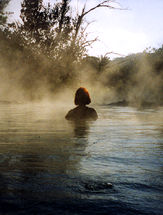 "Oh My God! That' s incredible," I thought as I dipped into the Hot Springs. It was everything I had been dreaming of for the past 5 hours. We had driven through the constant grass, getting tunnel vision. People would melt into the grass either side as we came up behind them honked at them and left them waving at us in a cloud of dust. The guys with overloaded bikes burdened up with huge sacks of whatever had the most problem getting out of the way.
Every hole and bump compounded the effort of this seven hour journey. Every jolt has accumulated in our bodies. I had checked with Grant that the Hot springs would be still be there. He smiled and said, "Yes" (Damn stupid eejit question, course it's still there).
"A cold beer and a hot spring," was my only request when we arrived at the wonderfully quaint camp.
So I'm sitting here in this hot steaming pool, looking up at the stars and every jolt every jumbling up of my insides, every discomfort I have endured is just floating away. Passing out of my body as the bath hot mineral rich water draws out the poison from the aching muscles and numb bum. So we -- and the FP's who join us in springs -- are cleansed. Ahh, bliss, this is great, a perfect Chill Out Point.
Up at 7 am I was down the hot springs again, now this is what I call living.

The House of the Royal Crocodile
Today we go to visit this famous house Shiwa N'Gandu (The Lake of the Royal Crocodile) designed from Army Manuals and built by the Harvey's grandfather a bloke called Sir Stewart Gore-Browne. Gore Browne had been in Africa during the first world war and fallen in love with the area calling it "the most beautiful place on earth." When he left the army he came back and in 1920 decided to build a house in order to entice a young lady into marriage and life in Africa.
This is an incredible place, now starting to decay quite badly, it looks from the outside a classic English country mansion. Indeed it, like everything on the estate was built in the English style. The craftsmen were imported from England. The materials were local but used in the English style. Bricks and a tile roof. But while the exterior and some parts of the interior the house are in classical England style, inside they rub shoulders with cool functional of a Islamic feel. Obviously when Gore-Browne was designing the interior, he had to look to one of the few types of traditional African building that used permanent structures. And their solutions for cooling -- the North African and Islamic world. The interior of the house has strange contrasts a bizarre mix of Delft tiles round a fireplace and African practicality.
This house is a remarkable place ingrained in history. A real experience to visit. Imagine somewhere like Citizen Kane's Xanadu untouched by time. Think of Rudolph Hearst's San Simeon abandoned and left alone. That is what this house is like, dusty, atmospheric, still stuffed with their history, and the history of our colonial past. Family photographs lined the walls. China and glass imported from England sat in heavy dark African wood cabinets.
Some rooms are piled high with paintings, belongings, old suitcases, the ephemera of 3 generations, family objects, carpets, paintings, ornaments, dust and light. Xanadu indeed. Numerous bathrooms and bedrooms, a red brick Moorish style courtyard filled with geraniums. An attic room where Kuanda and Gore-Browne would talk privately, man to man, each leaning on the iron rods which run across the building and strengthen it.
We are shown round by an ancient Zambian in bare feet. He has known the family for 40 years. Single-handedly he is trying to stop the building from falling into decay. An impossible task.
The master bedrooms with their balconies looked out down the alley in the centre of the blossoming English garden down to the blue lake of the Royal Crocodile. Then there is the Library amazing. Filled with a mix of books from Heroditus to the 'St. Anne's Girls Go Back to School'. All catalogued in another leather-bound book. Stacks of old 78 gramophone albums -- Beethoven sonatas in paper covers. Old glass slides of river scenes and animals. And diaries. Gore-Browne's diaries of his time in South Africa during the war. It really is incredible what is here.
It's a spooky place in some ways. The collective will necessary to make all this happen in the first place, and then to continue it through major parts of this century, and the great upheavals of history, must have ingrained itself deeply into the fabric of the building.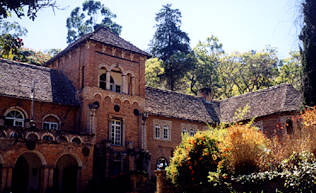 Back to Kapisha in awe. After yet another substantial lunch. Grant is keen to do a raft trip down the river, he has never done this one and is very interested. I, of course, am a very willing conspirator in this adventure. But you have to drive down to the river and someone has to drive the Toyota back to the camp. Mrs. Fatty eagerly grabs at this chance not to do something marginally uncomfortable. Mr. Eddie our boat person pumps up our Avon inflatable by a bridge over the river which is made of three squares of rough logs, one on either bank and one in the middle. These were filled up with large stones and then longer trees precariously laid across the gaps to get between the piers. Glad we don't have to go over that bridge.
All in and off we go with Grant and Mr. Eddie paddling. We cruise down the river with its many twists and turns, offering up constantly changing new vista of trees and reeds. You hear children playing somewhere, the water is crystal clear. We bump over little rapids occasionally and get swung out by the current. But it's all very genteel. Except when we come to one of the home made bridges, which is too low to sail under, we scramble out on the bank and carry the boat round.
We end up at the camp after a nice hour long meander.
That night Grant, as threatened, plays us his 'Jock of the Bushveldt' CD. This evidently was a big children's book in SA and had recently been a big film as well. It's all about some dog called Jock, and his adventures in the bushveldt. We sit under the stars round the log fire. Grant seems genuinely moved by the music. Teddy, the camp cat (golden fur and green eyes) forsakes Kim's lap for Grant's.
There was an amusing wine interlude at dinner.
Mrs. FP had complained about the wine the previous night. OK, it was out of a box, and of indeterminate origin apart from South Africa red and was certainly a bit oxidised. She wanted red from a bottle. She got box wine again, Grant went in search of a bottle he came back saying they did not have one. Mrs. FP triumphantly pointed at a decent looking bottle of red wine sitting on a display behind us. Grant went off with the bottle and came back trying to hide a grin. Actually it was not wine in the bottle but tea. As it was for display purposes only. We had a good snigger at that one!. That will teach them.
The Fatties are supposed Africanophiles, but are they are constantly very rude about Africa and Zambia. Plus Mr. Fatty had insulted my clothes the previous night. Saying it looked like I was wearing my pyjamas to dinner. Coming from a man with the sartorial style of a sack of potatoes, I thought that a bit rich. So now the gloves were off. We had grown tired of their constant need to have the last word on everything. Whatever you said, they always contradicted you somehow, claiming they knew better in some irrelevant way. Even if they agreed with you, they had always seen something better/worse/bigger/smaller. Plus if it the conversation didn't revolve around them and their fat world they were very unhappy.
I had given up attempting to have any kind of sensible conversations with them after spotting a cup handle glued on with Araldite. Because he was a engineer type person, I made an attempt at idle conversation:
"Wonderful stuff, Araldite," I said pointing at the cup.
"Oh, I prefer Industrial strength Superglue, but it is very difficult to get," he said smugly. That was it, no more.
Copyright 1998 Dave Hucker

Back to...
Dave Hucker's Home Page