It is a quick getaway this morning as it is a long drive up to Lake Tanganyika and our next stop Ndole Lodge - all on bumpy dirt roads.
There are many kind of roadblocks in Zambia. Some are permanent such as the one on the bridge over the Bangweulu. There are semi-permanent police blocks at major roads or crossroads. Others are more temporary such as the ones manned by road tax inspectors whose other main job is to check that you have a warning triangle in your vehicle. The council ones are permanent. They collect local taxes on lorries carrying goods across the country. And then there are the Zambian National Service ones, staffed by serious soldiers in uniform, carrying automatic rifles who take details of everyone passing through. We come across one of these and have a chat with the men as Rod is doing the paperwork. One soldier asks what is in the back of the Ranger? They are intrigued that we are camping around the waterfalls. One, wielding a belt, tries to whip away a guy trying to sell us packets of sweets. The forms are eventually filled in and with handshakes all round, the barrier is lifted and we are on our way.
All the roadblocks provide much needed jobs for people. They can cause travellers a lot of trouble. But they are also curiously relaxed. Michael takes them seriously. He wears his seatbelt at all times. Rod, on the other hand, has his own rule that he wears seatbelts on tar but not on dirt roads. Kim and I follow his lead. We have a recurring joke about this whenever we spot a police roadblock. A friend of Rod's got fined at one of these for not wearing his seatbelt. The policeman who fined him shook his head at his stupidity: 'Sir, you know when you are approaching a police roadblock you should always put your seatbelt on.'
This is one of the longest journeys of our trip. It is hot and the roads are dusty. The potholes are many and deep. We bounce along for several bruising hours and arrive at another National Service barrier, this time manned by a young soldier who sleepily takes our names. Then we are on our way again for another 100 yards. We move 50 yards to the road junction and then another 50 yards to the next barrier. The same young man saunters over and opens it. An hour or so later we spot Lake Tanganyika in the distance. This is the second largest lake in the word and the second deepest. It is shared between Burundi, DCR, Tanzania and Zambia. We visited its Tanzanian shores a few years ago. Now, dusty and tired, we are heading for the Zambian side. We drop down off the high ground and in the distance we can see a small town - Sumba - hugging the lakeshore. But before we get there we hang a left and go down an even bumpier single-track road.
We pass clumps of houses and tiny villages. One village has a large pile of wooden poles exuding the smell of fresh creosote. Electricity is coming to Ndole Bay. The track gets rougher then, mid-afternoon, about 6 hours after breakfast, we bump into Ndole Bay with its large thatched lodge sitting among tropical gardens that stretch down to the white sand and the bright blue lake. We prise our aching bodies out of the Ranger.
There is no one to be seen. We sit and wait in the thatched high-roofed bar/restaurant area. Rod goes in search of life. A cat emerges from the garden. Eventually Rod comes back. 'They thought we were coming yesterday.' Ah, so that explains the Marie Celeste situation.
Then suddenly the door behind the bar opens and a young guy appears with an anxious look. 'We were expecting you yesterday,' he says. Well we are here now. 'Can we have three beers please?' Being close to the Tanzanian border, Ndole Lodge has Tanzanian beers - Kilimanjaro and Safari. After the bumpy, dusty road the Safaris hardly touch the side of our throats.
Sometimes these generic African bar/restaurant buildings, with poles holding up a high thatched roof and rough stone walls, can be a bit overdone, but Ndole has got it just right. Other people start appearing. A woman leads us down to the white crescent beach and to our room. Rod is shown the room at the other end of the stone terrace. He said he would prefer a room elsewhere. The woman says, 'Ah, you don't want to be next door to your parents.' Hah, hah,. Realising quickly we are quite old enough to be his parents.
Our room is right on the deserted beach. It seems to have been converted from what was once a beach restaurant. It's all fairly new - unfinished tiling on the veranda - and very nice. A decent sized bed, a large bathroom with a bath and shower. Yippee. We unpack for the first time since we arrived in Zambia and then wander down to a pontoon and take in the views of the lake and the little harbour with a large wooden fishing boat moored in it.
For late lunch we have the food we brought with us - tuna mayo, tomatoes and biscuits. The chef - who has been found - cooks up some beer-battered fish and rustles up a salad. It makes a nice change to eat fish. We had seen people selling it on the side of the road but had never stopped to buy. We are sitting having our lunch when we heard a fast speedboat approaching, skipping through the water. It pulls in and moors at the pontoon. A large group of men and one woman get off and head up towards the bar. As the one white man passes us, Rod says, 'Hello Phil.'
The bar boy is suddenly very busy. This is a bunch of government ministers on a jolly. An airstrip in the area is being developed to improve access to this remote area and open it up for tourism. But this 90 billion kwacha project is not running to plan, time or budget. Hence the visit from the men from the ministries. They play darts in the bar, have another beer or two then head down to the beach to play football. Phil – an Australian and a canoeing buddy of Rod - explains to us what's going on. He is tasked with moving the minsters around. The game of football over, they get back in their speedboat and roar off to solve the problems of this project.
Dinner that night is roast chicken and gravy. The cat is very happy to join us.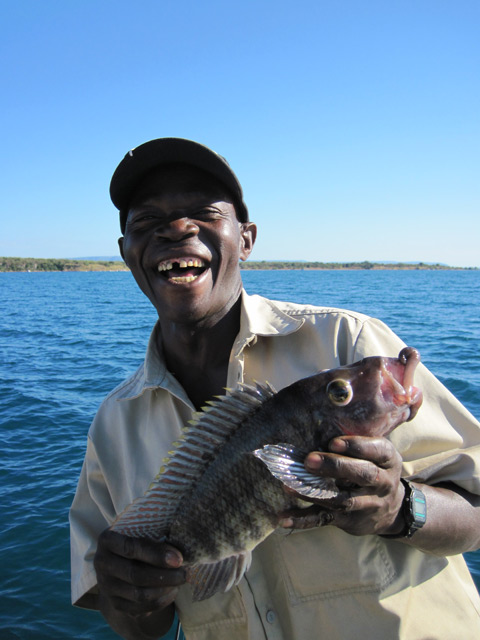 Ndole Bay is famous for its fishing and has hosted a big annual competition for the last thirty years. Rod has booked a half-day's fishing on the lake. So at 7am I meet him for breakfast up at the restaurant,. Cornflakes and muesli for me I pass on the full breakfast - it would such a waste to loose that wonderful bacon and scrambled eggs over the side of the boat. At the harbour we find boatman Derrick waiting for us with a speedboat. He blasts out into the slightly choppy waters attacking into the swell with gusto, sometimes the boat flying a bit and banging down on the next wave. I am sitting up in the front next to Derrick. It is quite violent at times. As always the best plan is not to fight the waves but go with them. We speed out for almost thirty minutes then zoom round a headland and are now in the waters of the Sumbu National Park where commercial fishing is prohibited.
Derrick stops at one of his favourite places, we bait up the hooks with carpenta, the very numerous little fish from the Lake that are on the lower rings of the food chain. Fried in batter with various dips they make a lovely starter - like whitebait. Looking at Mr Derrick's fish finder gizmo you can see it is about 40 metres to the bottom, where we need to catch the fish.
I am the first to catch anything and haul in a zebra fish - not a very big one, but still the first. I start pulling in more. Rod then hits the shoal and starts pulling them in. We are getting loads of zebras, which we just throw back. Then Rod gets an ugly fish with big lips. But the main catch was a fish called ngutuni. I haul in a good-sized yellow belly ngutuni, then another one. Wrestling them to the surface they radiate bright yellow in the water. Out of it they shimmer gold. Then I catch an eel, which proves I am fishing near the bottom. Derrick, who is using just a hand line, is pulling in as many fish as we are!
After catching in excess of 50 fish we decide we have had enough and turn round and head back to the lodge. As we pass the shore of the National Park, Rod's ultra keen eyes spot some puku on the beach. I have to take his word for it that those small dots are in fact the medium- sized, water-loving antelope, which use a nasal whistle and a snort to communicate.
The yellow bellies are given to the kitchen for our dinner. The rest of the fish go to feed the local village up the road. While we've been out on the lake, Kim has been exploring the beach and watching the villagers at work. Michael is having the time of his life. Free of cooking for a few days, he has been hanging out with the staff at the lodge. And today he has spent most of his time on the water in a plastic canoe. He's never seen any expanse of water as big as this. And he's never been out canoeing. Kim watches him anxiously through the binoculars for a while, knowing that he can't swim. But he seems to get the hang of it pretty quickly and he goes out quite a long way then lies on his back, drifting and watching the sky.
That evening we lounge around the bar. There are no other guests. We play Scrabble and Rod beats us handsomely. The yellow-belly fish is very good. Caught about 10am and eaten by 7 pm hmmm fresh.
Meeting the Chief
In the morning off we set all refreshed, with clean, freshly laundered clothes and bodies, and a spring in our step. Michael has washed the Ranger, hosing off of the accumulated red dust from the roads that seemed to permeate everywhere.
We are on the way to our last waterfall, Chishimba. We stop at the same National Service Roadblock as on the way in. This time it is (wo)manned by a smart female army officer. She is very efficient.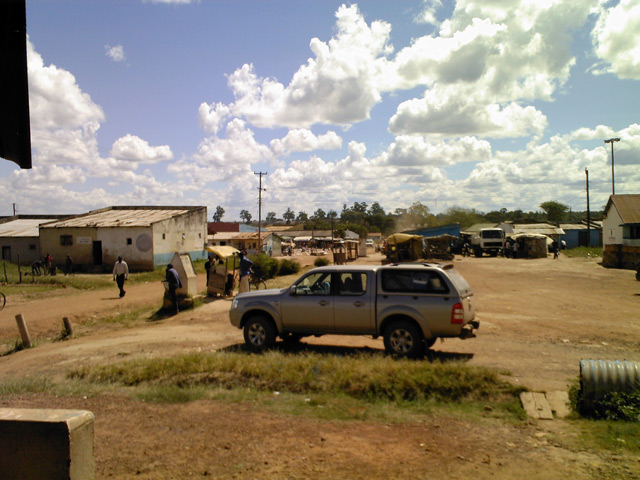 A few hours later, we get an indication that we are near civilisation. Michael's mobile always starts to chirp with incoming text messages when we get within receiving distance of a phone mast. We enter the small town of Mporokosa and pull in by Pat's One Stop Shop and buy some drinks and a packet of biscuits from Pat herself in her impressive One Stop Shop. She stocks a wide range of goods: groceries, soap, egg trays, copying paper and serious power tools.
As we have a mobile signal Kim rings her sister (it's her birthday) and I ring my mother. Curious how easy it is to stand it an African village and get a clear line straight through to another village in Derbyshire.
Our next stop will be Chishimba falls but that is an hour and a half away. Rod says he is looking for some shade so we can have lunch, preferably off the road. He spots a track going off to the right, so we bump over the ditch and head on down this narrow overgrown path for about quarter of a mile. The tailgate goes down; out comes our regular lunch on the road.
Then we hear the sound of a truck coming up the track towards us. It stops and the driver comes and talks to Rod and Michael. He says he has the local Chief on board. We grab the food so that Rod can manoeuvre the Ranger into the bush to give enough space for the Toyota lorry to get by. We lay the plates back on the tailgate as the lorry squeezes through. It stops and the Chief, sitting in the passenger seat, addresses Michael.
The Chief is wearing a printed leopard skin cowboy hat and drinking a bottle of Castle beer. At first there is a bit of chitchat in Bemba. The Chief never deigns to make eye contact with the rest of us. It turns out that he has crops and trees growing further up this track. Michael tells him we have been travelling through Northern Province, camping by the waterfalls. But then the Chief asks Michael if we have been to his Palace (Boma) to ask permission to go onto his land before we arrived here. Michael thinks this is out of order and rather bravely says: 'No, we are just passing through. Does everyone passing through have to call at your palace?' The chief's eyes narrow. Speaking in English he says: 'You should be very careful how you speak to me.'
Eventually he turns to us and asks us about where we have been camping. He starts talking about getting investment in his waterfalls. He cannot take his eyes off our lunch sitting there on the tailgate. Finally he says: 'Have you seen my Palace? Come, we talk. You can invest in my waterfalls.' However, bravely and politely, we make our excuses. 
The chief's lorry is carrying a large load of firewood that has just been chopped. Sitting on the felled trees, observing this weird encounter, are a man, a woman, a boy and a bicycle. They seem as bemused as we are. The Chief finally raises his beer bottle, the lorry starts up and moves on.
After lunch we head back onto the main road. The encounter has prompted an interesting discussion on the role of the chiefs in Zambia today. Before Independence, they were often the go-betweens between the colonial state and the people. Nowadays, the institutional chieftainship is seen as important part of the cultural heritage and the chiefs can play a significant role in the economic development of an area. Michael explains how it works in his village. And he tells us that the Chief we just met is a genuine Paramount Chief - a real big wig. First proper African chief we have come across.
After an hour or so, we reach our last camp. It is Saturday and the falls at Chishimba are heaving. It's the first time we've come across a site that is actually a family destination. There are about half a dozen cars and trucks, with people having barbecues and a group of youngsters dancing to a beat box playing modern Zambian music. As we walk around the three distinct landscaped areas that make up the falls we meet a bunch of pupils from the White Fathers' missionary group who visiting. And we keep bumping into a large family group on the walking trails. As we are going down to the bottom waterfall we stop and speak to a local man who is on his own. 'Isn't nature wonderful,' he says.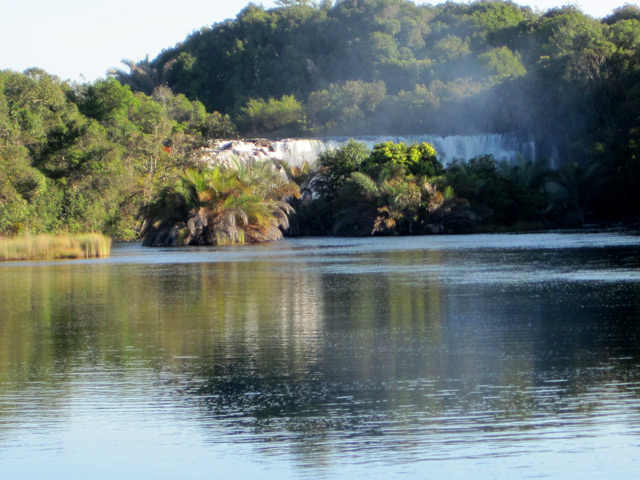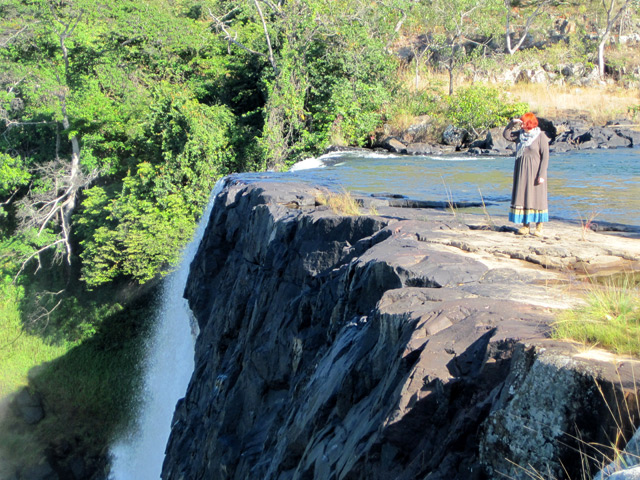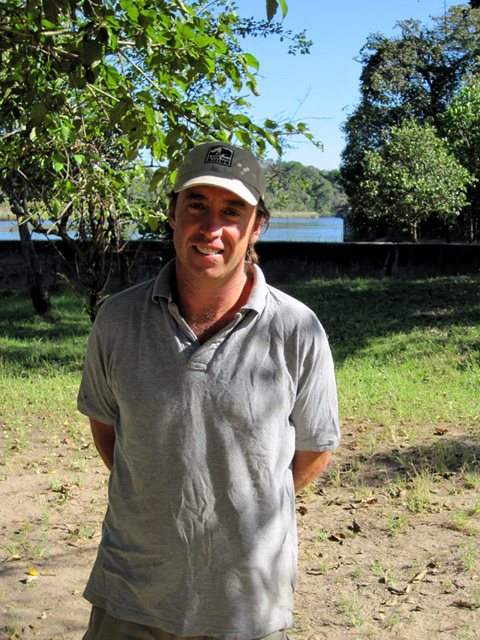 Everyone we meet seems eager to share the culture of the place and shows real respect for the land. The Bemba people regard the Chishimba Falls as one of the most sacred places of power. They believe that the nature spirit Chishimba resides in the cave below the falls, which is a place of prayer and honour. No insults, curses, words of vengeance or hatred may be uttered in the vicinity of the caves. We certainly don't hear any.
By dusk everybody has left. Just us, the two waterfalls, the flume for the hydroelectric system we are camped by, plus a couple of night watchmen who stay up by the (flush) toilets. There is a fingernail new moon in the sky that night.
This is our last major waterfall on the trip, so in the morning Kim and I go out again to the bottom falls to get another fix of falling water. Chishimba, despite its manmade weirs, ponds and hydro systems, has soul. Unmolested it must have been stunning. It is still pretty good.
Our last breakfast by the water, the Ranger loaded up we set off to the crossroads town of Kasama, a important stop on the Tazara Railway. Kasama is an up and coming town. They are even installing traffic lights at the junction the town is built round. It made us realise we haven't seen a single traffic light since we left Lusaka ten days ago. Rod fills up with diesel at a BP station, opposite a large new shopping centre. Michael buys a top up for his phone from a stall in the bus station a hundred yards away.
The road is now tar so we can keep up a reasonable pace. Near the Chambeshi River we pull off at the Von Lettow-Vorbeck memorial.
Von Lettow-Vorbeck was the German general who led the English a merry dance in his guerrilla campaign in WW1 German East Africa (now Tanzania). He was described as the German Laurence of Arabia. He recruited local (Askari) warriors so was able to run a mobile Guerrilla campaign and live off the land, plus a little knowledge goes a long way. At this point he was in retreat in Zambia, pillaging English supply depots for food. Here he was told of the armistice three days after it had occurred. 
A plaque in Bemba says, 'we honour all brave soldiers in this war'. More Africans than Europeans fought and died on both sides in the East African campaign, The English forces were all colonial, Indian West African and South African. A German field gun sits on this memorial at the end of this little used dead end road.
The locals dry their cassava roots on the tarmac. Unfortunately, we run over one of the white sheets of cassava on our way out. Oops sorry.
We are now heading for Mpika, the big town in this area. This is where we must say goodbye to Michael. He is going off to cook for some wildlife conservationists connected with Save the Rhino before heading back to Kutandala in North Luangwa to meet up with Rod and the rest of the team as they rebuild the camp for the coming season.
Michael has done a fantastic job through out this trip. It must have been quite a big test for him. He and Rod were always up at 6am taking down their tent and getting breakfast set up. Michael always went to the river to get water for boiling coffee, washes and showers. After breakfast he cleaned the breakfast bowls in the river and packed everything away. On the road he would buy the things we needed. He would get lunch ready when we stopped on the road. When we arrived at the campsite he and Rod would set up the tents then Michael would set up his kitchen and start preparing dinner. The cooking was very good given the very limited facilities. From him we also got a good insight into the life of the average Zambian. 
On the journey, Rod deliberately asked Michael questions so that between them they can fill in details of things we see on the road; explain how things work and give political insights and gossip. Sometimes Michael can describe nuances of Zambian life of which even Rod is not aware. And there is the additional pleasure of seeing his enthusiastic response to things which, like us, he has never seen before. Before he leaves us, Michael thanks Rod for giving him the opportunity for a trip like this. He also asks him to 'Thank madam for all the preparations she made to make sure I had all the necessary ingredients and recipes'. It is Rod's wife Guz who has trained Michael so well. He makes sure Kim has Guz's recipe for the steamed treacle pudding, then we say our goodbyes and thank yous. We leave Michael waiting outside a food store for someone to come and pick him up for another long drive.
We fill up with diesel and I buy two bags of peanuts from a girl at the petrol station, Well, Rod actually buys them, as the girl does not have change from the 10-pin note I offered for a 2-pin purchase.
Leaving Mpika we decide to go and look at the railway station and the headquarters and maintenance sheds of the Tazara railway. A week before we left England we saw a BBC documentary about the Tazara line, which has whetted our appetites. The station itself is deserted as the train had left early that morning on its 23-hour journey to Dar Es Salam. The stationmaster welcomes us and says if we want to we can go and look at the signal office. It is a bit well worn, like everything else to do with the railway. There are Chinese manufacturing plates on the 1970s large grey equipment boxes that show the signals all the way to Dar. They show the progress of each train. Although, unfortunately, the stationmaster has no way of communicating with the trains. The signallers are sitting reading copies of the Watchtower.
It is quite an amazing place. We must do this train journey one day. All around this crumbling, magnificently austere station is the housing originally built for the railway workers - a railway mini-town.
Mutinondo and the Humpback Whales
We are now heading for our final stop where will we say farewell to Rod. We turn off the main road onto a dirt track and head for Mutinondo Wilderness. Seven kilometres later, we are welcomed by barking dogs and then meet Lari and Michael who own the camp.
Rod doesn't stay, as he has to get back to Lusaka and then on to Kutandala to open up his own camp for the season. We've been so lucky to have travelled with him. We met him briefly when we first came to Zambia in the 1990s and then stayed in his camp about 4 years ago. He is now one of the top guides here now and just a great person to spend time with. He was at university in England and still has family there and his ongoing interest in British culture, combined with his incredible knowledge of Zambia meant we were never short of things to talk about. We learned a lot from him on this 2,000-mile journey and hope to meet up with him again on our travels.
After late lunch we are led to our 'superior chalet', built of stone around a large slab of rock on a humpback. One of the distinctive features of Mutinondo, up on the escarpment above the North Luangwa Valley, are the huge big humpbacks of granite that dot the landscape. They date from 1,200 million years ago, which puts them very early in the history of the earth. Their original colour is white and black amalgamated granite but now they are covered in black lichen and a plant that takes hundreds of years to grow and looks like dead grass. So they have the appearance of a dusky brown and black mound, or a velvet-coloured whale.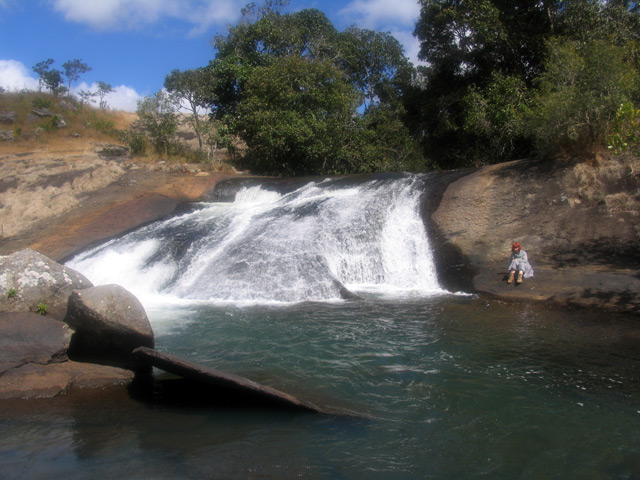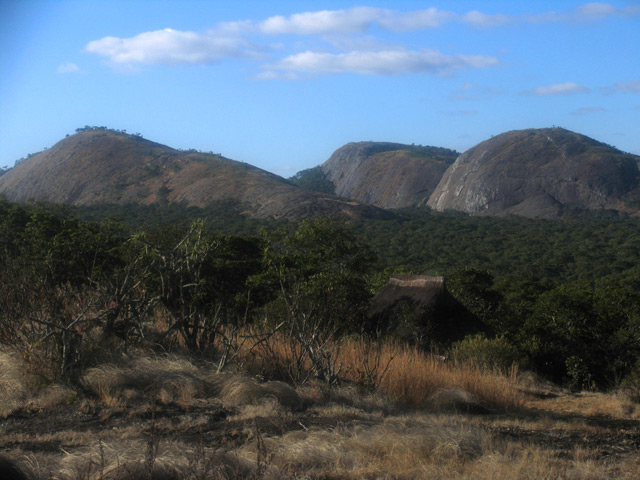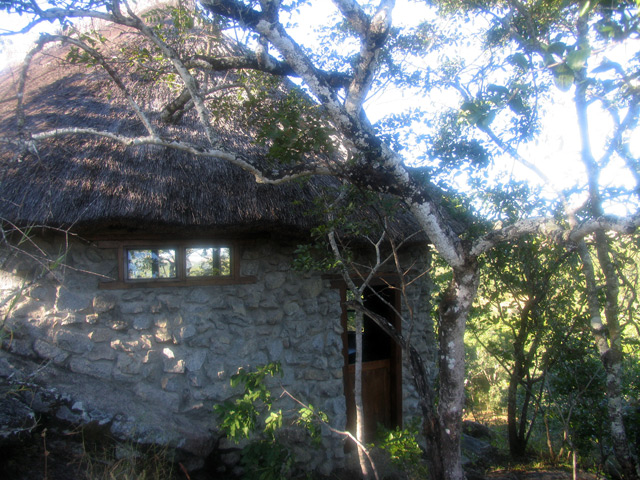 Lari and Michael have put a huge amount into Mutinondo. The area was formerly tribal trust land, occupied by the Bisa tribe a hundred years ago. All the development Lari and Michael have done uses locally sourced materials and craftsmen to ensure maximum involvement of Chief Mpumba's people. It hasn't been easy for them and their laidback and trusting attitude has at times made them an easy target for thieves (there have been a couple of quite aggressive robberies here). But they have made an unusual lodge where you are left very much to your own devices to explore the landscape (there is not many wild animals here) and they are kind and interesting to talk to.
We have seen hardly another soul when we were camping, let alone another white face. Now we learn that Mutinondo has a group of American Christians visiting. They have come with a load of equipment and books for the local school that they have shipped over. We meet them round the fire for drinks. They have a pastor from Lusaka with them as well. He has driven them up all the way up from the capital after getting the drums full of equipment out of customs had taken much longer than expected. They had driven through the whole night to do what is normally an eight hour journey. The pastor had got lost on the way. He was Lusaka born and bred so the rural north of the country was a complete mystery to him. He should have relied on maps or GPS navigation rather than his own G(od P(osition) S(ystem). 
Next day Kim and I go for a walk along the Musomfushi River behind the camp to the nearest falls, Coso. After a long meander through the valley, the river does a gentle 90 degree 20 foot drop through a crack in the rock. The falls are small scale but very pretty. We lie on the rocks in the sun for a short while along with the lizards. On the way back we detour to the top of the nearest humpback, which has amazing 360-degree views over the whole area.
Mutinondo is very simple and laid back. There are only four guesthouses one of which is occupied by Lari and Michael. They never got round to building a house for themselves and when they have lots of visitors, they just camp. The water for the houses is heated by solar panels. Our stone bathroom is separate from our room. The shower water seems to stay hot most of the day, although it is much cooler and windier here on the ridge. There is also a larger campsite in the trees, beautifully designed with little shower houses, long drops and sort of Tin Man boilers for the hot water.
One of the things you can do here is ride horses. The horses roam around freely during the day and at times have to be dissuaded from entering the open area where breakfast (with great porridge and fresh bread) and lunch (good cheese and salads) are served. It is more difficult to keep out the squirrels out who keep pillaging the lunch spread, somehow managing to get under the large chicken wire cover that goes over it. The cooking is mainly open wood fired so the excellent food and coffee always has a smoky flavour. 
One day we go further down the river to the Ndubaluba and Mulinso falls. These are small, compact and very pretty and on a lovely piece of river. We've seen no one on our walks. But on this one we hear something. Poachers? There are often some in this area. Then we realise that the barking and the screams are baboons that have heard us approaching. They chatter wildly, swinging away through the trees. One is so quick to make his escape that he misses a branch and falls in the river. The temperature is much hotter down here. We are pretty sweaty by the time we reach the campsite again and loll there, using the basins to cool or necks and faces before making the final trek back to the lodge.
At night we chat with the Americans round the campfire in the bar area. They are a varied and very sociable bunch. The leading light and instigator of this trip is a carpenter from Wyoming called Seth, who had come across Muchelenje village when he and his brother were heading for Mutinondo as part of a backpacking trip through East and Southern Africa. Some of the local people had given them a lift up to the lodge and then taken them to the local school. And Seth had been determined to do something to help. Now he and five others have come back with supplies that are badly needed by the school. They are determined that this should be a 'partnership' not a 'handout' and that the school will learn to develop its own resources. While Seth has a realistic and very practical approach to the development project, for those who are in Africa for the first time, it is a bit more overwhelming and emotional.
One afternoon, while the Americans are down in the village, we meet our chalet's resident dormouse. He scurries from under our bed towards the big glass doors and the veranda looking over the hills. He is renowned for eating shoes and has recently developed a taste for iPod headphones. We have a talk and agree we are all going to be friends. I think my walking boots might have been a bit tough for him to digest.
Last day, breakfast and then at 11am we see the little six-seater plane come in to take us to Lusaka. The dirt airstrip is just a few minutes away and Michael drives us there, while Lari walks down with the dogs to say goodbye. Rod has sent Greg the pilot a message to let me fly. He takes off and then lets me takeover for most of the two hours down to Lusaka. On the way, we have a conversation with another small plane somewhere in our airspace that Greg does not recognise. The female pilot chats with him about the flying conditions. When Greg asks her who she flies for, she says, 'Oh, I'm just a farmer's wife from the copper belt on my way to do some shopping in Lusaka"!
Greg complains that the dirt strip at Mutinondo is very bumpy. He's an interesting bloke who lived in England, in Epping Forest, at one point. We (sorry, Greg) land at Lusaka and we are handed over to his man on the ground, who leads us to the back of the hanger. Greg needs to refuel and be quickly on his way as he is heading back north to pick up another passenger. Such is the life of Zambian bus driver. We are left in the car park at the back of the private hanger. But there is no sign of anyone from Pioneer Camp there to meet us. Luckily our mobile phone works so we ring Rod's wife Guz and she phones Pioneer Camp, whose man is waiting for us at the main terminal five minutes down the road.
Thirty minutes later the Pioneer camp dogs welcome us: a little Jack Russell type of thing, a baby Jack Russell puppy (unrelated) and a large languorous bulldog. The senior Jack Russell befriends us, following us to our cottage, as doubtless he does all newcomers. While we sort out our luggage for our home flight, the dog tries to impress us by pushing a huge rock across the lawn, growling at it and barking professionally.
Pioneer Camp is a good place for people like us, coming in from the bush to overnight before the early morning flight out. It is relaxed and efficient. As the light begins to drop we spend our last moments under an African evening sky. Sitting on the porch of our 'cottage' where the neatly cut grass bleeds into the scrubland, we can hear an open-air Seventh Day Adventist church meeting in a clearing in the bush nearby. This is real old-time gospel. First there is the choir. This then develops into call and response singing, with a beautiful male baritone lead. It is real pure, African-style gospel. The preacher is really giving it some as well. It is a fine fitting musical end to our journey.
We wander back from our sleeping quarters to Pioneer central to print out our boarding cards and get dinner. An overland bus passes us going round the back of the buildings. We have dinner on the terrace with the dogs and a few other in-transiters. Nearby the overland bus people are eating and putting up their tents – a rather bigger version of the camping trip we have been on for the past two weeks.
It's only when we get to the airport the next morning that we realise how lucky we are to have a flight home: the BA strike is temporarily delayed and the ash cloud has lifted again.
As we settle back for the ten-hour flight we decide that this has been a very special holiday. We went deeper and were more remote than ever before. We were lucky to be travelling with just two other people who were able, from their very different backgrounds, to give us a real insight into Zambia, its landscape and its communities. We saw and experienced things that not many people do. It was an amazing journey through an incredibly varied, beautiful land and humanscape and we were better people at the end of it.