"It's raining it's pouring, the old man is snoring." Six climate changes in two days.
Climate Number 1.
A grey Wednesday morning in London. It is almost trying to rain as we leave the house to get to Costa Rica.

Climate Number 2.
The rarefied atmosphere of a large aeroplane as it wings its way through 10 hours of dullness. It might be a spanking brand new plane with Liquid Crystal screens in the seat backs. It might have acceptable-ish food and friendly servants constantly bringing you little tubs of water to drink. ("Our Water Service will be visiting all parts of the Plane.") But it still is boring. The films are boring as well.
Ten hours to contemplate the meaning of life as detailed in the "Sky Mall" catalogue I find tucked in the seat pocket in front of me. When I flick through the pages, a million useless objects attempt to attract my attention and say "buy me." I am filled with wonder for at least 10 minutes. Do you mean someone actually spent time thinking up these things that you never knew you needed? And how had I ever managed without them before? And does someone really think I might actually want to buy them now. And then does this shiny new plane actually hold a stock of all these incredible objects? Just in case I might take a fancy to the Harley Davidson Motorcycle trouser press. Or the circular tie rack?
I leave the world of Sky Mall and dip into my disposable plane read: South London hardman Charlie Richardson's autobiography. This was a fact-thin rant against getting 27 years for torturing someone. How times have changed, now you only get probation for that. He also claimed parts of 'sarf lunnon' were safer when they were under his control. Burglars found around Camberwell in the 50's and early 60's got a good clip round the ear from him, were told to return the goods and go and do their burglary in the West End where "people got proper insurance."
I always remember when I first came to live London in 1971 and needed some work. I got a job at a petrol station in Camberwell. The owner warned me that this was the heart of the Richardsons turf and that I should be "very careful who I spoke to." Well, Charlie's bio passed a hour or two out of the 10 hour stretch from Gatwick to Houston via Greenland, Newfoundland, Canadaland USAland. Finally landing us in Texasland.

Climate Number 3.
Houston International Airport.
Oh, we had trouble trying to get through immigration. We were only in transit and time was definitely tight between the flights - an hour and a bit to get across one of the biggest air terminals in America. But we were made to jump through every INS (Immigration and Nationalization Service) hoop. Four times we were sent back behind the yellow line to fill out our forms properly.
We were only in George Bushland for 40 minutes. But rules were rules, "and you would not like to be sent back on the next plane would you, sir?"
"No, certainly not - but could you please deport us on the next flight to Costa Rica. Which leaves from Gate 22 at 5.30, If that's OK with you mate?"
But thankfully, and I do give much and full due respect to mis dios, we finally were allowed through briefly into the taste-free zone of an American International airport. There was only enough time for a tasteless urine-yellow fizzy American beer at a bar. An English girl buying a beer had to show a passport to prove she was over 21. There was a large sign reminding us that it was an felony offence to have an unlicensed gun in any establishment that served alcohol.
Once we got through the gate we were into another world. The 737 bus service down to San Jose was waiting for us. As soon as you got on board, Spanish was the first language.
The pilot was anxious to get a move on. It was probably his last run of the day. A passenger got thrown off the plane. The baggage handlers had a pile of bags on the tarmac. Some got put on the plane, some did not. In the late afternoon sun what I could see did not look particularly American to me. Things were starting to get mixed up a bit, slightly frayed around the edges.

Climate Number 4.
The tortured air looked solid. It spilled over the aeroplane's wing as we made our approach to San Jose. We had reached Costa Rica. It was only 17 hours since we had left home.
We spotted a guy carrying a board with our names on it on the other side of immigration as we waited to get our passports stamped. So as soon as the bags turned up (Gracias a Dios), Carlos our picker-up gave us a sticky-back badge to wear which said "VIP" and escorted us through customs. Thank you Carlos. As we fought our way through the throngs in the "Salida", the humidity hit us in that wonderful lung-collapsing way.
Once through customs, he hands us over to Sebastian from Aventuras del Sol, the guys who have organised our itinerary for us. "You like our new airport?" he asked as we hustle towards the minibus. "Only open four weeks."
We cruise through the night and the outskirts of San Jose. It looks very big. It also looks pretty funky. Within minutes we have left the autoroute and the glimpse of the city and turn off down twisty, bumpy roads through Santa Ana; past colourful local bars. "The roads are fine," Sebastian tells us. Hmm. Thankfully we are soon dumped at our slightly out of town business hotel, the San Gildar. And we drop off into a not so slightly sleep.
Up at the crack of 6:30-ish for Hotel San Gildar's "continental breakfast," otherwise known to you and I, as two toasted slices of white "Bimbo" bread, two minuscule dollops of butter, and a tiny airline catering size pot of jam. At least the coffee was good! We hang around by the small central swimming pool looking at the photographs of a Costa Rican astronaut who clearly landed here for some major conference some years ago.
Then at 8.00 am our car arrives, a green Toyota Rav4. After going over the many scratches and dents in the four-wheel drive and agreeing with the car rental man that they were already there and had existed on it before we took possession of it, we then hit the road or the first time in Costa Rica and first time in a strange city.

Climate Number 5.
Air-con Cool. Hot Roads Need a Cool Head.
What's the road etiquette here in San Jose? Watch out for the hanging traffic lights and the motorbikes undertaking on the inside. Plus the small matter of anyone stopping at any moment, anywhere, for any reason. But we make it to the main road, the Interamericana Highway.
Then it was easy-peasy as we headed down to the coast. Just one slight detour round a cross-road town called Orotina. The lack of unmistakable direction signs (sorry, any direction signs at all) is a side note in all the guidebooks when they talk about driving in Costa Rica. No, it is not a side note in the guides. It is a huge great big warning printed in 72pt type.
Our first experience of driving outside of the big city also shows us quickly and graphically the Tico (Costa Rican) driving style. We soon learned the rules - that there are no rules. After about the third or fourth time I'd seen a car overtake on a blind corner or on the brow of a hill, the realisation sinks in that these guys are crazy mad. Fully certified and paid up members of the absolutely stark staring 100 percent pure bonkers party. They make members of the Voluntary Euthanasia Society look like complete wimps.
It dawns on me what the vultures and eagles are doing as they idly float on the thermals along side of you, while you navigate the hairpin bends that snake up and down the mountainsides. They are just patiently waiting for some roadkill to come their way as a car overtakes three slowly moving lorries, on a corner or the brow of a hill, only to find another lorry in the road coming towards it. Or an overtaking driver suddenly discovers that the half of the road he had intended driving on in the next few seconds had collapsed away in a landslide, down a steep ravine.
Scary.
At the outset of this adventure, we had a rough idea of what the journey times might be and how long it would actually take to get to places. We discovered some bits were easy, others not so simple.
First day was easy. Surprisingly for us we got to what was described as the Crocodile Bridge at Tarcoles very quickly. We had been recommended to stop here and look at the crocodiles. We'd not expected much, but we needed to stretch our legs and a large truck and a small minibus had stopped (yes, right in the middle of the bridge) so we thought we should too. Although still being a bit English at this stage, we pulled off the road into a lay-by. And, yes, the crocodiles were here. And, my, oh, my, what big crocs they were. The biggest was easily 16 foot long, the next size down was 15-foot, 10-inches. Then all the way down to a mere couple of metres! Some really monster crocs basked in the shallow water under the bridge. Occasionally they argued: "Look I'm 13-foot, 7-inches. You are only 13-foot, 4-inches. So this bit of mudbank is mine, OK?"

Climate Number 6.
When we stepped out of our air-con capsule at the bridge we realised we had reached our sixth climate change. It was bangingly hot and extra humid. The altitude of the central valley and San Jose had felt quite cool compared to this. This was Pacific hot.
We leave the basking crocs and head on towards the coast, cruising past lots of little stalls selling fruit and vegetables.
Within 2 hours of leaving San Jose, we hit our hotel; Villa Caletas.
You could definitely call this high-end accommodation. You could definitely call it pretty weird - well at least mildly eccentric. An Italian mansion way up on top of a hill with a necklace of little bungalows trickling through the tropical forest around it. It was described in the brochure as "close to heaven: a fragrant garden sanctuary on a magical mountain overlooking the sea." Well, it certainly had dynamite views over the Gulf of Nicoya. It also seemed to have its own micro, much-changing climate. When we arrived about midday it had started to rain. When we went to lunch the dynamite view had become dynamite in a foggy misty solid kinda way. During lunch it got less foggy and misty and more of the dynamite views appeared. This hotel was certainly individual, Slightly mad and over the top. But after the monster journey we had endured, we were only too happy to chill out and acclimatise in a bit of off the wall luxury. Whose wall, and how far off it was, well you know that's another matter.
After lunch and a nice relaxing siesta I innocently said: "What about checking out Jaco?" "Yes why not," said Kim.
Now let me get one thing clear now, so nobody can get the wrong impression. Let's keep things nice and simple so there are no confusions, no misunderstandings. I liked Jaco very much. 3O clicks (kms) down the road It is a surfer frontier town. Wide open, whacked out, and wicked. It is a place you either love or hate. The "holier than thou" surfer purists turn their noses up at it, but I liked it a lot. What made it even more dramatic was the weather that day. It was overcast and grey with the sun only occasionally breaking through the clouds with bright beams of light. "Scotty, beam me up," are the words that sprang to mind when I saw it.
This wonderfully mixed up place was not bathed in the colour sucking effect of bright sunlight. It was swathed in a post-apocalyptic grey sky, the bright colours that assaulted your eyes from the surf clothing shops and other stores that were spread out down the strip. Robbed of the sunlight their surfer garishness shouted out even louder at you. This was a surfer's place and today even though the sun was not out and it was dull, the surfers were out catching the late afternoon surf.
Jaco was a real interesting mix of people. Dedicated surfers of all nationalities, old hippies, new surfers, hardcore to a man, all rubbed shoulders with the locals who had a very old look to them. It looked like the Indians who had obviously lived there before the Spanish came and had not done much mixing with the Spanish since. They had very distinctive faces. They had a lot sharpness in their bones.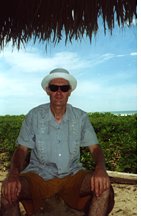 But what I loved about this nutty place was the strip. Every open storefront was either selling surfer clothes, or a whole range of classy or tacky t-shirts. Surfboards were for sale and rent. There was a bicycle chop shop. There was the Pancho Villa Steak House, the Panchco Villa Discotheque, and the Pancho Villa Hotel, which all seemed to occupy a single two-storey building.
Bars galore gently vied for your custom. A whole range was on offer from trendite ones with carved stools, through to rough looking places that possibly were some kind of TV bar. Here the television was suspended from the ceiling in a cage. The alcohol sellers were equally protected by a cage firmly cemented into the floor. The strip was buzzing. Everybody and anybody was getting on with their normal Thursday business. Yamaha trail bikes seemed to be the preferred mode of transport for the young, and the young at heart, along with Quad bikes and every kind of 4X4, Yankee or Far Eastern. Modern or old. For example 70's Toyota Land Cruisers were a major fashion statement. I agree, they really do look good.
The dullness of the cloud cover really smoothed things out in Jaco. This was a modern rainbow nation. The greyness gave it an end of the world party zone feel, sort of William Burroughs meets William Gibson at the William Blake Motel. As Big Wednesday meets post trance Goa and post Chiang Mai. "The Beach" for a post apocalyptic mix of cultures and ideas, unified by the search for the perfect wave. So I felt quite at home there.
We went back on Saturday morning to have a drink. This time we fetched up at a nice little corner bar on Calle Bohio and the strip. It was local run, the young guys obviously surfers. A family was eating. Over the road the hustlers were hustling lottery tickets. A lot of shouting erupted with one guy shouting "Puta" and "Muerte" at someone down the road. Another hustler had a large stone in his hand. They appeared to be shouting at a large yellow van which seemed to clipped one of the hustlers as it turned the corner. The truck moved off and came back in a little while, with a couple of coppers with large sticks, ready to crack a few heads. The boys in the bar thought this very funny. We drank up, paid up, and moved on up to the Max y Menos supermarcado, where the cash dispenser was on a high stand and you stood on a lower stand to operate it so no one could read your pin number over your shoulder. (Unless they were eight feet tall.)

Kim's Narrative:
So, now Dave's done his apocalyptic surfer bit, I'll fill in the rest of Jaco and Hotel Villa Caletas.
It was a truly weird place with exactly the same colours as the up-market Blakes Hotel in London: yellow rag-rolled walls and black paintwork. Not exactly what you'd expect to find on the coast of Costa Rica. The main building was filled with antiques and fish tanks. There were skeletons of armadillos and snakes mixed in with the antiques. There were italianate verandas and a large restaurant.
Then, beyond the main building, looking out over the bay was the Mirador (view) restaurant where you had breakfast and lunch and the infinity pool. This butted on to the tiny amphitheater with roman columns where they held a music festival. On the first day, we had lunch there and watched the fog rise up like a curtain going up at the start of a play. There were a few Americans there - but the older, friendlier type. We got talking to two grizzly older guys. One of them had bought a coffee plantation here in Costa Rica 25 years ago and was trying to run it organically.
When he heard Dave was in the music business he said laconically, "So where do you stand on Bob Dylan?". "Blonde On Blonde and Highway 61 Revisited, no problem," said Dave.
We had a short conversation which placed all four of us in the old hippie bracket. He was probably quite a rich old hippie these days. "Probably made his money shifting Colombian weed in the 70s," said Dave.

The Beach: Coati Mundo
On our second day we cruised on down to the hotel's private beach. I say cruised, but it was a 2k bumpy ride where you really did need a 4X4. It was worth the bumpy trail. Only one other car there. One house. A big beach. And a JCB shifting stones and gravel. The other car moved off. We walked the beach along fluid stretches of lava rock with only cormorants and black scuttering crabs for company. A blue-gray iguana's head washed mournfully up and down in the surf.
As we trundled back, Dave said "Look, a monkey." But it wasn't a monkey, it was more of a sloth? A skunk? A racoon?. A long upright tail and big claws. Later, we looked it up in our book and discovered it was a white-nosed coati. These were to become one of the highlights of the trip. This one, our first sighting, just rooted around in the fallen coconuts quite oblivious to us.
We lay on the beach and read our books. The JCB trundled by and the driver got off and lay down by the nearby (immaculately clean) toilets for a snooze. The forest edged a bit closer to the beach. A baby coati came out. The tide came in. Left completely alone on the edge of a foreign shore, we began to relax.
After a while we drove back up to the hotel. Dave had a cold coming on. The rain was coming down. "How many times have we stood on a balcony and looked at the rain?" Many, is the answer. The cold got worse.
We drove into Jaco again the next day. It was Saturday. The sun was shining, and all the families had come to the beach. We filled up with gasolina and bought lemon, honey and rum for a hot toddy.
Then Dave was wrapped up in a blanket to sweat out his cold. I made the hot toddy in our hotel room's coffee machine. It worked.
A White-nosed coati came around our window and we fed him some Apple Slice Dodgers we had in our bag. Dave sweated up a huge fever. We turned on the TV and caught the last half-hour of Edward Scissorhands. I cried, of course. It is just so sad when poor Edward is chased out of the village and goes back up to the big gothic house on the hill. As everyone else grows old, he remains forever Edward, using his great long scissor hands to create a fantastic topiary world. And every Christmas he carves magical ice sculptures, the slivers of ice drifting down the hill to cause snow to fall in the Florida town he can never go back to. (sniff, sniff).

The Road to Monteverde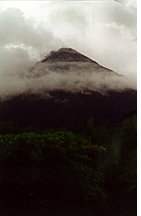 "Radio Puntarenas si caliente!" - Cinco Milliones Colones. Green Mountains, Cloud Forests, Bumpy Roads, Sky Trek and Quakers.
Dave is feeling better after the sweat. We pack up the bags and begin the long drive up to Monteverde and the cloud forest. I do the first two hours through Orotina to the turnoff to Monteverde (only one detour!). Then Dave takes over. Radio Puntarenas provided the soundtrack with a steady diet of merengue, cumbias and Colombian salsa. Plus the chance to win cinco milliones colones (£10,000).
The next bit is only 35 kms but it takes another two hours up a bumpy stony road in baby rain, through clouds and magnificent views - until finally, finally we get to St. Elena, then the Quaker community of Monteverde.
This is Weirdsville, and, being Sunday, most of Weirdsville is closed. We chug through the muddy stony road. We pass elderlies in gumboots and anoraks. And serious single walking girls. We pass men on horses. People on Quad bikes. Locals trudging through the mud, we spot signs for the Serpentarium, the Butterfly farm and a few hotels. Then at the cheese factory turn right and seem to go out of town to the forest itself. Then finally another right to Hotel Fonda Vela.
Fonda Vela means Roots and Candle (or flame). It's a wooden eco kind of place. It reminded us of the Parador in the Picos De Europa in Spain, The receptionist gives us a handout about the chillout/one with nature backdrop to the place. And then shows us Room 15, a ground floor wooden room with big windows on two sides, two large beds, a fridge, a table, and a bathroom. Basic but OK.
We unpack, find out that they can do our smelly laundry, but they can't change any money. That has to be done in town tomorrow. On the way up we had passed many little houses describing themselves as laundries with names like Lavertera Amistad (Happiness). Looking into them you saw banks of washing machines sitting out there on the veranda and washing hanging out drying above them. Doubtless that is where our grubbies are heading. While we are in reception, we book onto the Canopy Tour leaving at 8 am the next day. We go for a short trek down to the Rio Seco, where we catch a glimpse of an agouti. We had passed the Rio Seco earlier that day, as we went up the coast, way down there it dribbled into the sea through a flood plain of large boulders, up here it was just a little stream.
Then we head in town to try and buy some beers n' snacks. Well as I said it was Sunday, so most places were closed. But in central St. Elena ("Waddaya mean 'central St Elena?' There was only one street there." Dave). We did find a flower/greengrocers shop, which stocks Coca Coca , Imperials (best local beer) and crisps. The shop's lorry parked outside had Jamaican Dancehall DJ Red Rat blasting out of the cab stereo. Triumphant we turn back to Fonda Vela with our winnings. The bumpy and muddy road was now quite familiar. We pass two young girls in pink hot pants coming into town, on a horse, probably going down to the video shop.
Just before we reach the Fonda Vela, we pass the Friends Meeting House, in many ways the starting point for Monteverde itself. The community was founded in 1951 by four Quaker families. They had left Alabama in 1949, objecting to being jailed for failing to register for the draft, war and violence of course being against their pacifist principles. Having looked for their ideal land in Mexico and Canada and other parts of Central America, they decided on Costa Rica. The fact that Costa Rica was a stable democracy and had just disbanded its army, meant that it was a nation that could clearly offer (and still offers) a peaceful existence. And up in Monteverde you could still buy land at a reasonable price.
It took them 4 weeks to make the journey from San Jose. The bumpy road that we'd complained about was then just an ox-cart track up the mountainside. It must have been hell. Since 1951, 120 other Quakers have settled there. The Quakers bought up more of the cloud forest. At first they bought it to preserve the water table for their farms down the mountain. But now they do it to preserve the cloud forest and they have made it into a eco-paradise for a weird mixture of tourists. They have created jobs for the locals as well. But they have refused to build a tarmac road up the mountain because they don't want a flood of tourists up here disturbing the fragile balance between the aims of a peaceful rural Quaker community and a necessary tourist industry.
We sit outside our room for a bit on wooden chairs then dive inside to avoid the insectos as the light drops. I dash across to take some fantastic sunset shots. The deep orange sky silhouettes the side of the mountain and sparkles on the faraway shimmer of the sea at the coast we have recently driven up. Later we venture across to the restaurant which is a large-windowed building next door to us. We walk in past an empty bar with the TV on, then down some stairs into a large hall which is completely EMPTY.
Two waiters came forward to greet us. Oh no, we were going to be the only people here!. But thankfully, one waiter opened a door and leads us into another smaller room with a roaring fire and one other couple, a pair of elderly Americans. We ate a decent meal served by Willie (Wilfredo), "I am your waiter." The two elderly Americans enthused about the three-hour walk they were being taken on tomorrow. "Do you wear long pants?" Another Spanish-speaking couple came and went, and the fire died down. We departed back to our cabin like room.

Is That A Rope I See Before Me?
Up at 6:15 am. Breakfast at 7:00 (Pancake for me ; scrambled eggs and bacon for Mr. Piggy). Little bottles of sugar water hang in the flowering bushes outside. Bright, tiny red and bright blue bee-like humming-birds come and drink from them. We are ready to roll at 8:00 for our canopy ride above the trees. A youngish guy picks us up in a huge great big Space Cruiser that had a compass and altimeter build into the dash. He is cheerful but not chatty. "They'll be six people on this trip," he says. "And we're all going to fit into this car". Oh, well. We wonder who will our companions be. We bump expertly down the track to Hotel Helonica. Where we wait and wait and wait. "Maybe they've changed their minds," I say hopefully. Then out bounce four young girls in trainers and thick eyelashes. "It obviously takes them a while to get all that make-up on in the morning," I say.
After a friendly "Hi," they pack in and dissolve into some unplaceable language. Punctuated by giggles and popping bubble gum. At first I thought it was middle-European Russian? Georgian? Then I think it sounds Moroccan. We are both nonplussed.
We drive through St Elena spotting the bank, with people lounging outside waiting for it to open. Then up and through the countryside and a tinier muddier track into the Santa Elena Reserve. The altimeter in the car began to rise to 930 metres, 1,050 metres, 1120 metres, 1320 metres (nearly 4000 feet)! Eventually we get to a wooden chalet-style building with a landscaped garden and more sugar water bottles hung out to attract the humming birds.
Out of the car and clump into the chalet to meet the two guides, one stocky Costa Rican. Another almost half-Costa Rican, half-American guy (the leader and hereafter known as Boy 1. His stocky companion being Boy 2. )
"This is your last chance to use the bathroom," Boy 1 says. The girls all clunk off. I follow them.
"Where are you from?" one asks.
"London, and you?"
"Israel" she says.
So that's what they were talking, Hebrew. These four seemed so far removed from the news footage we had so recently seen of the escalating Arab-Israeli war. There were two fine-boned, red pony tailed sisters. A plumper blonde and a small dark-haired one. Then back to the main room to get kitted up, The ponchos Dave and I had bought with us are no good for the harness and swinging above the cloud forest. So we all get oilskins. The boys in dark blue (Boy 1 just keeps his T- shirt on) and the girls in yellow.
We then get strapped into our harnesses. "Never touch the equipment yourself," says Boy 1 quite sternly. There is a pink safety line and another one with a wheel attached to each of us. Dave looks quite at home in his. The girls look like it's some kind of fashion statement. I probably look like a trawler man. Oh well. Then we get handed a a pair of damp gardening gloves with a great strip of rubber stuck across the palms. "Ah, the brakes" says Dave. And we are off.

Dave's Sky Trek Story
The first time I saw any mention of what was described as the Canopy Tour was in the shiny new aeroplane's inflight magazine. Probably it was in the "Things to do in Costa Rica that are Much More Safer than Driving on the Roads" section. It looked very nice traversing on cables above the trees in the cloud forest.
Then we came across it again as we approached the small town of St. Elena, the hub, the epicentre, the bus stop, the bank and supply point of all life in this area. We were going up the very bumpy "road", which had been very bumpy for the last two hours, ever since we had left slightly less bumpy Interamericana Highway, when we came across a "Tourist Information Centre." It had a guy standing outside who motioned to us to pull over. We stopped, quite happy to give our numb bums a rest and to check the directions.
The "centre" had flyers and brochures spread out on a table, while on the walls maps and Costa Rican posters nestled up to bird identification and a animal guide charts. Here we got our first of the photocopy maps that we were to collect. These were crude hand-drawn and photocopied maps with the route highlighted with coloured felt tip. These were a particularly Costa Rican answer to "How do I get to?"
But then I spotted a flyer for something called "Sky Trek", which was described as the longest and highest canopy tour. I expressed an interest, and our man at the centre, who was named Armando, said because it was the "off " season, and if we booked through him, we could get a 10% discount.
In the Inflight magazine had described these canopy tours as using techniques developed in canyon rapelling to take you through the top of the forest canopy. I had seen David Attenbrough do it on one of his wildlife programmes and it looked fun - sliding along steel cables between the trees. To be quite honest, I had expected it be a little more sedate than it actually turned out to be. But It was very, very good exhilarating fun.
Now I am here in my blue oilskin and harness in the damp early morning rain, looking out at this single cable anchored to a tree which stretches out into the misty far distance, obviously tethered to a large tree somewhere over there, but exactly where? "Mmmm," I think. "Interesting..." Being the only man in the party, it was obligatory of me to go first.
So, I'm hooked to this cable with a little wheel and with a safety line. You hang there with your feet up in front of you and launch yourself off into nowhere. Scooting down above the tops of the trees at what seems a scorching speed, there is hardly time to savor the intricacies of the upper forest flora and fauna. The tree that the other end of the cable is attached to rushes toward you. Time to brake. Remember pull down with your right hand, which you have been told to keep on the cable behind you. And then move your left hand, with which you had been holding onto the safety line for grim life, and apply it to the cable above you as well in a desperate attempt to slow yourself down before you crash into the tree.
Try to make it onto the platform that is constructed near the top of this gigantic tree. All the platform consists off is a few frames welded together that you stand on, which are held up by wires. I look down. Are we only 400 feet up? Kim came next, then our Jewish princesses. Next up was another launch into nothingness. By the fourth cable, I was getting the hang of it, and it was a very good enjoyable adrenaline rush. Fantastic stuff. Unfortunately there was also confirmation we are considered "old" people when one of the princesses said to Kim, " You're really brave. My mother would not have done this." Oh, dear.
ONWARD TO PART TWO


[Text and Photos Copyright 2001 Dave Hucker and Kim Evans]
Technobeat Central
Columns by CDs and Artists / Columns by Date
Columns by Subject / Page of the Whale