Kim's Sky Trek Story:

Well that's how it was for Dave. For me it was somewhat different.
First up was the trek up to the first cable. It felt like there was hardly enough oxygen in the air. (Well at 1300 metres = 3,900 feet, there was certainly less). So the arduous trek up to the twisty woody path was much more than I expected. Then, though it was damply raining and the air had felt quite cool, what with the altitude and the harness, it got quite steamy quite quickly.
So, out of breath and hot, I arrived at the first steel rope. I thought this would be a trial "practice" not going anywhere, just teaching you the basic techniques and health and safety drill. But no, this was it! A long downhill ride across the treetops. In the brochure we had seen a picture of a nice smiling girl sliding along a rope in sunshine and wearing a nice white hard hat, both hands neatly above her head, holding onto what looked like little handles on either side of the wheel, one of which was the brake. Damn! Too late I realised that was the brochure for another canopy tour - the original canopy tour; not this one which was clearly the longest and most dangerous ever! This one was certainly newer, faster, more homespun. The only brake was your own glove.
"Put your right hand as far behind you on the rope as you can. That is your balance and your brake. To brake, squeeze the rope. If you really need to brake hard, take your other hand off the safety rope and use that, too."
Oh fine! That's all right then.
In the blink of an, eye Boy 2 had gone zipping down the long steel rope. Then off went Dave 400 feet up and shooting along the top of the forest, and I hadn't even said goodbye.
Then me. Oh, no! The Israeli girls made encouraging noises.
"Brake a little to begin with," said Boy 1. "Not too much. Goodbye."
Then I was off out into space . My braking arm got trapped in my coat,then tugged out of its socket. The air rushed past my brain. And there was a pinging headache. A brain hemorrhage? I'd been hit by a passing tree? Food poisoning? I braked hard and stopped, stuck dangling in space from the platform on the tree. Boy 2 launched back along the rope toward me and yanked me in to the thin metal platform attached to the tree several hundreds of feet up.
"My head," I moaned, Boy 2 looked puzzled. Dave looked vaguely concerned. And then it dawned on me - altitude sickness. Boy 2 looked as if he had never heard of this. "Why did I have pancakes for breakfast?"
By now, the Israeli girls were hurtling towards us, squealing with delighted fear. A couple didn't seem to brake at all and all but flew into the tree only to be saved by Boy 2. The stocky blond girl was the best, making a perfect landing - just what the Israeli troops needed. Finally, Boy 1 zoomed by me, the metal wheel making an extraordinary zinging noise as it flew along the metal rope. He landed perfectly. We'd all been safety harnessed to the tree as we arrived. But now we were off again! My head had just stopped throbbing. "This is rope ride is longer," said Boy 1. "I don't think I can do it," I said pathetically as Dave whizzed away from me into the cloud forest. "Yes you can," said Boy 1, smiling patiently in a way he'd clearly done a thousand times before.
And one thing seemed certain - there was no way back. I tried to imagine what happened if someone freaked out, or had an heart attack, or snapped their wrist... ("Or met a coati coming the other way." - Dave). I couldn't imagine how they got you down.
So off I went, this time I realised my arm did not have to take the entire weight of my body, the harness did that. That meant I didn't have to clutch the rope hard and brake all the time. That also meant I travelled faster and further along the rope, almost reaching the platform.
"How many ropes are there?" I asked.
"12," said Boy 2.
"Oh my God."
The weird thing was that with the rush and the adrenaline of it all, nobody seemed worried about the fact that we were standing 400 feet up on a spindly metal platform with 6 other people. Like Alice falling down the rabbit-hole, we took all that quite for granted!
It got better as it went on. There was a real rush to it. Hurtling along the rope, looking down and seeing a stream, mist, trees, whatever. Realising that you weren't just going to bang into a tree if you didn't brake hard enough at the other end. Boy 2 would stop you. But I definitely didn't feel right and I was pretty sure it was altitude sickness. Despite that, I managed a few good landings.
Then we reached terra firma again and had to walk up a path to the final two ropes. And that was just too much. I hung back and quietly sicked up my pancakes. I'm sure a passing coati would have been delighted when he found them a few hours later.
The last rope was the longest and the fastest.
"Brake a bit, then when you see the red flag, brake hard," was the instruction. I did it perfectly, largely because my glove got twisted and made the ideal brake. And also because I could see land ahead of me.
We got un-harnessed and were driven back to Monteverde, said goodbye to the Israeli girls, who were off to Jamaica next, and arrived back at Fonda Vela, where I was immediately sick again. I went to bed and planned to stay there for 24 hours. I think it was altitude sickness. (Dave had a cracking headache too). But also I felt beaten up by the speed of the canopy experience. I'd enjoyed the actual rope sailing, but it had been so rushed.
But we needed money. We went to the bank, but I couldn't move from the car. After what Dave described as very painless extraction of money, I lay in bed and we watched the light fall and rise again. Matters weren't helped by the three painters camped in the next door room and giving the cabins a lick of paint. So much for the spiritual peace of Fonda Vela.
The next morning I looked at Dave at 6.30 and said:,"We could get out of here. Just leave and see if we can get into our next hotel a day early."
"Oh yes," he said wanly. "I don't think I can stand another day of this headache".
The headache was coupled with a nightmare that he had endured most of the night about a Brazilian boy who could work miracles. For some reason he had visited the house and people invaded it and were taking anything that this boy might have touched in the hope his miracle powers rubbed off on them!
Dave called Tabacon Hot Springs Resort. They had a room and would keep it for us till 2 pm. He told the girl in reception at Fonda Vela that although we loved Monteverde, we had to check out early. He had breakfast and I limped around the wooden room packing. Then we drove out of Monteverde, past the Friends Meeting House, up the muddy road, past more serious walkers, past the Paradise Café, past the Butterfly farm we never got to. Into Santa Elena, turned left at the Bank and we were off and down the mountain.
From The Full Monteverde To Conical Mounties of Arenal, I don't know why it happened to us. It wasn't that high up, but we both seemed to suffer from the altitude. Why didn't it affect the old Americans? Was it just that we did too much too soon?
We'll never know. It was beautiful in Monteverde, but weird and intense. Did we ever spot any of the original Quakers? Were those two old guys with white beards and jeans shaking hands in the main street a couple of the founding fathers? What about that clean looking young couple? Did the Quakers intermarry much with the Costa Ricans? Were there Costa Quakers? We'll never know.

Dave's Narrative:

Tabacon.
Oh how good my back felt with that pummeling it was getting from the hot mineral river that poured down onto me and it with much ferocious healing power. I was sitting underneath a waterfall at Tabacon Hot Springs in the shadow of the Arenal Volcano. Two days in the cloud forest was enough for me. With a headache that had lasted two days and Kim's sickness, it meant I was only too happy to git n'split. The drive down from the forest was quite pleasant. I stopped and got some seeds from grasses and bull rushes that grew along the road. The roads were not too bad. We passed a Finca where a horse stuck its head out of a heart shaped opening, as if watching the little passing traffic. "Look a horse," said Kim. "That's not a real horse," I said. Then it moved its head to watch us pass.
After coming down from the mountain, we hit some tarmac roads for a while. We came to Arenal Lake, turned off and hit a road that was a bit battered. Grey volcanic ash had been used to fill the potholes and surface it. Then we came across a large family of coatis in the road. They obviously made a specialty out of hustling the tourists. So we stopped and gave them some biscuits and got quite happily hustled. A large lorry carrying cows came along and gently drove between them.
Tabacon Resort where we were staying next was a very American style hotel/motel. It was built just up the road from where the Spa was. At the Spa, even in the full sun and humidity of the day misty cloudy steam rose from the 40C degree water that rushed along. Heated by the volcano, it ran vigorously through the green lushness of the gardens. When it rained, it looked weirder. The main river tumbled over waterfalls and spilled into pools scattered through the landscaped gardens. There were other self contained pools with different mineral content and heat, and the water bubbled gently out of the ground. When we arrived at the Hotel in the early afternoon, we got a good view of the volcano, still active, it was classic cone one. It was our last view of it for a couple of days due to lots of rain and heavy low cloud.

Pink-Edged Daturas V Gingeramod
(Botanical Name for Ginger)
Next day we drive back around the lake and through the coati family touting for tourists again to go to the Botanical Gardens & Butterfly Farm where I bought a load of seeds. Hopefully I should get them to germinate and at least grow in the summer! Pink-edged Daturas are a popular tree in front gardens in Arenal, their great bell-like flowers droop from the trees like massive foxglove lilies.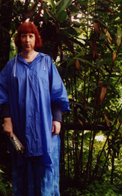 The Botanical Gardens were just outside Arenal. They were a wonderfully simple and homemade affair. You just pulled into the mud at the side of the road, went through a wooden gate and into a little tented bit. Paid your colones, were given a map, and you were off. We were the only people there for most of the time. As we wended our way down through the butterfly tent, having talked to the parrots, we had to negotiate a large fallen bamboo and crawl underneath it. Obviously, just been battered down by the rain. The only other persons there in the garden , a pair of Americans, had also reached this slight obstacle, but had then turned back, retraced their steps and complained about it to the girl on the door.
We were lucky we only barely needed our rain ponchos in the gardens. But then we turned back to Tabacon, and it rained for the rest of the day. The roads must have been terrible. You could not see the volcano. But it was rather active. It had been dormant for 500 years, then in 1960s it suddenly became active again. Now it is constantly exploding, sending great showers of ash, shaped like n atomic bomb explosion into the sky. Also, there are large lava flows, which during the day you can only see smoking but at night they are glowing. Plus you can occasionally see large smoking boulders the size of houses crashing down the slopes. But this was not the day to see it. We retreat to our room and read our books. An enormous armour-plated cricket comes in through the balcony doors and joins us.
There are lots of Americans here. Tabacon is certainly on the tour bus map. People come to look at the volcano. Dip into the hot springs. Stay one night and are gone. We are here for three nights and so are treated as royal regulars. In the hotel reception, an idle perusal of the comment book found this piece of classic Americana " I am from Austin Texas. This hotel is fine except for the number of smelly Eurotrash here. People who only ever believe in bathing on their birthdays." Probably their first time outside of Texas.

Sulphur or Suffer?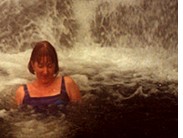 The rain seems to have stopped and we grab the minibus down to the spa. Outside a little Tico guy is setting up metal toys and souvenirs on the bonnet of his beaten up car, hoping tourists wills stop and buy,
We change into our bathing suits and the rain starts again. Dave is a bit grumpy. I photograph him under the crashing waterfalls. Then, right down at the bottom of the gardens we find a yellow sulphur pool. We have it all to ourselves. We loll in it and feel our muscles relax. The cloud lifts. Dave's spirits lift. We trot down to the swimming pool and have a beer sitting in the water at the swim-up bar. The spa is quiet today. Behind the bar, the bartenders blast wasps with mini flame-throwers improvised by taking an aerosol spray can using butane to propel whatever was in the aerosol, and a cigarette lighter held underneath to ignite it. Whoosh!
There are a couple of chicano American couples, rich young, once Spanish, now West Coasters. The girls are wonderfully pretty. Elsewhere, older couples like us are reading their books hoping the rain stays off. We eat lunch at the Spa and the cloud finally lifts and the volcano, like a stripper, finally reveals itself. Will she/won't she show? She finally doe. A mighty cloud of smoke blows out, you can almost feel the ash. Dave really cheers up now!
We go back to the hotel up the road and have a fabulous view of the extraordinary volcano from our balcony. Dave watches it through the binoculars, gasping as the lava rushes down and boulders the size of houses are chucked up and out. We also see some scarlet macaws and two baby turkey vultures in the tree outside. We end the evening lounging on our bed under the volcano watching a documentary on the Discovery Channel about the construction of London's Jubilee tube line. Weird little global village we live in.

Bumps Upside Inside Your Head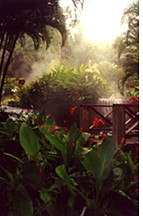 We hit the road out of Tabacon early for one of our six hour epic drives .We made tracks for the Interamericana highway, checking our tyres (is that a slow puncture or dodgy valve?) at the village of Arenal. Our first marker point was Canas. This was a nice little town with a large number of old-fashioned wood buildings. Kind of almost old Caribbean style. It sat off to one side of the Interamericana . Once through its five blocks we hit the lorry strewn madness of the Interamericana highway to Santa Cruz ("Dave lets me drive this bit!" - Kim). We take great pleasure in watching the traffic cops with their radar gun catch the mad bastard who had to peddle very hard in his puny little car to overtake us, the car in front, and also the two large lorries ahead of everybody, as a blind bend and all it's dangers, appears very fast.
Then, it was northwards upward towards Nicaragua, when you reach a town called Liberia, you hang a left down into the Nicoya Peninsula. We had to take this long way round because the ferry at Tempisque, normally the quickest way across, was closed for repairs. So we chugged along and were surprised as to actually just how rural it was. The few and far between petrol stations was one thing, the lack of banks to change travelers cheques in was another matter.
We zipped through Filadelphia. Down to Santa Cruz. Into Nicoya town itself, which was a funky looking burg. It was a long lasting and pleasant urban experience. After the "blink and you missem" bus-stop-shop - few-houses set up that seems to up categorise up most villages here.
We get to Playa Samara and take a few moments to rest up after the long drive. We look out at the surf, post some postcards, and hit the supermarket to stock up on beers, biscuits and nibbles. There may be a nice sandy beach and palm trees here and also a small village of muddy tracks and pot-holes. But we know that the next 20 clicks were going to be a difficult drive. Because of all the recent rain it was just going to be mud, mud and more mud.
We had three or four rivers still to ford and 20 million potholes to avoid in this brown drippy wet world in which it has rained so much. When it is like this, you cannot see exactly how deep the potholes are. They might be one-inch deep, they might be 12-inches deep. Or you might just disappear into them forever. In these conditions you just cannot tell, so to be safe and keep up your speed, you either try and avoid them by concentrating very hard on the next 25 yards and missing the worst holes with violent swings and fast changes of direction. Or you just go very slow through them. The faster option is always the faster option.
We'd picked up an old man hitchhiking as we drew out of a little village. He was immaculately dressed in a white shirt and chinos, carrying an umbrella. He speaks, of course, no English. He gets into the back seat sitting carefully beside my Pork Pie hat. "Muy bueno sombrero," he says approvingly. We muddle along in Spanglish for about eight kilometres. Then, having forded two rivers, we drop him at an even tinier village at a wooden shack marked ICE (the Costa Rican electricity and telephone board). "How would he have got to work across the rivers if we hadn't picked him up?" Kim asks.
I always preferred driving behind a local. They know the roads, they knew exactly where the worst bits are, so you could keep up a reasonable pace by just following in their wheel tracks. I started off trying to do this today, but the guy I had deliberately let go in front of me had turned off. Suddenly I discovered that on this very difficult road I was leading a convoy. We had gone through a few rivers, squelched through mucho mud, Now following me and straining at the leash to get by me was a Mitsubishi Shogun, obviously a local. Behind him was a bog standard rental Toyota Corolla with a surf board strapped to the roof. Hey, these surfers will walk on water to get to a good wave. I have always had the utmost respect for a boringly bog standard Toyota Corolla, ever since one got us through a ferocious sandstorm in Namibia. Its white paint might have been sandblasted back to bare metal and all it's glasswork quartz stripped to a milky white opaqueness. But it got us where we wanted to go. It did the business.
In Costa Rica it seems the definition of what is considered a town and what is termed a village here depends on whether the collection of a shop and houses have a football pitch. Towns do. Villages do not. We eventually get to Nosara which was yet another of those very sleepy beach places that can be called a town. It had a football pitch. Nosara was the gateway to one of the best places that we found in Costa Rica.

Do Not Lick the Toads
Lagarta Lodge was the name of this exceptional lodging. "From the ridiculous to the sublime" is how I described it after we arrived, having been shown up to our room by the only person around - the smiling but monosyllabic Rita. We looked out at the nature in abundance. There were only seven rooms and a huge communal terrace with wooden rocking chairs and an enormous wooden table. Lagarta was managed by Colombian-born Myriam and her Swiss husband, Marcel. Originally it had been a private holiday house for a rich Swiss guy. He had lost interest in it, and it became a hotel.
And what a hotel! It was one of those fabbo very individual, really simple, muy personal places that you stumble across from time to time, just like the Jardin Maoré in Mayotte. Here at Lagarta, beers were in a big freezer by the kitchen. You just helped yourself and then were trusted to write down how many you had taken. How could you abuse such hospitality? The view was fantastic. The hotel stood on an escarpment looking out over a river and private "biological reserve." The sea was to the left and the forest to the right. There seemed to quite a lot of ant activity. There were rivers of them. Millions of ants six deep and in streams six inches across, these ant flows were frightening, because these were very aggressive biting ants. Put your foot in the wrong place, and you would be lucky to be left with just a stripped stump at the end of your leg.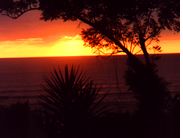 That night we were the only guests there. We sat in the wooden rocking chairs tasting a beer and watching the sun subside in a curtsey beneath the Pacific Ocean. Myriam sat with us and told us the story of how she and Marcel had taken a lease on the place two years ago. They had originally planned to open a hotel in Colombia, but the political instability in that country made it a dangerous place to be. Not only for residents, but also for tourists. No tourists, no hotel. So they took over Lagarta.
Their big dalmatian sat at our feet. In the half-light, something hopped along the terrace. Large toads had positioned themselves along the edge staring out across the treetops. "They come every evening," said Myriam. Harmless creatures, unless you licked them. One of the dalmatian's last litter had licked a toad and ended up very dead. These are the toads whose poison, along with that of the puffer fish, is allegedly part of the formula for turning people into zombies. Every year there are many fatalities as young and naïve members of the animal kingdom have a go at a toad. And the death toll among humans is surprisingly high, too. Some people have an inclination to lick the toads. Apparently if you absorb just the right amount of toad poison, it is very hallucinogenic. But one lick too many, and it's todas es final.
"Do not lick the toads!" said Kim sternly.
Lagarta Lodge was very popular not only with toads, but also with birdwatchers, serious naturalists, and a few oddballs who, like us, found it by chance. But we were there off season. We seemed to have it all to ourselves. Then, the next day, Lenor swung in on the seat of Roy's pants. Lenor was an American. Roy was her new(ish) husband. They'd just flown in from Oregon. Lenor was a weird one. Back in the '70s, she had got cancer which had resulted in the loss of half her hip and the leg it was connected to. She was only 32, a young mother, and a part-time model. She wrote a book about her struggle to get her life back (One Step at a Time) which had been translated and published in many languages. Now in her early sixties, she had just written her second book, which was about marrying Roy and learning how to fly. He was an ex-airline pilot, almost stone-deaf, who had restored an old plane in which he flew everywhere. Lenor put her prosthetic leg in the luggage rack. Like many Americans, they had bought a holiday home in Costa Rica. Lenor could talk the hind legs off a donkey but she was spirited and entertaining. Roy was benign.
Each morning at Largarta, we woke at about 6:30 am, crawled out onto our balcony, and watched a family of iguanas take their place in the sun on the tree outside. They hardly moved all day. A few yellow budgies flew buy. Occasionally we caught a glimpse of the howler monkeys, although Kim was more concerned about the spider on our ceiling. Surely it was a Black Widow!
One morning we took the Monkey Trail down to the beach. It had been pouring with rain intermittently, and we had to go down a grassy hill and then through a wood, negotiating streams and mud baths as we went. I chose to skirt round the puddles and find easier ways to cross the stream. Kim choose the mud route and her flip-flops got stuck in the thick, sticky gunk. The suction of the mud would not let them go, and pulled them off her feet. She reached the beach covered in mud from toe to thigh, but it was worth it! The beaches around Nosara were beautiful and very empty. When we arrived, a local man and his two small children played where the river trickled into the sea. Soon they wandered off, and we had it all to ourselves. Kim lay on the lava rocks while I gathered driftwood and built a damn across the stream that poured down over the beach. From time to time it rained - warm soft rain - and we sheltered under the trees. A man and a girl rode by on bronze horses. The tide came in.
Walking back up to the road, Kim's shoe got trapped in the mud again and broke. Oh, no! Her Brazilian Reefs that she's had for at least six years! She hobbled up the hill. After lunch, we drove to the one big shop in Nosara and bought another pair for 2,000 colones (£4), which was about all the local money we had. Would we ever find a bank again? Not here, certainly! If we had possessed the cash, I would have bought a t-shirt I saw in the shop. It said "The Costa Rican Navy" and had a picture of a load of turtles. Heh-Heh-heh, very funny.
We got bit to death that evening by some little critters. They were called "noseeums," because you could not hear or see them. The first thing you knew about them was a biting sensation, and when you looked, all you could see was something the size of a speck of dust. Industrial strength anti-mozzie stuff didn't seem to stop them. But we never came across them anywhere else in Costa Rica. So they were obviously just a local pest.
On Sunday the sun shone, and we drove down to the surfers beach. We chugged along the dirt roads past the Gilded Iguana Bar and the Blew Dog Surf Bar, all looking pretty closed (it was a bit early) and along the beach itself. The surfers were out today catching some big Sunday waves. We found a little thatched canopy (much to Kim's relief as the sun was very hot) and she swung in a tatty old hammock reading while I cruised the shore in my pork-pie hat looking longingly at the surfers.
That evening was our last. Marcel put on a massive barbecue. When he fired up the grill, we were worried he was going to set the whole place on fire. They had recently started advertising Sunday evening barbies at Legarta to promote business. And people suddenly seemed to ascend to the lodge. There were two nice young Canadians, a pair of rather woebegone Bostonians, four Germans, Lenor and Roy, Myriam and Marcel. And then the locals, a group of Americans who had moved here from Catalina Island just off the coast of California, and they ran a hotel there in Nosara.
There was Earle, who was the size of Orson Welles and rather droll. And Randy (the hubby) who had made a close study of the climate and decided that Nosara had the best all round climate in the whole of Costa Rica. Not too hot and not too wet. And Randy's wife was the rather nice Monkey Lady. She was a woman who was animal obsessed. She had rescued abandoned monkeys and carried them around in rucksacks on her back. She had just gone through a major battle with the electric Ccompany and won. The problem was monkeys were regularly getting zapped by touching both of the electricity cables near her house. She had finally persuaded the electric company to put up cables insulated with a plastic coating, so that when a monkey sat on one cable and its front feet reached over and touched the other cable, their feet did not get vaporised. So good for her! But she was barking. The next day she was taking to the monkeys to the zoo at San Pedro for the day. In a taxi. Well, why not?
The three days at Lagarta had flown by. The next day we got up early and packed. We said to the iguanas, the howler monkeys, the giant ants; and to Myriam, Marcel, Lenor, Roy, and the friendly Canadians and set off for our last port of call, Punta Islita.
"Telephone first to check which road is open," said Roy. We smiled and set off.
ONWARD TO PART THREE



[Copyright 2001 Dave Hucker and Kim Evans]

Technobeat Central
Columns by CDs and Artists / Columns by Date
Columns by Subject / Page of the Whale