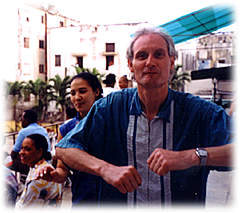 It must be something to do with my magnetic personality. "That's the first time the plane's been on time," remarked Lyng, our fixer in Havana, when he picked me up. I seemed to bring the power with me. Twice when we turned up for group rehearsals there had been a electricity cut, but when I arrived, mysteriously it came back on. Jah (my guardian angel) was definitely running along side me, easing the way.
MARCH 17 - 24
That was an intense week. One of the most intense musical weeks I've ever experienced.
Havana was a blast. It was non-stop a-go-go from the moment I got off the plane, to finally getting back home. I was there checking out the scene with Martin Morales from Tumi Records, who was checking on the progress of his label's artist rosta.
I had a fantastic time. I was staying in Old Havana down by the Malecon, in The Hotel Lincoln, a basic, funky place where the frequent hilarious episodes included breakfasts, a wild bar, and a dead rat. Old Havana reminded me of some long forgotten war zone. A place passed by. Some of the buildings are just shells, having collapsed in on themselves, rubble from the buildings spills out and is dumped all over the badly potholed streets.
I was shocked to see people waiting with large buckets on street corners to fill up from the water tanker. Even the hotel had a tanker deliver the water at night!. Old Havana itself is very run down now, the soul of the place shouts out from the faded paint work and crumbling bricks. If Old Havana is the heart of the place the burbs are the arteries. Faded old mansions in multiple occupation jumble with standard box like Caribbean concrete and colour, quite nice and very pretty.
TUESDAY NIGHT
Got off the plane, dumped my bag at the hotel, and hit a open air event at Casa de la Cultura, a big open space with stage where the Havana Jazz Festival is held. AfroCuba are playing here tonight. I had not seen them since the mid eighties when I used to work at Ronnie Scott's, and they were one of the annual Cuban visitors there. They had lots of new faces on, but were still hard jazzy and rootsy.
Hung out and saw jazz trumpeter and artist Bobby Carcasses receive a series of awards for his 50 year contribution to Cuban music. His band was due to play tonight, but he explained they were still in rehearsal and not ready to play yet. So he did an impromptu couple of numbers with AfroCuba, showing off his jazz scat vocals.
Then we moved onto a Bolero club, above a Italian restaurant, a kind of supper club affair with resident and guest women singers blasting out slow sentimental songs. An old sonero called Manolo del Valle dropped in to do his usual guest spot there, he was incredible, doing a storming version of Dan Den's "La Chica de Nieve" which is a big hit here on the radio, despite not actually yet being released in Cuba.
WEDNESDAY
Went to rehearsal of Jovene's Classico del Son. It was at a school for classical music. But not much was happening with the rehearsal as there was no electricity. These guys were one of the finds of the trip. They are all young and have a punky attitude, I would liken them to Les Negress Verts or Fatal Mambo in their nuttiness and playing. The music is dead good. In their own very individual and creative way they are all top quality musicians with a vision of how to mix the traditional and modern elements of Cuban music. They are comprised of Serge Pereda the ex-bongo and a vocalist from Vocal Sampling, an incredible tres player, from Santiago. "Nene" the lead singer cut his vocal chords singing in rumba groups, so has developed a powerful voice from having to make himself heard over the drums. "Palma" is the leader and the loony on a double bass. Jose Areas is the conga player. Raudel Torres plays a beautiful trumpet, and "Coto" is an ex agit-prop folkie vocalist/tres player.
After the electricity came back on they did a bit. Then we cruised out to try and find something to eat. We did find a good little restaurant nearby the rehearsal place, Viejo Gringo. It was one of those places that is in someone's front room!. But very good food. top quality. We then grab a taxi, old American wrecks galore!. It is one of those places where you just stand there with your hand out, and someone will stop for you, whether they are a taxi or not. You agree a price and off you go. This particular taxi was in very, very bad condition, no inside panels on the doors, wires hanging out, cracked perspex windows, etc. He stops to pick up other passengers on route who all seem to view us warily. We did not fit into the regular tourist bag. I'm totally amazed how they manage to keep these things running. But it is a testament to the strength of 40-year-old American steel and engineering. I do not think there will be this many modern cars on the road in 2038 in some cut-off, self-sufficient, make-and-mend-do society.
We then head off to see Juan Carlos Alphonso, the leader and piano player of Dan Den. Out come the beers and rum, we start chugging away and babbling on, he played us bits off his next recording. Not, Salsa in Atare, which will be out in June this year. But the next one, and it sounds tough and hard. Then he drives us down to Atare, a barrio down by the port, dead rough,. It would easy to get into problems here. Even Juan Carlos forgot where he was for a moment, and it was only when some woman stopped him and told him to put away the gold chain round his neck, that even a well known face and musician like him could be get into trouble there. That was a great afternoon, he eventually dropped us off on the Malecon, the famous seafront in Havana. Martin and I sat on the wall and watched the sun go down over Havana. Fun Fun Fun.
One evening port of call was a place called Habana Cafe, which would have been remarkable in London. It was a huge big vast place with old American cars and bikes dotted around inside. There was even a plane hanging from the ceiling. Amazing, it must have cost millions. Then we zipped over the road to the Palacio del la Salsa, a huge great big glizty club in a massive tacky horrible "anywhere in the world" hotel. This place was a serious blast, expensive, but a blast. We saw a guy called Yumari, who used to be in the chorus of Los Van Van. Not bad, but this is where we got our first experience of prostitution. No sooner had we sat down with a beer, then we are besieged by exquisitely beautiful girls wanting us to buy them a drink. "Yo no tengo dinero," became the mantra.
THURSDAY
Me and Martin decide to go shopping for art, after a hilarious breakfast where the service was so nonexistant it even seriously pissed off the Cubans who were staying there. Martin had a way of chatting up and buttering up the girl serving, and so this made breakfast come a bit quicker and in a good mood. Breakfast was two eggs, scrambled or fried, some bread, and a sliver of butter. Some days you could not even get eggs, just a rubbery cheese sandwich. First place we hit for art is an open air place down by the Malecon. I get a banging picture of a man playing drums, $11. The other stalls are generally pretty horrible with predictable tourist crap.
We then grab a 1953 Chevy that has been beautifully restored, metallic blue paint job, looks almost like new! Smells almost like new. Rolando, the driver, takes us to another art market by the cathedral where I buy a picture for $20. Lots of the same type of pictures and variations thereof,--i.e., street scene with sign that says Medico del Bodega with Chevy or with a Plymouth, or no car!. This guy waits for us while we do the shopping, Then it's off to a Papi Olviedo rehearsal up by where the Tropicana club is situated. Incidentally, the cast of the Tropicana Revue was on my flight to Cuba, they were buzzing after the sell out success of their season at the Royal Albert Hall and looking forward to getting home. Which made for a very entertaining flight.
The Papi Olviedo rehearsal was on a front porch, again no electricity till we turn up. They set up speaker boxes and the bare chassis of a amp that looks like it should not work, but does. The rehearsal starts. As soon as the two trumpets kick in, we know this is going to be a mega session. And it was. The street soon starts to fill up with people. The children come home from school and start dancing in the park over the road. A lorry drives by with people standing on the back.As soon as they hear the music, they start dancing. Papi is on good form. Cristina, their vocalist, is certainly one of the best vocalists on the island. We all chug a few beers and chat ,and it turns out one of the trumpet players used to play with the famous old band Charanga Casino. I got lots of their vinyl.
Another visit to the Viejo Gringo for some crab stew.
FRIDAY MORNING
Deep Rumba session in empty house down on the Malecon. Clave Y Guanganco is the name of the group. They are connected with well known poet and artistic face about town, Elio Machado "El Ambia," who is there.
As well as congas and the double headed drums, they sit on and also play brightly painted wooden boxes. When they want a big bass boom, they slap the side of it with their hands. One guy is playing a little box on a stand, the singers harmonise.
Next music session was at one of the best places I found, Cafe Cantanta, a dark subterranean venue. It was 5.30 on a Friday afternoon, and the place was packed and swinging. A totally unpretentious place that was right up my street with some of the prettiest girls, and no hustlers. A woman called Omara Portuondo was playing. She was once known as the Billy Holiday of Cuba, but now she has reinvented herself with a kicking young band. They got the crowd really steamed up. They were very hard, and again the musicians kept moving around swapping instruments.
We came out into a tropical storm in full spate. Roads like rivers. Impossible not to get soaking wet while running to the car.
This is a bad sign, as we were on our way up the road to this wonderful old mansion now called Cafe Amistad, which is a very smart venue. It would be smart in Paris, Madrid, or Barcelona, let alone Havana. Jovenes Classico del Son are supposed to be doing an open air session, but this is a serious tropical storm, and it is not going to stop. So, the sound equipment is relocated inside the venue, and we are entertained by the Cuban National football teams ball control skills. One guy evidently holds the world record for keeping it up and bouncing for 12 hours or so.
One geezer kept bouncing the ball on his head then he took his shirt off while still bouncing the ball. What fun.
Then the band starts, and they are everything I expected--and more. They are fantastic, the Tres player they had head-hunted from Santiago is incredible, dropping all these jazz-sounding licks. They all bob around and change instruments. Palma, the leader and double bass player, is running around like a lunatic playing bass. Their young attitude to playing the traditional music is very refreshing. They have toured a lot in France and Spain, it seems. They are very entertaining, and the new twists they bring to the presentation and music are very interesting. These guys are going to be big. They could even be big in a pop way.
Another incredible session.
Then it's on to Habana Cafe again to see some guys Martin is supposed to meet and to see the old charanga group, Orquesta America. Despite being two violins short, they put on a cracking show .The guys buy a bottle of rum for us all, and we chug through that. Palma joins us, and we all get well charged on the rum. Then it's over the road back to the Palacio. Paulito is playing tonight. When we arrive, he in on his first set. I just steam straight down to the dancefloor, no messing, just say "see you later" to Martin and Palma and I'm lost in a sea of bump and bore.
Paulito was really great, he is a great singer, and a charismatic leader with a huge, big, very, very tight band, and a top notch female vocalist. His words may not be profound, songs about mobile phones and all that kind of guff, but the groove is deep and long, and very funky. Wow I had a time!. And he is adored as the new young star.
SATURDAY
This is an intense day.
Start off by going out to a village where Hemingway used to fish. The family of the conga player from Jovenes has a restaurant here. We walk around the place around see some great houses and have lunch. Then it's down to meet Los Hermanos Bravos, a conga group from Santiago, at ICAIC studio. Then off to their place for a live preview of their forthcoming album . An offering to the god of friendliness--a case of beer and a bottle of rum,--quickly warms things up. Soon we are all babbling away ten to the dozen. These guys are really smart and clued up. They were asking all kind of deep and intelligent questions about the music scene in England and elsewhere. This is where I went dead deep as Los Hermanos perform three songs for us . Riding above the tres, conga tambour, percussion, and exquisite gut wrenching harmony, is a very jazzy sax which gives the music much texture and colour. The neighbours came out and danced in the street. The group say they want to save their voices for the recording session manana, so no more songs.
Then one of the wives puts a ghetto blaster on, and we all had a good dance, and everybody is getting nice and loose. Then the group says they will play one more song, and we all end up doing a huge great conga line round their flat. The neighbours thought it very funny hanging off the balconies opposite watching us all have a party in the flat.
Continuing the party, it's on to Casa del La Cultura again for a rumba session. The boys buy another plastic bottle full of rum, so we continue having fun. The wives turn up, and we all start rumbering on a balcony, watching the local groups, dancers, and singers perform on the stage. I zip off to a record shop for 10 minutes (literally). It must have been my fastest ever visit to a record shop. I had a lot of the stuff already plus running near empty on the cash front, so i just got about six or seven things.
The new Paulito, Jovenes Classic Del Son last release. An Irekere live, early Los Van Van. A geezer called Guapa. Lady Salsa, an all girl group. And a couple of other things. Then back to the rumba session which was getting wild. Next we hit Los Van Van, who are playing in a car park next to a football stadium. This is a banging session, the sound is incredible, they really have got their chops together on the sound these days. A big booming bass and crystal clear treble came heaving out. This was a very, very wild party. The dancing was very, very dirty. This was the working class out there having fun. They finish their set on a high point with Te Pone Cabeza Mala, with the crowd going nutty. What a privilege.
Back to hotel to wash, brush and sober up.
After the first two, it's into the hotel bar to wait for Martin to turn up; he's gone off on some mission or other. A friend of Martin's called Nick has turned up. He's a bit of a hyper live wire, never shutting up, and guilty of serious overuse of the word "man". Anyway, he goes over to buy a drink at the bar. A guy sitting there and chatting to a prostitute heard his English accent and sent over a round of drinks for us. I'm chatting away with Nick, and this bloke comes over and asks if he can sit with us, as we are the only other "Europeans" in the bar. He is a Ukrainian seaman who has been at sea for six months and looks like he is doing some serious catching up with a bevy of prostitutes. His name is Igor. He is a brute!
On our first night, we met an American girl taking photographs here. We rendezvoused in the bar before we all went out together. She walks in the bar and sits down at our table. Igor immediately gets excited at the sight of a European type woman and says to me, "Hey Englishman, how much you want for her?"
I explain she is a friend.
"She no prostitute?" he asks dejectedly.
"No, a friend" I keep saying.
Oh dear.
We head off to a out of doors place called La Cecilia to see a hot new band. Danny Lozada y su Timba Cubana. It is their first gig, and they are good. The lead singer has a soulful voice a bit like Jose Alberto. The rain starts again, so this session is off. We did not fancy going to the Palacio again to see Manolin El Medico. So we hit Cafe Cantata again, where Adalberto Alvarez was playing, he has a fantastic show, nonstop groove. The cafe was its usual funky self.
I hit the dancefloor, well... Saturday night in Havana what else can you do?. Had a good time.
Martin left to go to Peru on the Sunday morning at 6 pm.
I hang out on Malecon in the afternoon. Trying to conserve money. Time to leave, I get to the airport, but it is uncannily empty. Normally it is queues and chaos. I am told the flight is overbooked and my name is on the list for seats! I talk to another English couple who reckon what has happened is that Cubana only had 160 people on the flight. The plane they were going to use, a DC10 which has 300 seats, would be too expensive to fly. So put on a old Russian plane an Illushyn (sic) which has 150 seats, so ten people got bumped, including me. All the resorts and hotels had been informed onf this change. They were all on the plane... except us.
We are told we will be put up at a hotel overnight, given food and drink, and we can get a flight the next day via Madrid and onto London.
So, we are bussed and given worthless food and drink vouchers to The Rivera (where the Palacio del La Salsa is). On checking in, we are told the restaurant is closed and anything we order on Room Service we will have to pay for. We managed to persuade them to give us a cheese sandwich from the bar. Next day, breakfast, Now I see now where all the food goes in Cuba, It goes to the big tourist hotels!
Huge big buffet, I go round it twice, at least. Stocking up, pigging out.
Man from Cubana comes and says we can go to Madrid today or wait for next direct flight on Wednesday getting in Thursday. I had to get back for Wednesday night, as did the English couple. So we plump for Madrid, he says fine he will go away to the office and sort us out on that flight. He further rings up and confirms everything is sorted. We are on that flight, and the tickets would be waiting for us.
Get to airport, total chaos. Our name's not on the flight, plus flight is fully booked up and has been for weeks. Oh no... major problems, we cannot get hold of our man at Cubana. Nobody at the check in is interested in our problem, and we keep getting the run-around. Things are looking very serious, we hardly have enough money to get a taxi back to Havana. We can put the hotel on credit cards, but... We have been cut loose, adrift in a strange country, with no idea what's going on. Luckily, one of the English couple spoke good Spanish and kept badgering the staff, while I kept up a barrage at other people, so eventually they took us seriously and gave us some time. Then, we seemed to make a breakthrough, and they started doing things, sorting the mess out. A bloke came out and said if we want to catch a plane to Rome then on to London, we would have to do it NOW.
So we jumped at the chance. Five people crowded into one taxi to change terminals. We got there in time, they upgraded us to first class for the Havana-Rome leg, which was very nice. But we needed it. It was a very stressful time at the airport there. I have never felt as if I could just get lost somewhere before! As if I could just disappear, never to be seen again. It was a salutary experience. But one that has enriched me in some perverse way. I got back at 5 pm Wednesday and could not be bothered to go to work. I had already got a replacement DJ in when I got my free phonecall home on Monday night, when things first started to go a bit pear shaped, and I thought I had better cover myself.
Lucky I did.
So that's the story.
Copyright 1998 Dave Hucker
Back to...
Dave Hucker's Home Page