There we were, in the Kasanka National Park in Zambia. In a canoe, cruising down the upper reaches of the Luamba river. It was all very gentle and peaceful, the river was almost English like as it meandered through the overhanging trees. The sharply sparking dappled light stabbed down onto the water. The trees might of been English, but they were not. The bird life included Kingfishers, but these were giant Kingfishers. And they were very giant. The noise was different too, the extra loud super 3-D quadraphonics of the many and various myriad layers of the insect and animal world were all out there, all round you. The sounds mixing together from far and near to create a constantly changing aural expression of the immediate world. There are the middle distance warning cries, the immediate close local collective buzzing. The thud, thud, thud of disturbed air as a big bird suddenly peddles very hard just in front of you in a last minute launch off a branch. There are the indeterminate rustles in the foliage.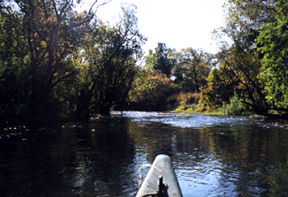 Suddenly to the right of us, there is a frantic movement in the thick grass and bushes at the top of the riverbank. A croc sunning himself in the early afternoon heat instinctively heads for the water. It stretches the whole way down the bank. Its yellow green body was certainly 10 feet long, its shoulders must have been 2 _ feet across, 20 feet of water separated us. It hit the water just in front of our little canoe. You felt its displacement of the water below you, buck up the fragile canoe. The local guy paddling, paddled very gently for a few strokes. Keeping an eye on the situation. I turn round to face him. "That was a big one" I commented.
"That was big one" he agreed.
So here we are in Zambia, Central East Africa.
With bucket showers.
Crocodiles.
Long drops.
Singed Termite Hills.
Pukus.
Hippos.
Daveos.
Red Headed Kims.

Left in Lusaka
There was usual madcap rush to get everything done before we leave. So the 8.00 am sight of Lusaka's smallish airport was a welcome one. We get through Immigration fine. Because of queues at the other desks we get pushed toward one marked 'Diplomatic, VIPs, Air crew Personnel'. They try to charge us $35 "Tax" to get in. Our ace card here is a piece of paper supplied by Sunvil saying we are tourists and should not be charged anything. So eventually our man on the desk stamps the Passports and we are in. We breeze through customs and emerge into the free air, looking for someone with our names on a piece of paper. Nobody is there. We are not too perturbed as the plane is a bit early. This is Africa after all.
We sit and wait for a hour, nobody comes to claim us. No four-wheel drive cruises round looking for a wayward pair of English tourists. We are supposed to be picked up by Mark Harvey, one of the best guides in Africa. But we've been warned his organisational skills leave a bit to be desired. Kim checks at the information desk whether anyone has paged us or left a message. The woman at the desk does not even look up as she says "No". After a second hour has past Kim goes off in search of phones as the offices of the people who are supposed to pick us up should be open by now. I'm at base camp guarding the bags, listening to the unintelligible PA system. And keeping a eye out for people looking for us. By the third hour Kim has spent lots of Kwacha (Zambian currency) calling everyone, including trying a terrible line to London and Chris at Sunvil.
Then suddenly I hear some words come over the PA, " Urgle Gurgle Crackle Kim Evans indeboobleadisc". I race over to the desk. Standing there a bloke from Mark Harvey's team. Phew! at last. Leaving him to look after the bags I then try and locate Kim in what she described as the "Business Bureau." "They are here" I say. "Good" she say as she pays over another 5000 kwacha.
We then locate the Land Cruiser and our driver/guide Grant. SA ex-Durbanite. He apologises for the "mix-up". Well, at least we are our way. On to another bit of the airport where we are going to pick up the other English people, who we are joining up with for the next six days. Although Grant does not seem to be completely clued up on which bit of the airport it actually is. It seems it is him who is going to be our guide rather than the man himself Mark Harvey. Grant has been dragged off building a bush camp in North Luangwa to deal with us.
While Grant tries to find out which air strip we should be at, we are dumped to freshen up at a distant outpost of aviation history: an old fashioned Private Charter waiting room. We did our best in the Toilet. The collection of trade flying magazines all circa 1994 held limited interest for me at this particular moment. The cold mustiness and ingrained dust intimidated me. I needed some sunlight. I stepped outside. Ah that's better.

Meeting The Others
Onward now to pick up the what we shall now call the F P's. (Fat People). Our traveling companions for the first bit of this experience. Then suddenly through the heat haze I see a shocking sight. Mr. and Mrs. Toms, (spelt Tombs) waddle towards us. Kim pinches me and smiles happily: 'At least I won't be the fattest person on the trip!'
On the 20 minute ride to the Zambian Safari Company offices in Lusaka, which seems the next port of call, we get the full traveling history of the Toms -- Tierra del Fuego and every other conceivable point in tourist one-up-manship. We arrive at the office and we are punted off to kill time next-door at "The Bookshop," a weird place with many "sale" signs on the very average art objects adorning its walls. The small range of books on display included some interesting oddballs, like a paperback on the over-use of antibiotics. Finding my concentration flagging. I nip next door to the pet shop, called "Pet Haven," now this is much more interesting , seemingly exotic fish in tanks almost galore. But no baby monitor lizards. No heaving bins of Praying Mantises.
Not much happening back at the Zambian Safari office either.
"We have no money here," is overheard.
I go and hang out on the street corner, see what Lusaka street life will bring me. It comes in from all sides, from the smartly dressed school children, to the belching traffic fumes. I get hustled by a character wanting to sell me a cheap Seiko watch, somewhat like the one I already have on. I make a mental note; it's time to lose time. Time to put the watch away. Time to ignore it all, let the arbitrary ebbs and flows of hours to take over, get used to judging the passing of time in different ways.
Eventually we see the Land Cruiser is back, with what were said to be the necessary permits. It's full of fuel and loaded up with all our stuff plus a fair complement of various bits and bobs we would need, like spare jerry cans of fuel, all piled up and lashed on the roof. You suddenly realise, hey, this is the real thing, we are off on safari here. We also realised something else and wondered how we were all going to all fit inside. With a bit of squeezing we eventually did.

On the Road
So here we are off on some holiday activities. It's 3 o'clock in the afternoon. Almost 24 hours since we left home. The last food we had was our British Airways breakfast. And our last wash was in the airport toilet. Still we're on our way.
First activity is a call in at one of the Harvey brothers' farms to stock up on their very excellent selection of meat and cheese products. After a few hours driving we heave into a small town, in the full throngs of late afternoon Friday market. We hit the wines and spirits counter of the new supermarket. Then Kim and I cruise the block while Grant scores a case of beers from the hotel over the road. Everything and anything imaginable is on sale on the sidewalk, new and second hand clothes, the pungent aroma of dried fish wafts at you. The bags of things you do not recognise are piled high. The barbers operate, the hustle is bustling. The FP's waited by the cruiser. People obviously were not their "thing". The more they had got annoyed at the hanging around and the rattier they became, the calmer we seemed to get.
Back in the cruiser and some musical chairs to allow someone else to get the luxury of the front seat for a while. Another couple of hours, on the road, passing overloaded buses, laden with huge bundles of luggage and bicycles on the top. Everybody dodging the potholes, passing through little villages.
Then we stop at a petrol station which Grant cheerfully informs us has the last decent toilet on the road. Kim breaks the bad news to him as she spots the sign over the closed toilet door "Sorry No Water". We buy a packet of Jammy Dodger biscuits and cold drinks from the shop, another experience. Zambians are unfailingly polite. When you first meet someone there is a whole rigmarole you go through on the greetings:
It starts with "Good Morning/Afternoon."
Then it's, "How are you?"
They reply "I fine, how you?"
You reply, "I fine."
Then you can get on with the next thing.
Like, "This is a very nice shop you have here, please can I have some..."
The Fatties' displeasure at our enjoyment in scoffing Jammy Dodgers made the next two hours pleasurable. Night had fallen, very darkly night. We stop at another petrol station just in case they have some diesel to fill up with. They don't. Grant does not recommend the toilets. I go in to check them personally, use them by match light. Having marked my territory, "Yes" I report back, I agree it is a terrible toilet. However, opposite is a bar/restaurant. It looks like it offers various kinds of comfort aids, cold beer and toilets. Depending on what need was greatest.
Kim and I ambled through the door to much wide eyed and genuinely pleased to see you interest. "Three beers please," I say , "And a toilet?" asked Kim. Out the back there were two toilets, an open one marked "customers" and one with a door marked "staff". She is steered to the staff one. While she is away I scrutinised the music, tapes laid out on a shelf, under the tape machine. Generally Congo stuff. Rootsy guitar led kind of thing like General Defao. The wooden bar has a seat/footstep in front of it. The rate per bottle of Mosi beer is K1000. (£0. 33p).
Refreshed we hit the road again. Finally the turnoff we want bumps into view, then only another 30 kms down forest roads. Which brings us to Wasa Camp.
The guys who come out to meet us and unload the cruiser say:
"You must have left very late."
"Yes," we reply. Looking at Grant.
We can see little round huts with thatched roofs dotted around the place.
With a imperious wave Grant says "Choose your hut."
Kim leans conspiratorially to one of the helpers and in a whisper asks: "Which is the best one?"
He grins, "That one," he indicates.
"We will have that one."

Wasa Camp
The huts are sweet, circular with branches making the roof supports for the reed thatch tied to it with more reed. Two beds and mozzie nets, a basic shelf between the beds. A woven reed screen outside the hut held the washing bowl and the bucket of hot water delivered every morning.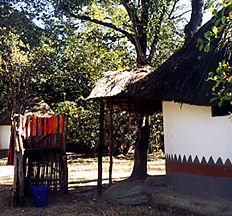 The boys rustle up some rice 'n' chicken for the hungry hoards, and I'm not just talking about the Fatties.
This is real Africa we think as we sit round the campfire and look at the stars. Kim meets the camp cat Oscar a huge grey fellow who came in from the wild.
We crash into out into our nice little beds to the sound of hippo's crashing around and calling each other in the reeds just outside.
Up at 6.30 am. We are woken by one of the guys pouring some hot water into the lilac plastic bowl outside our door. Kim is up and out in her nightie and hiking boots -- cleaning her teeth and then scurrying across to the long-drop toilet in the thatched hut opposite. After a cup of coffee it's into the cruiser and off to the Hide. This is a platform high up in a tree overlooking a large swampy area where we are told we will see lots of Sitatunga. Now I had never heard of this particular antelope, but evidently, they are hard to see, usually all you see is a backside disappearing into the reeds.
To get up to this platform you had to climb a home made ladder of branches nailed together. Some of which were definitely a bit wobbly. Three-quarters of the way up this near vertical climb you had to clamber underneath a branch, and turn 45 degrees at the same time. It was a bit of a squeeze, I managed it, but I was concerned the Fatties would not make it. To their credit they did. But they did not like it. But the rarity of the chance to see this elusive water living Sitatunga thing was very important to them as was not losing face. We sat up there for over an hour.
Kim wrote in the journal about this experience "It was so peaceful, but also completely mad. You can leave London, stressed and worn out and arrive in Africa -- full of its own rhythms, wonders and customs -- and immediately you just go and hare up a tree (definitely untested by Health & Safety officials) and happily watch huge ants crawl past you. What an extraordinary mixture of naiveté, arrogance and bliss. "
Then back to camp for the first of many new institutions for us, bucket showers and huge breakfasts of scrambled eggs sausage and bacon. You want a shower? asks one of the guys, and he will bring a bucket of hot water to the thatched shower, pour it into a big canvas sack. You get under, pull the lever, and bingo, a hot shower.
At 11.30 it's on the road again this time over to the other side of the park. We come across wonderful sights of scorched termite mounds. This is where the grass has been burnt back to encourage new growth, and you see the grey clay of the alluvial plain, dotted with hundreds of small foot high pimples of young termite mounds. Blackened by fire and coated in ash they are a weird sight. It's like a Zen graveyard.
We cross the river on a pontoon, i.e., a load of oil drums lashed together to make a platform and pulled across by the pontoon keeper who lives in a hut nearby. We get out while the delicate operation of loading the cruiser onto this unstable object is guided by him. This involves him taking off his boots, two pairs of socks from each foot and a bandage from one foot. Then wading in the water at either end to line up the planks for getting the cruiser on and off. The boy explains the bandage is due to his foot being "a leetle bit buggered." Which seems to be a common phrase in Zambia, the roads are "a leetle bit buggered," the engine is a "leetle bit buggered" etc.
Onto the other camp "Luamba" a slightly more spraggled copy of Wasa which has guys lounging around under a tree. We think the real reason for us coming here is for Grant to keep an eye on them. So this brings us to the canoe trip down the river, which started this diary. Heart of Darkness meets Aguirre Wrath of God.
That evening the legendary Mark Harvey shows up with (shock horror) a BBC cameraman. Philip is his name. Though he has traveled everywhere in world, roughed it in the roughest places, lived everywhere and filmed everywhere, as a vegetarian, he only eats Heinz Baked Beans. As we talk round the camp that evening we hear about Mark Harvey's family: British who came to Zambia at the turn of the century. Mark and his brothers were public school educated in England and now all work back here. The cameraman tells the usual cameraman stories of having traveled everywhere and done everything. We are beginning to get a bit bored with him when to our dismay we learn he caught Malaria at Shoebill Island. Our next port of call.
Copyright 1998 Dave Hucker

Back to...
Dave Hucker's Home Page