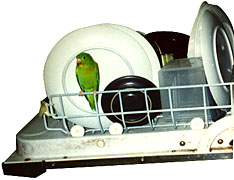 E V E R Y T H I N G
B U T I T H E
K I T C H E N I S I N K
NEW!
3 Mustaphas 3
Archival 1990 Interview
PUBLICATIONS
Duplicity
Bob Tarte's nonmusic book from 1992 with photographer Stephen R. Milanowski rises from obscurity to appear in an obscure cubbyhole at amazon.com.
Roots Rock Reggae
An oral history of reggae from ska to dance hall by The Beat magazine's reggae expert, Chuck Foster.
Spam-Ku: Tranquil
Reflections on Luncheon Loaf
John Cho pens and gathers verses on America's beloved canned meat product.
Gallery of Beat Covers
Covers of the last several issues of The Beat in a page that's fun to look at but will take a while to load...
TWO DOMESTIC TALES:
What happened to Bob's gloves?
They'd been in his jacket pockets only hours earlier...

Linda calls from the backyard.
Was she in some sort of danger?
What the Hec?
ANNOYING ANIMATION:.
Duck Attack
Mad duck drives the author mad.
WEIRD NEWS:.
Big Cats on Campus
Thought California already had enough biohazards? KUSP-FM world music personality Michael L. Bryant forwards an odd memo...
THE USUAL:
Technobeat Central

Columns by CDs and Artists
Columns by Date

Columns by Subject
TRAVEL WRITING
Travels, Travails
Travel writing by John Cho, Dave Hucker, Jeff Mulder, and Bob Tarte, including:
"He is Called 'Pepé'"
Dave Hucker's trip
to rainforest canopies
and spas in Costa Rica.

West Virginia River Trek
Bob's 2000 trip to the heart
of feud country, mine wars,
& fake Indian mounds.
MAIL
Vox Populi
The public speaks--mostly in negatives--about Tarte and Hucker's columns. Add your voice to the fray via btarte@cris.com.
Guardian Huck
Torn from the headlines of today's newspapers... or at least the editorial page, Dave Hucker takes on the journalistically challenged.
PHOTOS
Photos of Cuban musicians by Dave Hucker:
Bobby Carcasses and Afro Cuba
Juan Carlos Alphonso
Papi Oviedo
Clave Y Guanganco
Jovenes Classico del Son
Los Hermanos Bravos
DJ Huck on Alien Soil
Nothing gets in the way of Dave Hucker's quest to bring the salsa gospel to the remotest outposts of humanity
The "Other Face on Mars"
The one photograph NASA doesn't want you to see. Includes the central, puzzling photograph plus Mars probe images taken from four other perspectives.
Fat Man on the Beefy Red Planet
Startling proof that certain clandestine organizations possess interplanetary travel capabilities far in excess of what our governments claim. This is also the first in a series of new photographs of the "original" Whale, who had recently been usurped by the Bill Holm-"Whale." Let the healing begin.
The Bill Holm "Whale" Images
Is Bill Holm the Whale? Is the Whale Bill Holm? This collection of photos provides a partial answer. See also Is Bill Holm the Whale?
The Rub-A-Dub-Dub Photos
The infamous Bob-in-the-bathtub photos, never seen before in color, as chronicled in (what else?) Rub-A-Dub-Dub.
Bob at 23
A rare, masochistic look at how Technobeat columnist Bob Tarte appeared before the world in 1975.
ETC.
Unexpected Links
to the Technobeat Website
Unsolicited and often mysterious links to this often annoying site.