EXCLUSIVE
ACCOUNTS OF
TRIPS NEAR AND FAR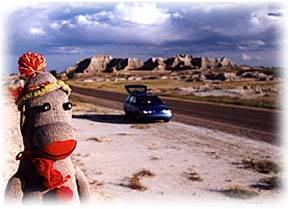 NEW!
CAMPBELL ISLAND TRIP
Australian botanist
Mark Fountain investigates
the flora of Campbell Island in
Subantarctic Voyage

NEW!
CHECKING OUT REX
Jeff Mulder make a
prehistoric field trip to
Chicago's Field Museum in
Sizing Up Sue

---
JOHN CHO AT LARGE
Atmospheric scientist John Cho
presents travel writing culled
from trips to Turkey, Indonesia, Namibia,
Sierra Leone, Russia, Senegal, Italy, Guatemala,
Christmas Island, and Japan.
Get your ticket punched at:
John Cho At Large

---
HUCKER HITS THE ROAD
Afro-Latin music pundit
Dave Hucker pursues the music
he loves whevever it may lead him.
NEW!
"He is Called 'Pepé'"
a rain-washed trip
to rainforest canopies
and spas in Costa Rica.

Two DJs in Istanbul
a special report from Dave Hucker on the
pleasures and perils of a two-night DJ gig in Turkey.
The Cuban Tornado
Dave Hucker checks out the bands
and booze of Cuba during a
whirlwind week on the island.
Lots of photos!
Dave & Kim's Awfully Big
Adventures in Zambia
Dave Hucker and Kim Evans
hit the bush in Zambia, confront
the Fat People, and live to tell
about it in a photo-filled essay.
DJ Huck on Alien Soil
Nothing gets in the way of Hucker's
quest to bring the salsa gospel
to the remotest outposts of humanity.
[photo only]

---
JEFF MULDER
MULLS IT OVER
Jeff takes the bait and visits the
National Freshwater Fishing Hall of Fame
in Hayward, Wisconsin via
This Place Looks Fishy

---
BOB TARTE'S
ROADSIDE RAMBLINGS

Your humble host embarks
on a series of often-regrettable
American trips woven into his
music review column for The Beat magazine.
NEW!
West Virginia River Trek
An extended account of Bob's 2000 trip
to the heart of feud country, coal mine
wars, and fake Indian mounds.
Mounds of Fun
abbreviated version of the above
plus Bob's world music reviews, 2000
Branson or Bust
surviving the Osmonds and other perils, 2000
Finger Food
culinary adventures on the Niagara Escarpment, 1999

Lincoln, Blinkin', and Whale
search for Lincoln's cabin, car, and antique radio, 1999
Missouri Loves Company
loss of power in Mark Twain country, 1998
From Bauhaus to Shoe House
Pennsylvanian pleasures and perils, 1997
Travels with Stinky
one rare songbird to go, please--
Magee Marsh, Ohio, 1997
Wheeling in West Virginia
New Vrindaban, Grave Creek Mound,
Fenton Art Glass, 1996
Technobeat is Coming to Your Town
The 1995 National Technobeat Tour
Quebec And Call
Whale watching, while watching out
for the Quebeçois Referendum, 1995
Mr. Whale Goes to Madison
Real estate hunting in the Wisconsin Dells,
a visit to Whad'ya Know, and a full
grain of truth, 1994
The Plain Truth from the Prairie States
Greetings from South Dakota, 1994
Sauce for the Goose
A brush with motel mayhem in Wawa, Ontario, 1993
Memoirs of an Egg Yolk
I'm forced to visit Flint, Michigan on business, 1992
Nose to the Grindstone
Grinding through Grindstone City
in Michigan's fabulous Thumb, 1991

---